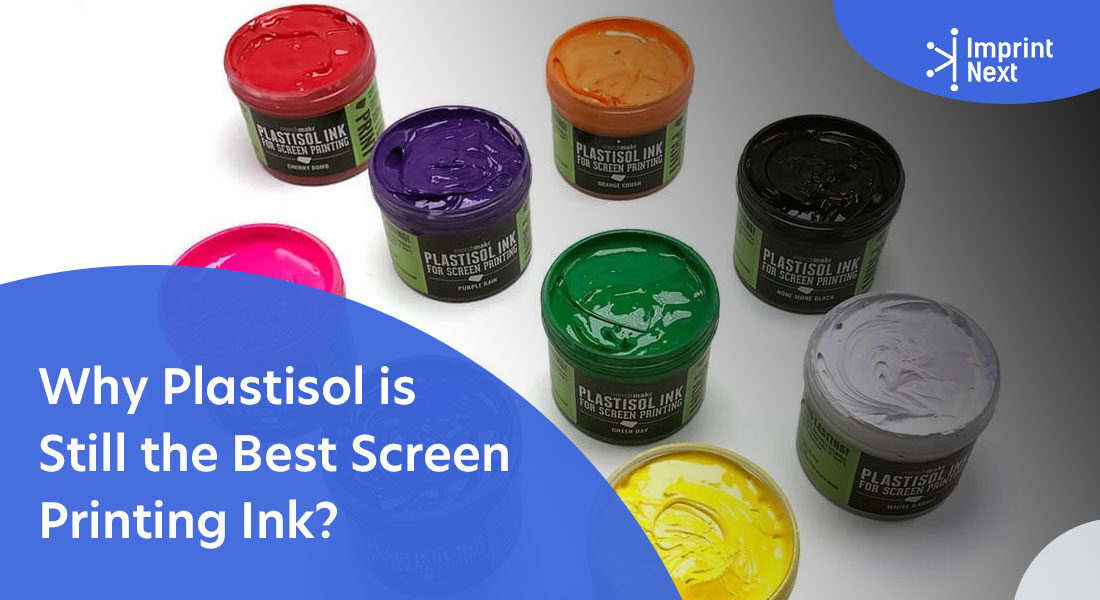 Last Updated on: 26th November 2021, 09:47 am
Before answering-"Why Plastisol is Still the Best Screen Printing Ink?" we must know- "What is Plastisol Ink?" Plastisol is a suspension of Poly Vinyl Chloride in a liquid plasticizer. It smoothly flows like a liquid when poured into a heated mold. It is commonly used as an ink for textile for screen printing purposes.
Since its inception in the 70s, plastisol ink has revolutionized the screen printing industry. Since then, it has become the industry standard, thanks to its ability to create a glossy and permanent finish. Plastisol ink is one of the most durable and Best Screen Printing Ink options in the market.
It is made from PVC resin and plasticizers, which gets activated when the temperature reaches 330° F. The plasticizers react with resin to create a permanent glossy print that doesn't wash away.
Why is Plastisol Still the Best Screen Printing Ink?
Here are the top 5 reasons why Plastisol is the Best Screen Printing Ink & most sought-after ink by screen printers.
01. It Creates Vibrant Prints:
Plastisol ink creates vivid and vibrant prints that other ink can't produce. Even with darker color substrates, it makes a vivid print. Unlike water-based and discharge inks, it layers on top of the substrate rather than absorbing it to the fabric so you can create bright and solid prints on any substrate.
02. Plastisol ink doesn't dry out:
Unlike water-based inks, plastisol doesn't dry out quickly, which screen printers appreciate who employ water-based inks. Plastisol has to reach the extreme temperature to cure, and it doesn't harden in the screens during long press runs. On the one hand, it makes printing jobs much easier. On the other hand, print shops can reuse the screens in short order, which you don't need to clean out between jobs. You can scrape back the excess ink back into the bucket for reuse.
03. Suitable for all Additives:
You can use various kinds of additives with plastisol ink, so you can modify it to accommodate any look you want on your t-shirt for all screen printing jobs. You can use reducers to thin out the ink and make it easier to print with. To get a lighter feel, you can use soft-hand additives. You could even use glitter, suede, and puff to get special effects on your t-shirt prints.
04. Makes Printing Easy:
Plastisol is a user-friendly choice for screen printers because it has various uses. It can be print wet-on-wet in which the printers apply under the base, flash cure it, and print over quickly. Moreover, they blast out the pinholes faster with a spot gun.

Do you have printers? Are those printers sitting idle?
Become a Print-on-Demand dropshipping app like Printful or Printify. Dropship your merchants' orders.
Unlimited Merchant stores. Dropship and Fulfil Merchants' orders. Manage merchant invoice, sales commission, etc. Merchants sell the designed products in shopify, etsy stores, etc.
Know more
05. It's Easy to Dispose of:
Plastisol ink doesn't need special attention for its disposal. Cured plastisol is not even considered hazardous in many places. So, if you need to dispose of some excess plastisol ink, you can cure it and get rid of it.
Today, it produces one of the most durable and bright prints and possesses easy-to-work-with properties. Experts conclude that it will stay in the screen printing industry for a long time for its many benefits.
Printers would turn to plastisol from time to time when they need a versatile print job. In fact, we believe its popularity will only increase over time. Let us know your views on plastisol in the comments.
Related Questions:
At what temperature does plastisol cure? Plastisol doesn't cure at room temperature. It would need a temperature range of between 145º C to 165º C or 300º F to 330º F to cure a plastisol ink.
What is the difference between plastisol and water-based inks? Plastisol is a plastic-based ink used on apparel, whereas water-based ink is a high-end ink used commonly for retail printing and apparel. The primary difference is that the water-based ink would dye the fabric, i.e., it would completely replace the fabric color with its own color. On the other hand, the plastisol ink creates a layer of ink on top of the fabric covering that particular area.
Is plastisol ink toxic? Depending on the manufacturer, plastisol ink can be toxic and non-toxic; however, most premium plastisol ink manufacturers produce non-toxic, PVC and phthalates free ink.
Can you print plastisol on polyester? Yes, plastisol and polyester go well with each other, which is why you can use plastisol to print on polyester.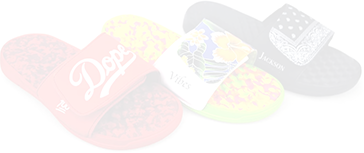 Boston based custom slide sandal maker has become $10 Million company using an online designer and unique growth marketing.
Read more
Is plastisol ink harmful to your health? Plastisol inks are made from polyvinyl chloride that reacts with other chemicals to form dioxins. Dioxins are highly toxic chemical compounds that are harmful to health. However, plastisol inks are safe to use if handled with care.

Do you have printers? Are those printers sitting idle?
Become a Print-on-Demand dropshipping app like Printful or Printify. Dropship your merchants' orders.
Know more