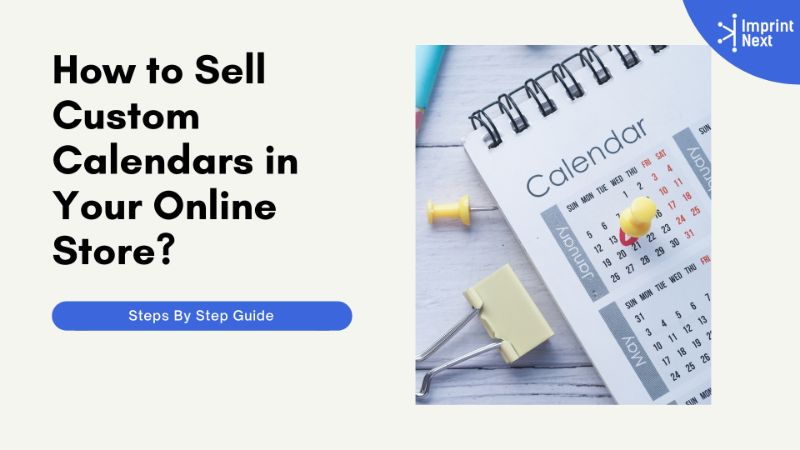 Last Updated on: 13th January 2023, 01:37 pm
Do you want your custom calendars to sell in your online store at a minimal cost?. Create your eCommerce website through which you can connect, which allows your clients to order and pay online by credit card, PayPal, or by sending a check or money order. Get a step-by-step guide right from setting up an e-commerce store to launching it.
With the advent of the digital era that led to a multitude of calendar apps, people still prefer printed calendars and planners to improve efficiency and concentration.
The pattern of calendars has evolved over a period of time. Calendars suitable for their needs are customized. Popular tools like ImprineNext helps customers personalize calendars in your online store, that you sell them.
This is why custom calendars are becoming much more popular today.
If you intend to sell individual calendars, please follow these points to provide your customers with the most polished experience:
1. Set up an e-commerce store:
You need to build an eCommerce website if you want to sell personalized calendars online. You can handle online trading operations using popular eCommerce platforms including Shopify, WooCommerce, Magento, BigCommerce, etc. Today the eCommerce sites go far further than online shopping and sales.
Cloud-based systems combine both the front and back end to give the store flexible and personalized features. The choice of the platform depends on your budget and needs. But before making a decision, make sure you do the right study.

Do you have printers? Are those printers sitting idle?
Become a Print-on-Demand dropshipping app like Printful or Printify. Dropship your merchants' orders.
Unlimited Merchant stores. Dropship and Fulfil Merchants' orders. Manage merchant invoice, sales commission, etc. Merchants sell the designed products in shopify, etsy stores, etc.
Know more
1. Invest in the Calendar Design Solution:
Choosing the right picture calendar tool is the secret before anything else. As a variety of online photo calendar publishers are available, it is important to stand out from the crowd and give customers something they really want.
When you invest in a photo calendar designer product, your customers can use their choice of designs, colors to design the photo calendars and print them as they want.
Select some fast tips to choose the right calendar photo tool:
User-friendly interface that can easily and quickly design customers.  For example, the Photo Calendar Design tool of ImprintNext is divided into two components. The main customization level can be applied from the left panel. They can use the right panel for comprehensive changes such as layer adjustments, application of photo effects, and other custom settings.
The tool is prepared to compete in the evolving market with certain fundamental as well as new features.
It should be economical.
It should be adapted and protected for your e-store in line with the latest industry standards.
2. Offer Diversity in Calendars:
Days, weeks, meetings, schedules, etc. may be more than a memory of calendars! Some people keep their schedules frequently over a month with the to-dos.
While some people will keep their schedules consistently according to the general framework. You can also provide a variety of options for customers to change their diary area with features such as orientation, room, etc. These key calendars allow you to adjust the structure.
Major types of calendars:
Desktop Calendars
Poster Calendars
Wall Calendars
Magnet Calendars
Mousepad Calendars
3. Offer Freebies with Calendars:
If your customers wish to include their current customers, calendars may be distributed free of charge. A good example of personalized calendars is the promotional calendars some banks send to their customers.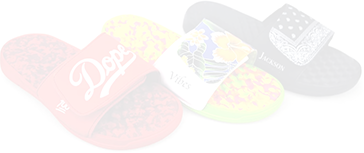 Boston based custom slide sandal maker has become $10 Million company using an online designer and unique growth marketing.
Read more
These calendars are important for their users. You should keep a little budget for promotional calendars instead of wasting it on ads filling your inboxes and games.
They will just keep coming back to you to increase your sales to get more freebies.
They can also get others to recognize and identify with their brand by shining their calendars with other people. And grow your base of customers.
4. Use the Right Calendar Theme:
A theme can help your customers to design the calendar overall. Will you like a holiday calendar or a daily schedule? For example, Walter Arnold specialized in photography of constructions and other objects. A skilled photographer. "The Art of Abandonment" is created every year. This is why it is so important to choose a subject that suits the tastes of your customers. You will discuss trendy subjects that take various audiences into consideration.
You can include the following theme:
Musicians-Artists
Images-
Businesses
For donation
5. Allow Customers to Add Events:
Offer them the choice to mark their major events, public holidays, or date of remembrance. They'd like to be thorough here because they want to plan their overall schedule accordingly for the coming months.
Those options such as color, clip, symbols can therefore be provided to help them emphasize this aspect.
6. Adding Images:
The customer pays the highest attention to the photos if he wishes to personalize his calendars. That's why they have fun images on the stock in your album. You may identify them according to the needs of the consumer. A corporate photo archive, quotations, photos of nature, animals, and birds, for example. Here are some additional tips to take into account:
Categorize the images so that users can select from them more quickly.
High-quality images that can be changed to any kind of resolution should be the images uploaded.
Activate image upload in all formats supported.
To share social media so that you can even use your own videos.
7. Custom Printing:
You may use a nearby print service to print calendars, or set your print shop.
Benefits and drawbacks exist. The key benefits I see are a slightly lower cost of making each calendar and the opportunity to sell calendars, directly to friends and family, or to provide samples for potential customers.
The biggest downside is that you must first buy them, so you need to spend your own money in advance and expect to make it back. The calendars are clearly time-sensitive, so you probably won't sell them by Christmas.
8. Print-On-Demand:
You can design your calendar(s) with a range of services and then printing and shipping. You just have to upload your images, design your calendar, and set the markup on the calendar. Theoretically, they do the rest, however, you have to market in reality.
The major advantage of printing on demand is that no money is spent in advance. You need to spend time planning and commercializing the schedule, but your financial risk is zero.
The downside is that the timetable is very costly. For example, on Lulu.com, you would have to charge more in order to make any money, for the simple calendar is $11.99, without any benefit for you. I must admit that, unless you printed hundreds of calendars, I did not find them to be any more costly than printing your own calendars.
9. Pricing:
People who display calendars in retail stores or kiosks for $5.99 or so will challenge you. You can't compete with those prices because you won't print the amount you print.
Read also: 8 Simple Strategies to Pricing a Print-on-Demand Product
The best thing is to select images manually and of high quality. You can also customize a calendar for one customer if you want to spend time printing on request calendar!
10. Online Promotion:
Now it's time to start your company and market your product and an online store.
Some popular marketing strategies you need to know are as follows:
Search Engine Marketing:
This is the procedure used in search engine production pages of SEO or paid advertising. SEO aims to place itself top of the search results by generating the corresponding keyword content. Paying an advertisement helps you to position your announcement before the customer who wants to purchase a phone cover.
Social Media Marketing:
Here, you can link and promote your brand and goods using social media channels. The technique for the successful use of social media is to concentrate your target audience on one or two channels. We recommend Instagram and Pinterest in your case, as they are popular for millennia.
These are both two very visual channels. So here, prototypes for phone cases will fit perfectly. Second, build a social media posting plan with details about the type of material you want to share-ads, information, entertainment, etc.
Marketing influencer:
Consumers consider evaluations and reviews of famous and authoritative individuals. Some 40 percent claim that after they see the item used on Instagram, Twitter, or YouTube, they have bought it online. First of all, you can share your product with an influencer or write a letter.
Expert tip:
It is an amazing customer experience that is the only way to keep the company going. Your brand ambassadors are happy clients. They will spread the word until they have a good experience.
12. Ready to Start:
Even if following the above steps, you can make sure your calendar printing business does all right.
Finally, you must take into account all your commercial constraints, obtain the right suppliers for web-to-print applications, presses, and calendars

Do you have printers? Are those printers sitting idle?
Become a Print-on-Demand dropshipping app like Printful or Printify. Dropship your merchants' orders.
Know more