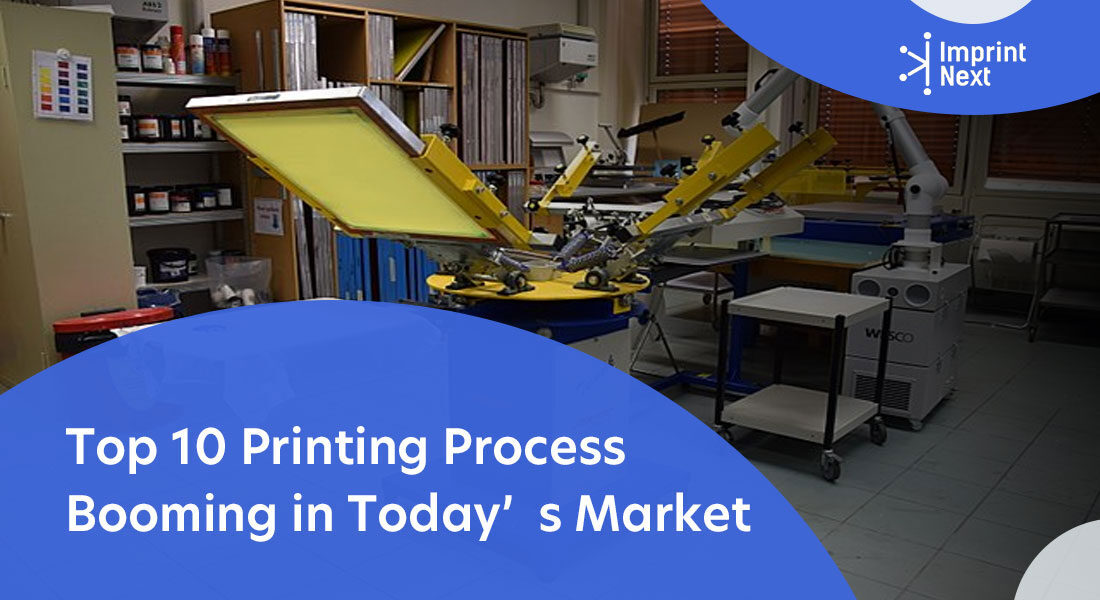 Last Updated on: 13th January 2023, 01:37 pm
Top 10 Printing Process Booming in Today's Market: Customized products are the latest demand among youth. TV series, sitcoms, and movies made customized products even more popular. People nowadays want to leave reality and get into the character of their choice by wearing printed t-shirts and owning printed products. It could have a simple slogan or clipart of their favorite movie character.
On the other hand, customization has spread out to a t-shirt, pillow covers, mobile cases, wallets, and everything in-between.
Top 10 Printing Process:
01. Screen Printing:
When it comes to quality, screen printing is one of the best types of printing processes in the industry. If you own a t-shirt that looks vibrant with its color and feels smooth when you touch it, it is more likely that the printing process is screen printing. Although it is useful in many ways, it's not the best for doing everything. It is excellent for mass production, but not so much for one-offs.
For this, cut out a stencil or a template in the shape of the design. Hold it in place with the help of a screen (also called silkscreen). Today, most filters are of nylon mesh instead of silk. Then pour the ink on the screen and use a squeegee to press down. However, make sure that the ink spreads evenly to all parts of the screen. Wipe off the residual ink and take off the screen to reveal the final design. Then dry the map, and you are ready to go.
Pros:
With mass production, the cost per design is less
Get high-quality prints with the soft-to-touch finish
Print multiple colors
Faster creation of print copies
Print on many types of material
Durable technique and easily scalable
Simple and versatile printing Process
Cons:
Challenging to get finer details because it uses a stencil
Low output prints or one-offs are expensive
The print set-up is hard work and time consuming
It takes skilled workers for screen printing and has a more significant learning curve
When done by hands, it could get messy
You will need a lot of space to facilitate washing, distribution, and drying
02. Offset Printing: 
Offset printing is a process in which you don't transfer color directly onto the paper. Unlike direct printing, it makes use of aluminum plates to transfer the image onto a rubber blanket and then roll the image onto a sheet of paper. Offset printing leaves high-quality prints with accurate color, crisp and professional-looking images. One of the best among the Printing Process.
Pros:
Cost-effective for large quantity runs
The more you print, the cheaper it gets
A wide variety of custom finishes and papers can be used
Special custom inks are available for printing
Get high-quality prints with greater detail
Printing plates can be created faster and easier with today's available technology
Each plate has the capability to print a million paper
Cons:
It is tedious and expensive to produce the plates and set-up the printing process
The plates are made from anodized aluminum, which makes them vulnerable to oxidation. Hence it takes special maintenance to keep it in mint condition.
03. Moulded Printing:
Molded printing is done the same way as screen printing, but it is typically done on fabric such as cotton that has absorbency. (Top Printing Process).
Pros:
Persistent and high print retention when it is heat-treated
Producing vectorial patterns is cost-effective
A variety of paint can be used
Relatively low-cost production except for the expense associated with mold, film, and transportation
Cons:
Leaves hard color print on fabric
Makes fabric unbreathable for the skin
Expensive for low quantity of prints
Like screen printing, it demands a separate mold for each print
04. DTG:
DTG (Direct to Garment) is a reasonably new Printing Process, where a large flatbed printer is used to fed t-shirts on a conveyor belt, and then the image is printed on the t-shirt. It is a somewhat automated printing process that produces high-quality prints with great detail.

Do you have printers? Are those printers sitting idle?
Become a Print-on-Demand dropshipping app like Printful or Printify. Dropship your merchants' orders.
Unlimited Merchant stores. Dropship and Fulfil Merchants' orders. Manage merchant invoice, sales commission, etc. Merchants sell the designed products in shopify, etsy stores, etc.
Know more
Pros:
Perfect for full-color printing with great detail
Produces soft and professional print finish
Lower cost per printing
one-off prints are possible
Create tailor-made t-shirts
Easy to customize the design for each product
Avail printing on cotton fabric and dark backgrounds
Cons:
High upfront cost and expensive setup
Unable to print multiple products in a short time
Mass production is fairly expensive
Requires a lot of space for a professional installation
05. Sublimation Printing:
This type of printing uses heat-sensitive inks, which turn into a gas when heated. It then bonds with the material and becomes a part of it. Since it becomes a part of the material, the design doesn't fade away or produce cracks. In this process, the pattern is first printed on sublimation paper and then printed by pressing the sublimation paper on the surface of the fabric; however, it is not suitable for printing on cotton material, whereas only polyester fabric is used.
Pros:
Apart from fabrics, sublimation can be used to print on other home decorations items such as ceramic mugs.
Printers can use unlimited colors, graphics, and styles
All-over printing can be done relatively easily
It has a smooth application technique
Facilitates custom printing for each print
Cons:
It can only be printed on 100% polyester fabric
It cannot be applied to cotton fabric
Takes a large number of products to make printing cost-effective
It may irritate the skin
06. Transfer Paper Printing:
Also known as iron-on transfers, it is the most comfortable form of printing when the image is transferred from one surface to another permanently. The design is first printed on a transfer paper and then moved on t-shirts employing heat press. It takes both heat and pressure to do the job. It was initially used to transfer designs on ceramics.
Pros:
It's cost-effective, quick, and easy to set-up
It's not time-consuming and can be set up to print low to moderate runs. Whereas one-off printing is possible
Quickly set up transfer paper printing at home.
Demands no special equipment
Supports full-color printing
Produce high-quality, sophisticated designs.
Cons:
The extensive run can get expensive when you need a lot of paper and ink
Looks unprofessional
Low-quality print finish
Demands different transfer paper for light and darker garments
Prints don't last long
It's a DIY process where things can go wrong
07. Cad Cut Vinyl:
Although considered a printing process, it doesn't involve any real printing. The method employs a sophisticated cad cutter machine that cuts high-quality vinyl paper in the required shape of the design and then heats press on the fabric. It is primarily suitable for sports kits.
Pros:
Cost-effective for single-color prints.
It can accommodate all quantities of prints at a relatively cost-effective price
Professionals can efficiently work in a small space
The print lasts the lifetime of the t-shirt and doesn't fade or crack
Cons:
Vinyl prints are not as flexible as screen prints
Requires specialized CAD cutters to cut out designs and sophisticated software to design
There's a learning curve to operate CAD cutters and software for print designs.
08. Offset Lithography:
Also known as offset printing, it is the most cost-effective printing process hence preferred by many companies. It produces high-quality prints faster, whereas the printing machine is quick to set up. In this process, roller plates run through water and then through ink. The water sticks to the white space of the layout, whereas the ink adheres to the images. It is then pressed to a rubber film and later on the paper.
Pros:
Large print runs from 5000 to 500,000 are accessible to the product in a short period.
Product highly exact colors in high-quality prints.
Print on various types of surfaces, including paper, wood, metal, and leather. It is also flexible enough to use multiple types of ink.
Avail excellent color consistency and a high level of attention to detail with offset lithography.
Cons:
Preparing the printing plates is an extensive and time-consuming process
After the creation of printing plates, the changing design is impossible. Creating layout means creating a new set of plates
It employs large equipment which demands trained technicians and relatively large space
Printing a few copies will be expensive, which makes it best only for uses of large-scale print production.
09. Gravure printing:
Also known as rotogravure printing, it is the primary choice of businesses when running long-run, high-quality, and high-speed printing. It is primarily optimized for high-volume printing of packaging, either for gift wraps or other promo products. It can also be suitable to print greeting cards, magazines, and advertising pieces.
Pros:
Produces high-quality prints faster than another printing process
Delivers full-range of colors in the photograph
Perfect for long run prints
Each cylinder lasts for millions of impression
Cons:
Relatively higher cost than other printing Process
Not practical for short-run prints, consequently making it expensive.
10. Embroidery:
Embroidery is the most preferred choice of printing, especially by corporate companies. Although called printing, there is no real printing involved. Instead, the process consists of stitching on a clothing material. However, first, digitize the design and then convert the design into the command, which an embroidery machine can read, and then commence the stitching process of the apparel.
Pros:
Embroidery is possible on nearly all types of fabric
Embroidery is durable and last for the lifetime of the apparel
Create detailed design
Choose from an extensive range of color
Sophisticated appearance
Cons:
Not easy to show shading
Cannot replicate the small text
Most expensive than other printing Process
Image reproduction isn't 100% accurate

Do you have printers? Are those printers sitting idle?
Become a Print-on-Demand dropshipping app like Printful or Printify. Dropship your merchants' orders.
Know more