Last Updated on: 26th November 2021, 09:45 am
Holiday seasons are the best time for an e-commerce store to take advantage of and have a more sales-centric approach. However, it is a common misconception by most online sellers that Christmas and New Year are the holiday seasons to stay alert. However, there are 12 primary holidays in the United States. Whereas there are other religious-specific holidays. Therefore, these holiday seasons can be the best opportunity for all eCommerce stores.
Most importantly, if your a print shop or product decorator offering personalized products and merchandise. The best way to get your online store ready for the busiest holiday season is to allow people to customize what they would like to purchase. It is essentially the advanced planning and preparation to win you a great holiday success.
10 Tips to Prepare for Upcoming Holiday Season:
So, here is are the important ways which print shops and product decorators can prepare for the next holiday season sales.
1. Increase Leads through marketing:
As email marketing is such an important element of your Christmas marketing strategy, you should be beefing up your email lists by now. Remarketing can help you contact customers who are already familiar with your store, which is especially important at a time when consumers are flooded with hundreds of discounts and messages every day.
The importance of collecting email addresses ahead of time, as well as ensuring proper email marketing platform integration, cannot be overstated. Before November, you should be testing, looking at your subscriber opt-in rates and other key email marketing KPIs, and installing programs like Mailchimp to help you increase your email lists.
2. Segment customer based on source:
I'm sure you've been segmenting your list for shoppers all year in order to send them messages that are most relevant to them. What you can do here is take your Christmas marketing to the next level by segmenting your clients for the season based on their involvement level and purchase history. The following are some ideas for segmenting your Christmas shopping campaigns:
Get a list of buyers from the previous year, Offer this segment reduced customizations on products or discounts on products they purchased over the previous year's Christmas season.

Do you have printers? Are those printers sitting idle?
Become a Print-on-Demand dropshipping app like Printful or Printify. Dropship your merchants' orders.
Unlimited Merchant stores. Dropship and Fulfil Merchants' orders. Manage merchant invoice, sales commission, etc. Merchants sell the designed products in shopify, etsy stores, etc.
Know more
Customers with a higher average order value or who visit your site frequently should be encouraged to spend more money on gifts this holiday season.
Make tailored offers for certain places based on geography. You may also set shipping deadlines for each country to which you ship.
Also, scrutinize past purchases and categorize your customers based on previous purchases and provide a holiday guide depending on what they might be interested in this season.
3. Offer Freebies:
Have you considered the holiday buyers who are typically referred to as "lazy"? Such buyers put off their buying till later and shop for themselves or find gifts for their loved ones at the last minute.
You can emphasize how you can make things simple for them and save them time by providing Christmas presents and product guides to help them narrow down their options. You can also add price, gender, brand, and present type filters, as well as different holiday category headers.
4. Make Special Landing pages:
It's vital to set up automatic email campaigns, but where do you send all of the traffic? When it comes to promoting your holiday deals, developing holiday-themed landing pages based on specific keywords can immediately attract relevant visitors and deliver relevant material. Choose products that represent holiday shopper needs, such as gift ideas for significant others and special offers.
A truly effective, holiday-targeted PPC campaign should include contextually aligned landing pages that support the expectations of Christmas buyers who click on your sponsored advertising. This post will focus solely on landing page modifications that you can make to your website in order to maximize your performance potential throughout the Christmas season.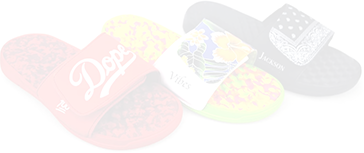 Boston based custom slide sandal maker has become $10 Million company using an online designer and unique growth marketing.
Read more
Make conversion as simple as feasible for your prospects. This implies making sure your visitors don't have to click more than twice to reach a conversion form. It should just take one click from your product to your order form for e-commerce businesses. For service-oriented organizations, a conversion form should be placed directly on the landing page. Bounce rates will rise if you take more than 1 or 2 clicks to convert.
5. Create Competition:
Organizing a Christmas competition is a much more engaging and exciting approach to boost sales. You can run a competition for existing customers, different parts of your contact list, or people who have never purchased but are curious about your brand.
Encourage your customers to submit holiday-themed images that are relevant to your product in a photo competition. You can also create a content-specific hashtag and generate a lot of user-generated content this way.
Also, start a voting competition to engage your customers by allowing them to share their thoughts on the products.
Your clients can become brand ambassadors by participating in a refer-a-friend campaign! Use this growth hack to expand your audience.
6. Retarget your Customers:
Ecommerce retargeting is the technique of reaching out to visitors or customers who have left your online business by placing adverts on other websites.
Retargeting advertising is typically used in one of two ways:
Making contact with customers. These customers have already made a purchase, therefore you may seek to upsell them on further items. You should already have their information, so all you have to do now is add their email address to your retargeting ad network and start showing them relevant advertising.
Getting in touch with browsers and visitors. These customers haven't purchased from you (yet), therefore you'll use browser cookies to retarget them with things they've expressed interest in.
Retargeting is a wonderful approach to engage with prior consumers via emails or social media, reminding them of the things they purchased previously or were looking for, in order to stay on their minds. You can also offer better pricing, emphasize free shipping, or present product bundles to your customers while producing retargeted emails.
7. Provide Digital Giftcards:
The convenience seeker and last-minute consumer are big fans of digital gift cards. However, many marketers are still missing out on the potential by failing to include it in Christmas shopping marketing efforts or personalizing gift cards.
There are numerous advantages to adopting digital gift cards, including the ease with which they may be given, tracked, and used to increase brand recognition. You can attract a lot of last-minute shoppers by adding a little festive enthusiasm and making gift cards holiday-friendly.
8. Promotion across different platforms:
Promote your brand across social media profiles to attract the attention of your shoppers this holiday season, and make sure to take advantage of the perks these platforms have to offer. Prepare Tweets and Facebook posts now, if you haven't already, for usage throughout the month of December as well as on special sale days.
Make a quick instructional or amusing YouTube video about your favorite product with your cell phone. Nothing beats video when it comes to expanding your social brand's reach. Don't let your lack of professionalism stop you; homemade, entertaining tiny videos are frequently the most popular or viral.
9. Shopping cart abandanment:
While all of the automatic lifecycle email campaigns are crucial, cart abandonment emails are a must if you want clients to return to your site and make a purchase.
Furthermore, 67 out of every 100 potential clients who are browsing your website for products or coming to the checkout page intend to buy but do not finish the transaction. So, for your e-commerce, don't be terrified of cart abandonment emails.
10. Inventory and Stocks:
Even if you have a really successful season, you will almost certainly have extra inventory.
You should have post-holiday email marketing and merchandising campaigns ready in advance when planning your post-holiday sales to enhance turnover and clear your inventory. January is also a potential month for sales re-boosts.
Because of the redemption of discount coupons, holiday gift cards, and other holiday specials and promotions, you may still receive visits from holiday shoppers. As a result, it's the ideal time to keep your post-holiday store visitors engaged with sales campaigns or new products.
Conclusion:
Every holiday season brings new trends and methods to test, but one thing is certain: it is retail's most important opportunity to interact with digital buyers. To increase your sales this holiday season, make sure to use the aforementioned holiday marketing strategies and methods.
The earlier you begin developing your Christmas shopping strategy and creating a tailored experience, the more sales you will produce throughout the course of the year.

Do you have printers? Are those printers sitting idle?
Become a Print-on-Demand dropshipping app like Printful or Printify. Dropship your merchants' orders.
Know more