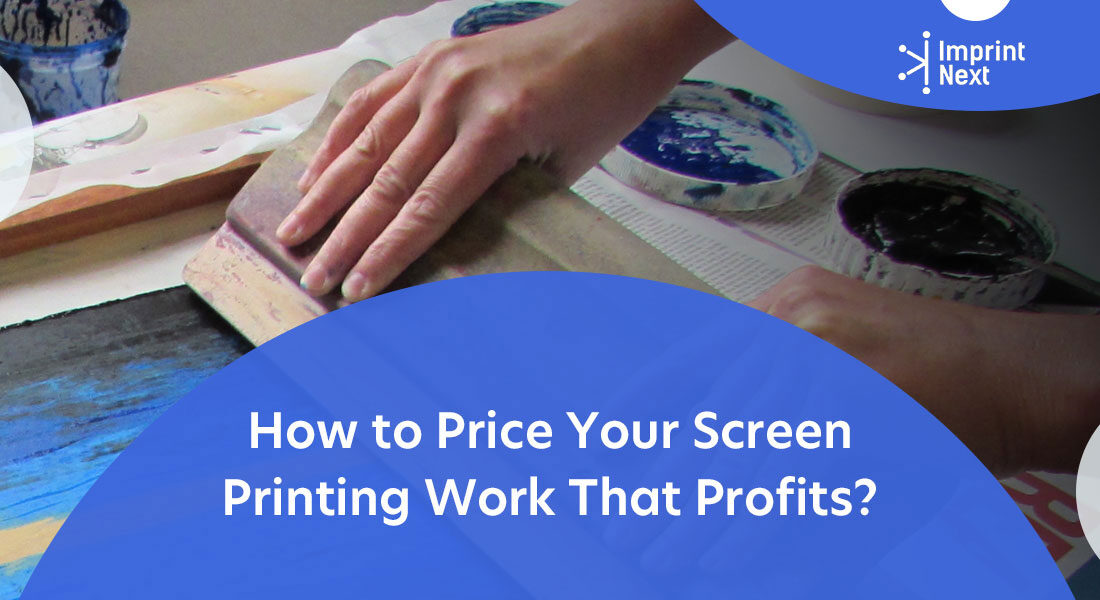 Last Updated on: 26th November 2021, 09:47 am
How are you going to price your garments when you are a commercial screen-printer.
When you are a commercial screen printer, you need to develop a pricing schedule or pricing chart to price different jobs with different customers.
Consequently, you don't want your customers, in the end, coming together and charge you that they have paid more than the other for the same thing.
It is good to have a pricing chart to figure out your pricing in a standard manner.
Note: It isn't easy to estimate accurate pricing because the pricing for screen printing can vary greatly depending on where you are, i.e., your location.
For instance, if you stay in New York, you charge more for the same print job than the one who abides in Arizona.
So, your geographical region can significantly affect the pricing for screen printing.

Do you have printers? Are those printers sitting idle?
Become a Print-on-Demand dropshipping app like Printful or Printify. Dropship your merchants' orders.
Unlimited Merchant stores. Dropship and Fulfil Merchants' orders. Manage merchant invoice, sales commission, etc. Merchants sell the designed products in shopify, etsy stores, etc.
Know more
Advice:- You can call around for different printing shops and act as a customer to get an idea of what people are charging in the area for that particular print job.
Once you have called around and got an idea of what other screen printers in your area are charging for that print job, the next thing you have to do is compare that to the garment cost that you are supplying for the print job.
Four Steps To Calculate Pricing In Screen Printing:
In screen printing, there is a lot of labor involved. So, to come to a profit margin where you can make enough money per hour on the job that makes you happy, especially when you are a small start-up screen printing operator.
01. Monthly Expenses:
The first thing we have to put it in is monthly expenses like rent, electricity, internet, insurance, equipment, admin overhead, and that be yourself or your partner.
Estimate the number of shirts that you print in a given month. This model always changes depending on your volume.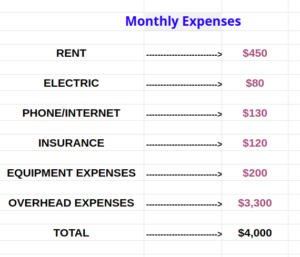 So starting with rent. If you are out of your house, I would always suggest you associate a part of your house with renting.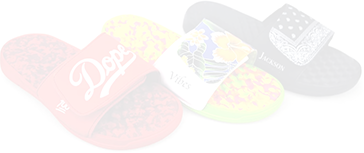 Boston based custom slide sandal maker has become $10 Million company using an online designer and unique growth marketing.
Read more
Let's say your rent is $450 a month. Electricity expenses figure out what costs you to run your business. Let's say it is $80.
Then your phone/internet costs around $130 for your cell phone, internet.
Let's say your insurance costs $120.
If you don't have any screen printing equipment, you take it on a lease that costs around $170 if it has a manual set-up.
Most importantly, the administration expenses. If you are printing yourself or there are people around you do your work, say labor cost $3300.
And lastly, some overhead expenses like your lawyer or accountant or payroll service etc.
02. Job Specifications: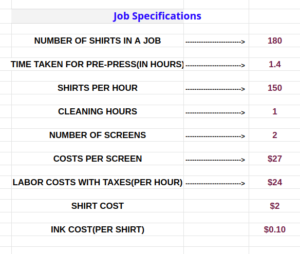 Starting with a two-color screen printing machine and print 180 t-shirts in a job. If you are pretty fast at printing, then you are going to print 150 shirts per hour.
You need two screens. If you are buying a new screen, it will cost you around $27.
You have labor, or you are hiring somebody, then you get to pay $24 an hour. You get to associate some taxes and overhead with that.
Let's say you want to make $25 an hour. So we write $25 on the list.
Then your shirt costs, probably a blank t-shirt with nothing fancy makes $2.
Finally, your ink cost. You may assume that your inks cost $0.10/shirt.
It gives you some sub-totals like how many hours per shirt, labor per shirt, pre-press, etc.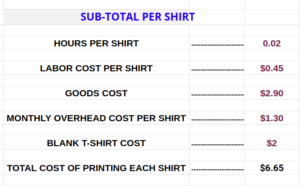 So, in total, you incur approx—$ 6.65 for printing a t-shirt.
03. Profits:
What kind of profitability you want to make on your t-shirt printing job.
Let's say you want a profit margin of 65%. That means you should sell a t-shirt for $10.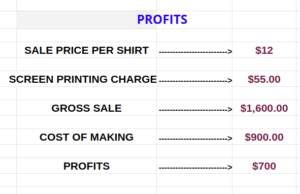 When you print a t-shirt, you charge an extra amount, quite a lot when screen printing. Involving cost per screen, ink, and most importantly, your profit, you may charge $55 for screen printing.
Estimating your gross sales to be $1600 and the cost incurred for t-shirts is $900. Therefore you earn a profit of $700 selling custom t-shirts through screen printing.
04. Ink Consumption and Profit Margin:
If you find that you are running through ink, emulsion, and consumables, you may be spending more and more on consumables than making profits from print jobs.
A lot of people don't understand the importance of using metal screens as opposed to wooden screens. One of the reasons is that metal screens are aluminum screens that can hold a higher mesh tension.
When you have higher mesh tension, you will print a higher quality print with less ink.
Contrastingly, if you are using a wooden screen with mesh that's loose and not tight, as in the case of metal screens, then you are using more ink than you need to.
A loose mesh screen prints more ink than what is necessary.
If you are using more consumables like ink, solvents, etc., you will lower your profit margin.
If consumables are an issue for you, you better look at your pricing and consumable usage at the bottom line.
Conclusion:
Besides the above calculation sample, you can use the internet or web to look at the screen printer's website in your area. Many of them have published prices on their websites and can go into the stores to give you a pricing list.
It is difficult to advise you on special pricing because, as previously said, it is the geographical region that significantly influences your pricing.
Lastly, do your research, don't be afraid to call around and ask questions. Refer to the above pricing methodology. It is going to help you a lot while framing your list.

Do you have printers? Are those printers sitting idle?
Become a Print-on-Demand dropshipping app like Printful or Printify. Dropship your merchants' orders.
Know more