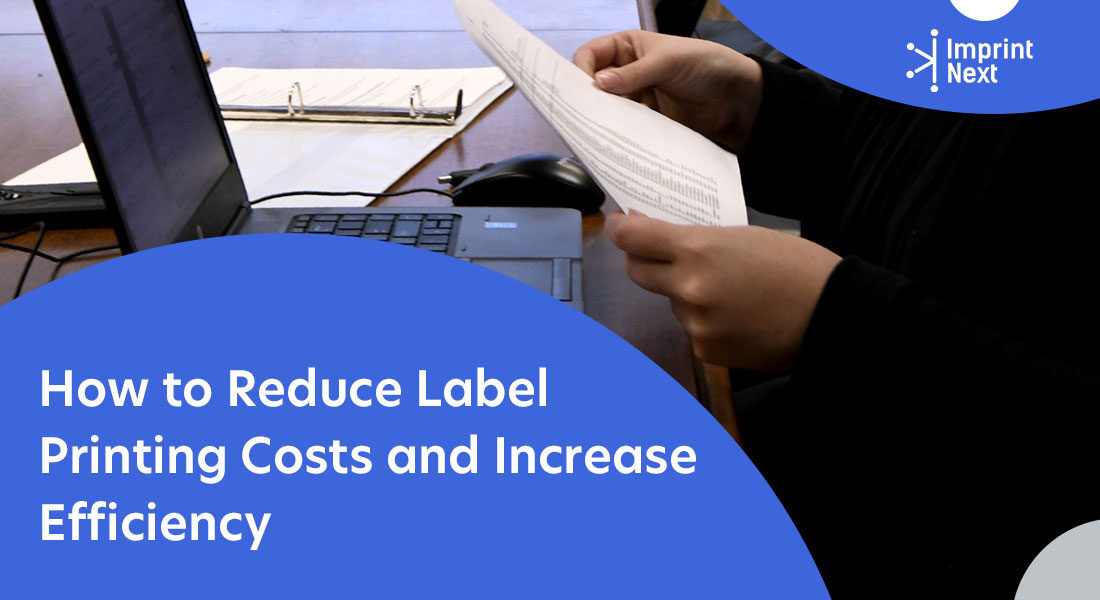 Last Updated on: 18th January 2023, 12:38 pm
Businesses who are in label printing businesses do want to reduce costs and make their production more efficient. One way to do it is by reducing label size, using cheaper inks, and using an alternative substrate, but this is reduced cost only a little and at the same time reduces the quality of your production, which will be a wrong approach for your business. Moreover, if your customer's needs are not met, they will go elsewhere.
However, to make your business more cost-effective, you need to look at your current production practices and technologies, which can be changed for more efficiency. Here are a few ways to reduce your printing cost.
1. Employ the Right Equipment:
To accommodate your production needs comfortably, you need a printing press with room to increase or decrease production volume but not so much that you waste its capacity, such as a printing press with full web width higher than your production requirements. On the other hand, if you employ a printing machine with a narrow web while keeping large print quantities, your machine will pose a more significant risk of repairs in a short period of time because your machine will have to work hard to meet production requirements. Eventually, your business will get reduced production speed and capacity.
To get the right printing equipment, you need to take a calculated step by working out the average printing output for the past years and strategize the trajectory for the next five years. Keep into account any changes that occur from time to time, such as printing out large orders. Plus, it would help if you also found the equipment that best offers the most cost-effective output to fulfill your production needs.
However, if you have got the space and the budget yet not sure of your output, you need to invest in multiple smaller equipment types so that the printing load can be balanced. This enables flexibility and, at the same time, reduces maintenance costs. Moreover, you also need to take care of your ROI like a more considerable investment means more extended time to achieve the desired return on investment.
2. Conserve Energy:
You have to consider all possible ways to reduce label printing costs by checking the energy expenditure. In the long run, they add up to become a significant expense. For this purpose, modern machines are of great importance, as they offer better energy efficiency than older models. Plus, you need to realize that automation is a necessary feature to add-up to your cost-effectiveness. Today's hybrid and digital printers seamlessly switch between working mode and sleep mode when needed. This eventually reduces energy expenditure between print cycles.
3. Employ Digital Printing:
Although conventional flexo printing is still considered the most cost-effective method for medium to large print runs. It always involves some significant disadvantages like preparing printing plates, setting up print cylinders for each label, etc. Moreover, it is a labor-intensive and lengthy process. It does not respond to last-minute changes or when customers have a diverse print requirement from a single run. With flexo printing, small errors can lead to considerable wastage.

Do you have printers? Are those printers sitting idle?
Become a Print-on-Demand dropshipping app like Printful or Printify. Dropship your merchants' orders.
Unlimited Merchant stores. Dropship and Fulfil Merchants' orders. Manage merchant invoice, sales commission, etc. Merchants sell the designed products in shopify, etsy stores, etc.
Know more
On the other hand, digital printing is more comfortable to set up and enables dynamic changes when needed. If you run small prints, digital printing can help save you a significant amount of money across your production line. However, if you want to run both shorter and longer copies, you should consider a hybrid solution. It is like a digital press with modular flexographic printing that will save you money.

Do you have printers? Are those printers sitting idle?
Become a Print-on-Demand dropshipping app like Printful or Printify. Dropship your merchants' orders.
Know more