In today's competitive marketplace, standing out from the crowd has become increasingly important for businesses seeking to differentiate themselves and capture customer loyalty. One effective way to achieve this is through product customization – allowing customers to tailor products to fit their specific needs and preferences.
This approach can lead to increased engagement, higher conversion rates, and ultimately, boosted sales. In this article, we'll examine ten successful businesses that have leveraged customization to significantly improve their bottom line.
1. NIKEiD:
Nike, one of the world's leading sports apparel brands, launched its customization platform, NIKEiD, in 2004. Through this service, customers could design their shoes using a wide range of options including colors, materials, and patterns.
With NIKEiD, Nike was able to tap into the growing trend of consumers wanting greater control over what they wear while also building stronger emotional connections between customers and the brand. As a result, NIKEiD became a key driver in Nike's overall success and helped solidify its position as a leader in the industry.
2. Build-A-Bear Workshop:
Build-A-Bear Workshop, founded in 1997, gives children (and adults) the opportunity to build their very own stuffed animals.
With a vast selection of fabrics, clothing, accessories, and sounds, customers can bring their imaginations to life and create truly unique teddy bears. The experience is both fun and memorable.
3. Lego:
Lego, the popular Danish construction toy manufacturer, offers a variety of kits and individual pieces that allow users to create their structures and designs. Since the introduction of the first plastic brick in 1958, LEGO has consistently produced high-quality components, which enabled creators to make endless builds.
The brand capitalizes on the idea of self-expression, encouraging people to share their creations online and engage with other enthusiasts. This open-ended playstyle promotes repeat purchases, as it allows for the continuous expansion of existing sets or the creation of entirely new ones.

Do you have printers? Are those printers sitting idle?
Become a Print-on-Demand dropshipping app like Printful or Printify. Dropship your merchants' orders.
Unlimited Merchant stores. Dropship and Fulfil Merchants' orders. Manage merchant invoice, sales commission, etc. Merchants sell the designed products in shopify, etsy stores, etc.
Know more
4. Peloton:
Peloton, known primarily for its indoor exercise bikes, revolutionized the fitness industry by introducing live-streaming classes led by certified instructors. Beyond providing users with motivation and accountability, Peloton's customization features enable riders to adjust resistance levels, track performance data, and connect with friends for virtual group rides.
The company's social media presence also encourages riders to share their workouts, further emphasizing community involvement. Peloton has expanded its offerings to include treadmills, strength training equipment, and digital subscriptions to its library of classes. Their focus on customizable user experiences translates directly into impressive financial results, with the company valued at $6 billion in early 2022.
5. Adidas UltraBOOST:
Adidas has developed its UltraBOOST running shoe line based on extensive research on consumer behavior, biomechanics, and feedback from elite athletes. Each pair of shoes incorporates proprietary technologies designed to optimize comfort, support, and energy return during runs.
Customers can choose from multiple colorways, available in men's and women's sizes, and mix and match elements such as cushioning levels, heel heights, and widths. The brand creates a sense of exclusivity by launching limited-edition collaborations with cultural influencers and artists, driving demand for the sneakers.
6. Minted:
Minted provides an online marketplace for independent artists and designers to showcase and sell their original artwork, home decor items, stationery, and gifts. By offering personalized and exclusive content created by talented individuals, Minted attracts customers who value authenticity and uniqueness.
They offer various customization options, such as selecting the perfect frame size, printing images onto different mediums, or adding text to make each piece special. These capabilities empower buyers to co-create exceptional items that reflect their style and personality while supporting local creatives.
7. Warby Parker:
Warby Parker disrupted the eyewear industry by making designer glasses accessible and affordable through direct-to-consumer distribution. Customers can select frames based on shape, material, lens type, and prescription strength, ensuring a perfect fit for everyone.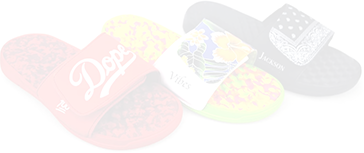 Boston based custom slide sandal maker has become $10 Million company using an online designer and unique growth marketing.
Read more
To enhance the online shopping experience, Warby Parker pioneered their "Home Try On" program, enabling clients to test five pairs of glasses before deciding which one suits them best. This level of flexibility leads to higher conversions and improved customer retention, as individuals feel confident about their purchase decision.
8. Casper Sleep:
Casper Sleep offers mattresses tailored to diverse sleep preferences and body types. Instead of relying solely on standard firmness levels, customers can choose from models featuring varying levels of softness, responsiveness, cooling technology, and motion isolation.
Furthermore, Casper addresses typical issues associated with traditional bedding purchasing methods by eliminating pressure from pushy salespeople and facilitating free returns within a hundred days. The company's commitment to delivering premium quality and satisfying experiences drives repeat buying, word-of-mouth recommendations, and continued growth.
9. Sprayground:
Sprayground is a popular accessories brand that excels in product customization, specifically when it comes to backpacks. While many brands simply offer predesigned versions of their packs, Sprayground allows customers to completely personalize their bag's exterior panel using a web-based canvas editor.
Customers have the option to upload their designs or browse a wide selection of built-in templates, patterns, graphics, and illustrations provided by the brand. From there, they can tweak every aspect of their chosen pattern – colors, transparency, orientation, placement, etc., until they achieve the desired look. Once finalized, Sprayground manufactures the customized backpack according to the specifications provided.
This approach resonates strongly with younger demographics, particularly millennials and Gen Z, who place great importance on self-expression and individualism. By letting consumers create their unique Sprayground backpacks, the brand promotes a strong connection between their customers and the products, leading to increased brand loyalty and advocacy. It also positions Sprayground as a leader in customized fashion accessories, setting itself apart from competitors who rely solely on ready-made goods.
10. Coca-Cola Freestyle:
The iconic beverage company introduced the Coca-Cola Freestyle machine in 2010, which allowed customers to create their drink combinations from hundreds of flavors. This innovative concept not only provided unprecedented choice but also fostered excitement around trying new things and sharing experiences with friends.
Coca-Cola saw significant increases in sales and foot traffic at locations where the machines were installed, proving that customization can be highly profitable even when applied to simple commodities like soft drinks.
Final Words:
In conclusion, the ImprintNext Product Designer Tool represents an innovative solution for e-commerce businesses looking to improve their competitive edge and drive customer satisfaction through product personalization. By providing an intuitive interface for creating customized apparel, mugs, phone cases, and other merchandise, ImprintNext enables customers to express themselves through their purchases, fostering greater emotional attachment and loyalty to your brand.
As seen in successful case studies like NikeID, Converse Chuck Taylor All-Star, Threadless, Coca-Cola Freestyle, Build-A-Bear Workshop, Lego, Peloton, Adidas UltraBOOST, Minted, Warby Parker, and Casper Sleep, the ability to tailor products online not only improves overall customer satisfaction but also leads to increased sales and market dominance. Integrating the ImprintNext Product Designer Tool into your online store can provide similar benefits, helping you differentiate yourself in today's highly competitive market and positioning your business for long-term success.

Do you have printers? Are those printers sitting idle?
Become a Print-on-Demand dropshipping app like Printful or Printify. Dropship your merchants' orders.
Know more