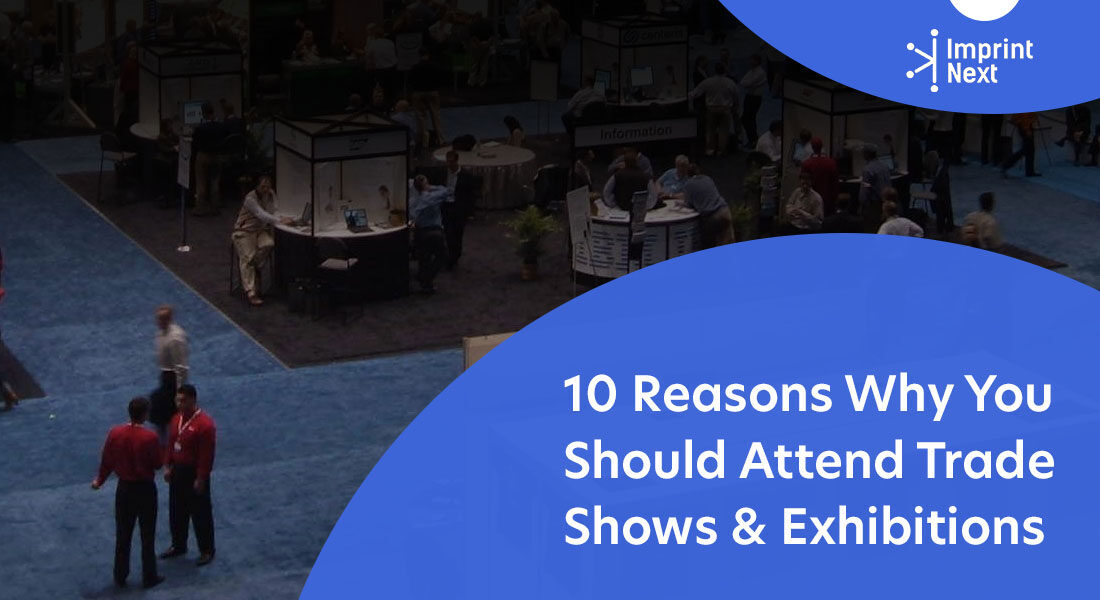 Last Updated on: 13th December 2021, 01:14 pm
Trade shows and exhibitions are targeted at business owners, customers, and partners who are involved and are interested in that particular industry. Being a part of a trade show or exhibition can give you the opportunities to branch out to other businesses in your niche. The importance of exhibitions is immense when you see its outcome.
Here are the details about 10 Reasons Why You Should Attend Trade Shows & Exhibitions.
10 Reasons You Should Attend Trade Shows
01. Get An Insight Into The Industry:
One of the most significant advantages of attending a trade show is that you get insights into the new trends, products, as well as resources in your industry. You gain knowledge and exposure to your niche. This way, you are updated with the current trend in the market. It's a great way to learn about what's hot and what's going out of trend; this will give you an idea about how you need to steer your business right now.
02. Learn To Make Business Plans
Trade shows will bring you waves of new ideas and creative ways to run your business irrespective of the economy and your earlier enterprises. You can able to learn a lot from the competition at the show. It will have a significant impact on the way to make decisions for your business.
03. Create A Business Partnership
Meet other print shops and retailers who are in your business and from whom you can learn and build a business connection or partnership. You will not have this chance unless you attend a trade show.
04. Learn To Beat The Competitors
Get business insights from your competitors. Learn what your competition is up against without relying on your guesses and other internet tools as their business information is easily accessible. Evaluate how you compare with race and in the industry. Find out your business strengths and weaknesses.
By now you can already figure out the importance of exhibitions
05. Start Branding Your Business
Get press coverage, which will, in turn, help you in branding and advertisement. However, you have to make sure that your business stands out so that the viewers remember you.

Do you have printers? Are those printers sitting idle?
Become a Print-on-Demand dropshipping app like Printful or Printify. Dropship your merchants' orders.
Unlimited Merchant stores. Dropship and Fulfil Merchants' orders. Manage merchant invoice, sales commission, etc. Merchants sell the designed products in shopify, etsy stores, etc.
Know more
06. Target Your Potential Customers
Generate hot leads for both business partners as well as potential customers. Collect business cards and get a directory of niche companies from other outlets. Create a list of contacts for your files and your business outreach.
07. Exposure To A Broader Business Model
Opportunity to participate in seminars, networking events, and surveys that are conducted only at trade shows. The importance of exhibitions is they will expose you to new people, new businesses, as well as new ways of thinking for your business success.
08. Demonstrate Your Services/Products
Give your attendees hands-on access and experience to your products. Show your key selling points practically directly to your possible customers. This way, you leave a lasting impression on your attendees, furthermore, if your product is unique, you will be doing business in the future with your attendees.
09. Learn Business With Zero Investment
Save on travel costs by meeting with multiple partners, suppliers, and clients in one place. Become more educated about your industry so that you can better support your clients and partners using the resources from trade shows.
10. Rectify Your Business flaws
Get answers to your questions right away as you communicate with your customers, competitors, suppliers, and clients directly. Find out what your business is missing and where you can grow.
Read more:

Do you have printers? Are those printers sitting idle?
Become a Print-on-Demand dropshipping app like Printful or Printify. Dropship your merchants' orders.
Know more