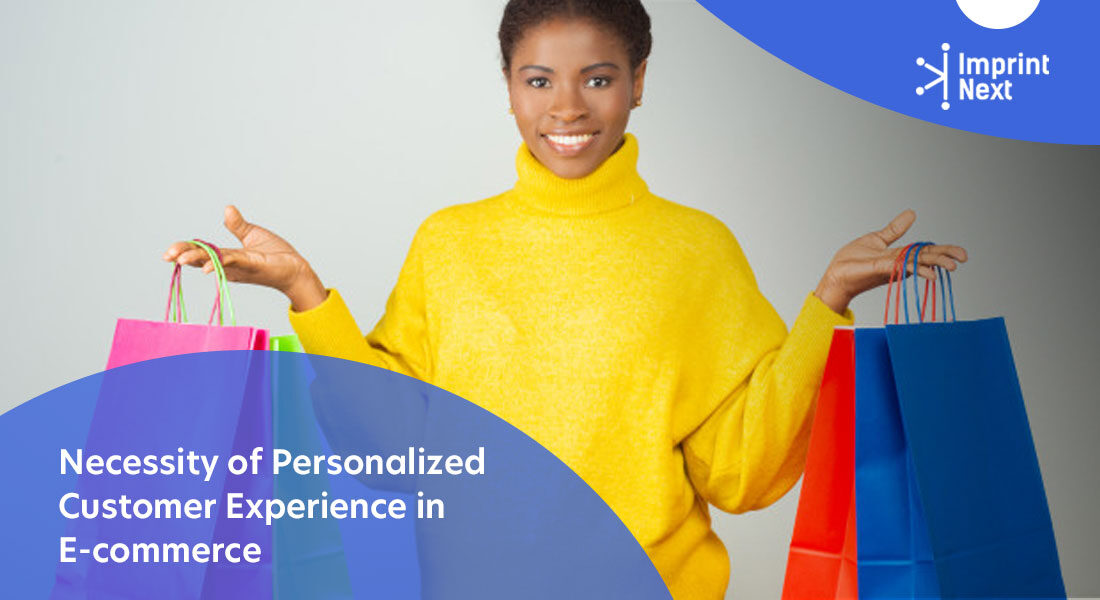 Last Updated on: 26th November 2021, 09:46 am
Personalized customer experience is the future of e-commerce and the customers are already rooting for it. Imagine where each advertisement, each mobile offer, each email sent, and personalization of the website is only for you and you only. Imagine an e-commerce store completely revamped for you.
By revamping, we mean the way an e-commerce site looks and behaves only to make you feel more comfortable. Big brands have already adapted to the changing trend and reaping big profits out of it. They are delivering more relevant and accurate products online to stay competitive in the game.
They are incorporating optimized experience on mobile devices to build brand loyalty and are providing a unique journey to each customer to increase engagement and drive more sales.
1. Let's dissect why it works!
It works because it delivers unique and more personal communication based on customer data, real-time behavior, preferences, interests, browsing habits, and previous purchases. Today, it has become possible to personalize customer experiences because of technological advancement.
Unlike old times, today personalization is made possible with the use of sophisticated analytics garnered from a range of channels.
With the help of user data and marketer's creativity, personalization has turned from an idea into a reality. This has paved the way for predictive intelligence, which uses real-time intelligence to deliver beforehand what a customer might be looking for or interested in.
2. How to do it! With a few examples:
Using real-time intelligence, conversions, and observation, e-commerce brands can also provide each customer with a unique experience and journey by building relevant content, recommendations, offers, and such.

Do you have printers? Are those printers sitting idle?
Become a Print-on-Demand dropshipping app like Printful or Printify. Dropship your merchants' orders.
Unlimited Merchant stores. Dropship and Fulfil Merchants' orders. Manage merchant invoice, sales commission, etc. Merchants sell the designed products in shopify, etsy stores, etc.
Know more
With a richer customer journey, brands build customer loyalty and also ensures that customers think of that brand for all their needs.
Here are a few examples!
Send recommendations based on previous purchases, browsing habits, and surveys.
Sending cart abandonment message to encourage customers to return and purchase.
Offers based on information such as on a birthday.
Recommend products similar to the products purchased or shown interest by customers.
Product-based on real-time data such as location and time.
Ask questions to get insights for future marketing and the use of personalized recommendations.
Sending a personal email to thank the customer and to conduct a survey.
Send personalized SMS with offers and product recommendations
Some Interesting insights:
Nearly 80% of customers like brands that send personalized messages and offerings.
Personalized experience can improve conversion by nearly 8%.
Moreover, 48% of customers spend more with a personalized eCommerce experience.
Nearly 90% of marketers believe personalization is also the future of e-commerce.
Lastly, more than 70% of customers find it unsatisfying when they find that the content is irrelevant to their interests.
What's the key takeaway:
Businesses are encouraged to embrace personalization on their e-commerce website. Businesses can increase sales and get more conversions with personalization. The concept of personalization is fresh and also possesses huge potential in the future.
Therefore, this is the right time to adopt personalization

Do you have printers? Are those printers sitting idle?
Become a Print-on-Demand dropshipping app like Printful or Printify. Dropship your merchants' orders.
Know more