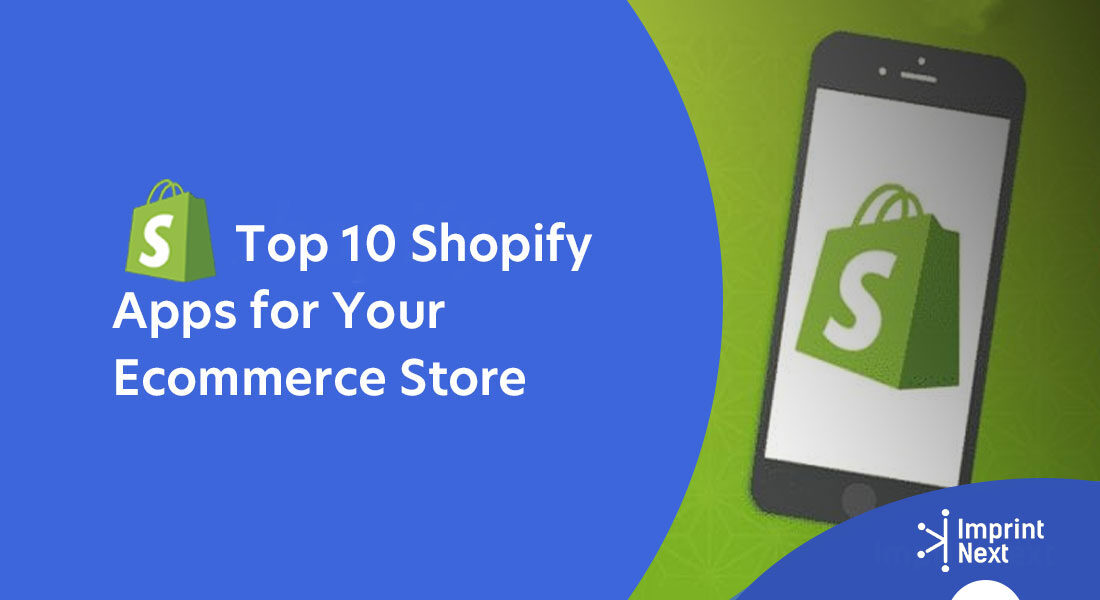 Last Updated on: 26th November 2021, 09:48 am
If you are setting up or already set up a new Shopify eCommerce store, then you must have these top 10 Shopify apps.
Shopify is an e-commerce platform to set up your online store and sell products. It also comes with a POS(Point of Sale) application to sell offline.
They're pretty much going to work with any store you've got, whether it's a dropshipping store, selling your product, or a print-on-demand business.
These are all going to help you make more sales. Know more about your customers, and just overall, have a better experience.
Top 10 Shopify Apps for eCommerce store:-
The top 10 Shopify apps that need to increase online sales, brand impression, customers trustworthiness, etc. are as follows:-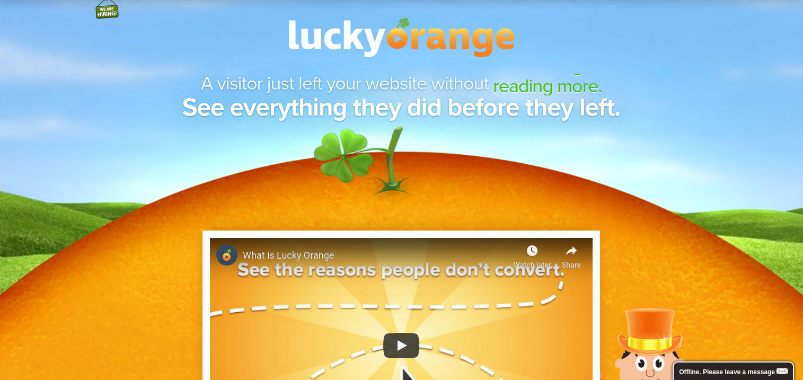 Lucky orange is one of the most potent Shopify apps. It allows you to see specifically what your customers are doing on your website.

Do you have printers? Are those printers sitting idle?
Become a Print-on-Demand dropshipping app like Printful or Printify. Dropship your merchants' orders.
Unlimited Merchant stores. Dropship and Fulfil Merchants' orders. Manage merchant invoice, sales commission, etc. Merchants sell the designed products in shopify, etsy stores, etc.
Know more
This app has different components like heat maps, which show where most people are hovering their mouse.
You can also see full-on video recordings of what people are doing on your website.
Briefly, you will track every movement of your customers, their interests, location, time spent on your website, purchase, etc.
You can also actually see where they're clicking the most where they're scrolling their mouse. This app is just incredible.
Lucky Orange app costs you $10 a month. You also get higher plans with more features that may require if you have got more traffic into your website.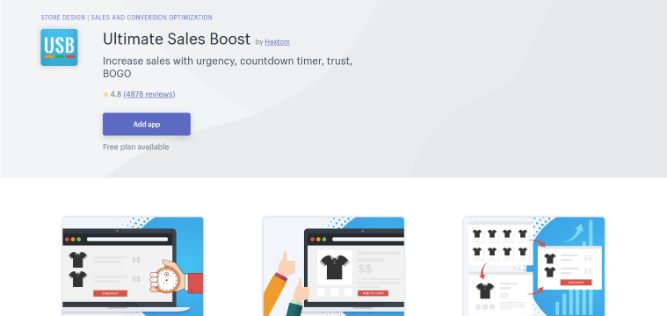 The boost sales app is the best plugin that upsells your products to increase the average purchase. It uses a simple concept.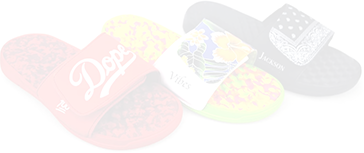 Boston based custom slide sandal maker has become $10 Million company using an online designer and unique growth marketing.
Read more
When customers add items to the shopping cart, a pop-up will suggest the other things that can alternate or complement items they choose.
It can boost your revenues by selling more to the same customer. However, the benefits are not all one-sided.
It gives your customers recommendations to choose the product that best suits their interest due to your upsell and cross-sell offers.
How does it work?
When your customer clicks on a product then hit Add to Cart, they will see an upsell offer that displays relevant products at a new discount price.
The sales motivator bar shows up to motivate customers to spend more to reach the goal.  When the goal is reached, they will get a 15% discount on the bill.
That is how you will exert multiple sales, although a customer has intended to purchase a single product.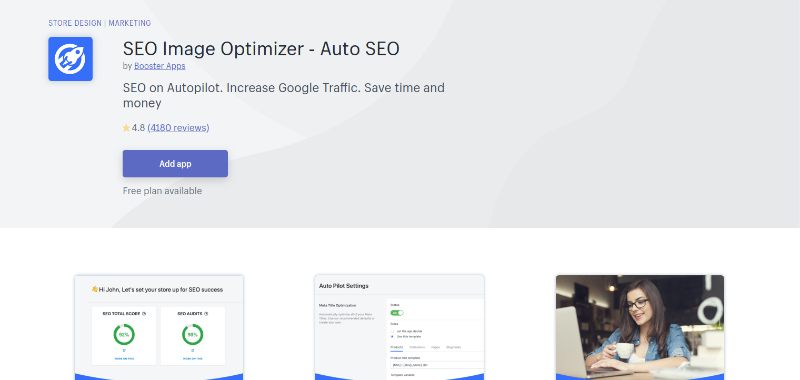 It is the basic Shopify app you must have. It changes the alt tags and title tags on all of your images without you having to do it yourself.
It is a pretty lightweight plugin that gets installed to your Shopify eCommerce store easily, and you can start improving your SEO.
It will allow getting products and product images to be found in Google search and Google image search.
Moreover, it is a free app.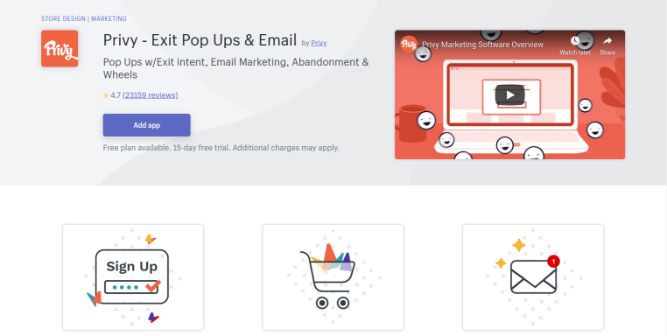 It is a popular Shopify app.
What it does is it gives you a little pop-up in the middle of the screen when the customer is about to leave your store.
When a customer desires to leave your store, they will probably never come back. So, it would help if you got every chance of capturing every person you can.
The best way to use privy is to pop up in the middle of the screen and put offers like:- " Get 10% off your order today". So you offer them a discount coupon from the pop-up.
You get customers to add their email address before they can get their coupon.
Further, you can make a list of these email IDs and then do the email marketing simultaneously.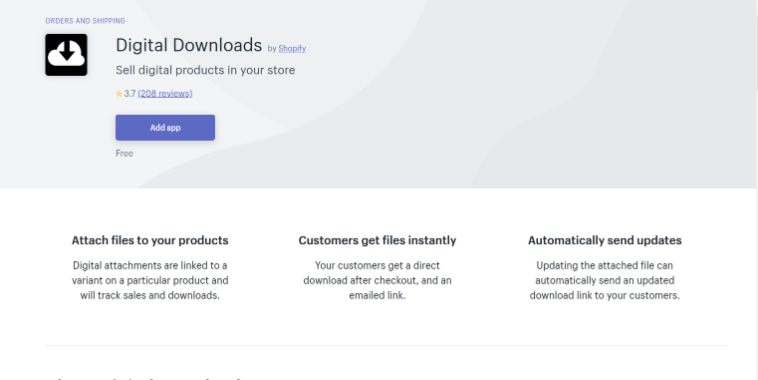 Shopify themselves develops digital downloads.
It allows you to upload files and attach them to your products, and then virtually, you can sell them as a digital download.
If you want to start selling digital products like online courses, e-books, etc., it works well for you. It is a free app.
Besides selling digital apps, you could even offer them for free by asking their email address.
Note:- I have pointed out previously about capturing the email address of your customers. A business may be online/offline grows by repeating customers.
If customers come to your store for a second purchase, this is exactly where you grow your business and create a brand in the market.
That is to say; email marketing is more essential than Google or Facebook Ads to bring back the customers who previously visited your store.
It is something like a reminder that your customers should not forget you. You can do this by providing offers, special discounts, coupons that values each customer.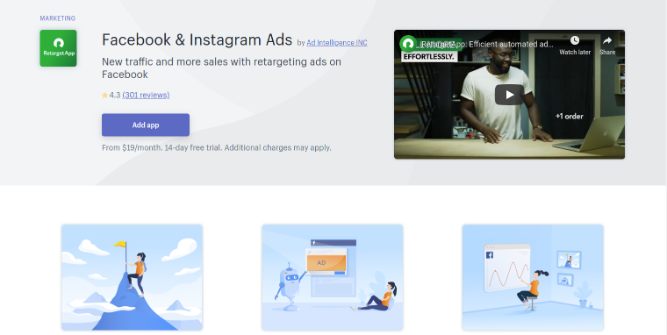 Re-target App provides a solution to cart abandonment problems with the help of Facebook Ads.
It allows you to set up retargeting campaigns to re-engage your visitors who left your store without making a purchase.
After they left, they will see personalized ads of the products they viewed recently right inside their Facebook or Instagram.
Retarget app has a feature that automatically publishes retargeting Facebook ads.
The app takes care of everything, like installing the pixel, creating a product catalog, and run a campaign.
All you need to do is craft an Ad message and fix the daily budget you can afford.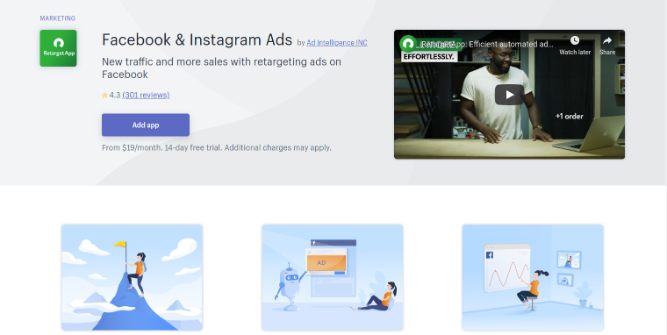 It allows you to have a feed on Instagram of your website.
It is a nice way of Instagram marketing, where you post images as displayed in your online store.
It is the simplest way you redirect clients to your online store when they click on an image and re-directing functionality.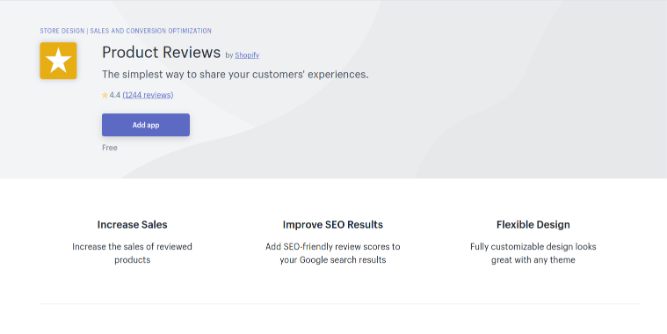 It is an app developed by Shopify. Visitors rely heavily on reviews to guide them through a purchase decision.
Public reviews build trust by social proof, improve rankings in search results, and stay engaged with customers by giving them a chance to talk about their experience.
The free Shopify Product Reviews app provides a comment box to post their reviews on a product.
You can also unpublish comments if you find spam. You can also customize the content and the basic design of the review section.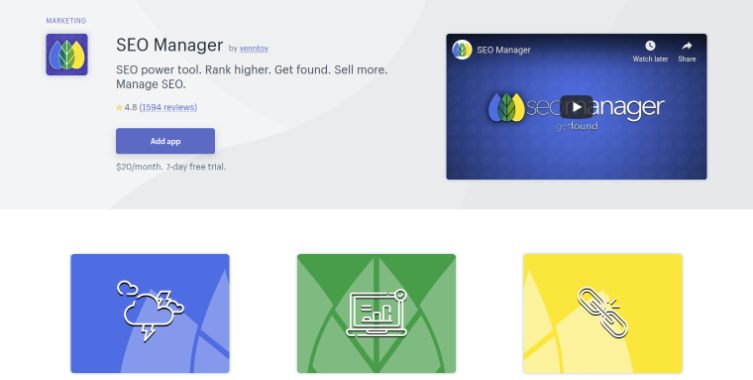 One of the best ways to drive traffic to your site is by having your store show up on the first page of Google.
SEO manager will do the job for you. It's a search engine optimization tool that empowers you to take control of how search engines see your site.
The app regularly does Search Engine Optimization scans on your website to give insightful feedback about your SEO performance so you can improve it to the best.
This app has over 20 features, and some of them are edit titles, description keyword suggestions, image alt text issue, mobile-friendly test, etc.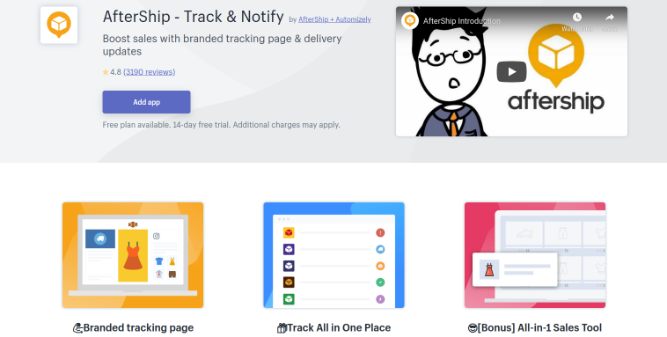 AfterShip is one of the most trusted Shopify apps for an eCommerce store that tracks an order during shipment delivery. Moreover, it is also a WooCommerce plug-in
Keep your customers updated with the time and location of their product through a built-in customized tracking package.
Build your tracking page and include a product marketing banner to impress customers and upsell your products.
Allow customers to track and check the delivery status that creates trustability and assure customers about delivering the products through an automated notification via email or text.
Conclusion:
I hope the list of 10 Shopify apps has helped to upgrade your eCommerce store.
Some might not have been aware of these apps before. We have put all the links with the respective apps to help you quickly find out about them.
Don't forget to post your comments and how useful did you find this blog.
Related Questions:
Is Shopify better than Amazon?
Yes, Shopify is better than Amazon if you opt for its professional plan. It offers a better value of money, scalable and better pricing than Amazon.
Should I sell on Shopify?
Yes, Shopify is an eCommerce platform to sell products online.
Can I make money with Shopify?
Yes, you can make money with Shopify.

Do you have printers? Are those printers sitting idle?
Become a Print-on-Demand dropshipping app like Printful or Printify. Dropship your merchants' orders.
Know more