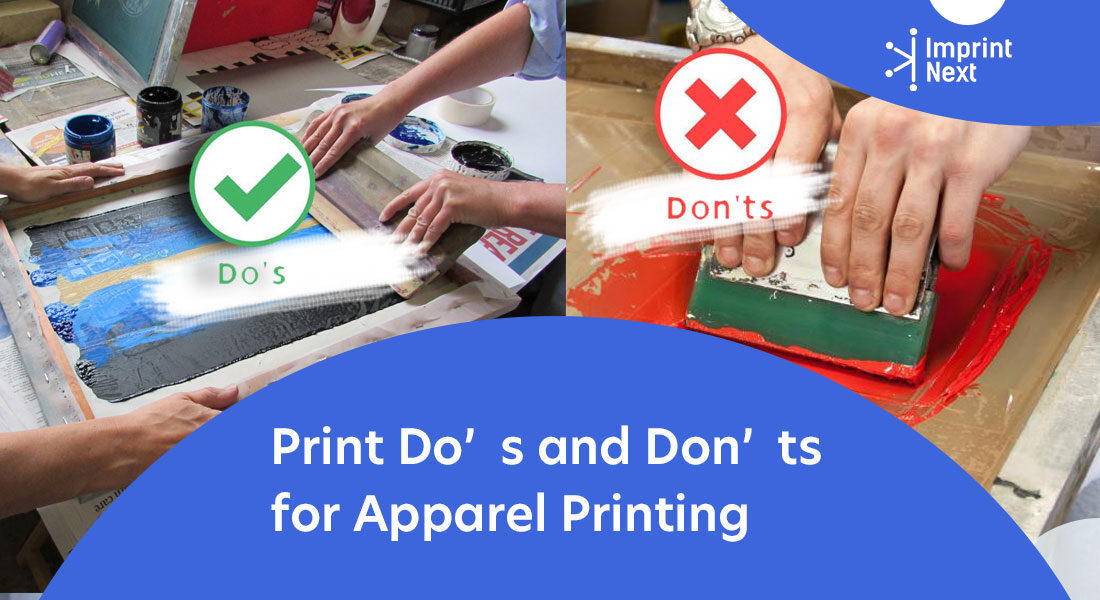 Last Updated on: 28th November 2023, 01:12 pm
As a store owner, you should be aware of how specific print methods can be cost-effective in terms of designs, substrate, product type, order number, etc. There are various print methods. However, screen printing and DTG are the two most popular ones.
Choosing the right print method for your online business can be the first building block that leads to satisfied customers. Thus, it saves your costs and scales your business while keeping your expenses within a profitable margin.
Also, consider you will be able to sell items that get printed on a substrate. Suppose you get an order to print on a coffee mug, and you do not have a heat press. Then you must go for alternative print methods and products such as t-shirts, jerseys, etc.
Below we shall discuss important do's and dont's of apparel printing so that you earn more suffer no losses.
01. Don't print over seams, pockets, or zippers:
To get the best quality print possible with screen printing, you need a  flat surface between the pallet and the screen. The fronts and backs of the t-shirt should be smooth and consistent, which enables you to get a perfect print every time. However, printing over a  seam, pocket, or zipper, creates inconsistency and when you print over these portions, it creates a gap in the print where the ink from the screen does not touch the shirt due to the ridge.
02. Shirt's that don't work well with jumbo prints:
Many customers want big prints on their t-shirts, and many printers do produce jumbo prints. It is fairly easy to accomplish on a regular unisex t-shirt but not so easy on other kinds of t-shirts.
Tank Tops: Tank tops are typically low cut at both the neckline and the sleeves. Printing jumbo prints on these garments can cause defects from printing over the seams.
V-necks: The deep cut of the v-neck may not be able to accommodate the whole jumbo print, so make sure you print something a little smaller.
Girls Tees: Jumbo pallets are wider than most girl tees. To get it into the press, it has to be stretched. It may cause multiple issues such as ripped fabric, loss of form, distorted images, and design being cut off from the shirt's bottom or sides.
03. Garments that don't show much detail:
Screen printing has advanced to a point where it can create a significant amount of detail on the t-shirt, which was not possible just a decade ago. But, you can't expect the same level of detail on all kinds of garments such as Ribbed garments, canvas, burnout tees, pique polos, etc. These items don't create much detail because they are not smooth like standard t-shirts.

Do you have printers? Are those printers sitting idle?
Become a Print-on-Demand dropshipping app like Printful or Printify. Dropship your merchants' orders.
Unlimited Merchant stores. Dropship and Fulfil Merchants' orders. Manage merchant invoice, sales commission, etc. Merchants sell the designed products in shopify, etsy stores, etc.
Know more
04. Avoid printing on ribbed garments:
The ribbed garment provides the best form of fit among other black shirts. They stretch to meet the size of the individual wearing them. That is good news for the consumers who wear it but makes printing a problem. When the ribbed garment is put on the press, it is not stretched out, and the ink goes only on top of the ribs. After the shirt is put on, the inks pull apart, exposing the gap between the ribs that are not printed.
We can pressure the press to try to force the ink into the gaps, but it will not get the level of detail it is supposed to deliver. That is why printers shouldn't print ribbed garments, and if customers insist, you have to let them know of its flaws.
05. Issues in Printing Hoodies:
Hoodies are one of the toughest garments to print on. On the other hand, it is one of the best-selling items during the winter. So, here are a few issues you should be aware of while printing hoodies:
Double-lined hoodies can only print one color ink and no under the base. As they slide around on the press one cannot accurately register multiple colors.
Sometimes the pockets have to be glued down to print on the hoodies, and therefore, many customers receive their hoodies pocket with traces of glue.
Prints on the hoodies depend on the brand of sweatshirt being printed. If it is double lined, the design is usually heat pressed. Only single-lined sweatshirts work with hood prints.
Print may look irregular around the pocket seams and zippers. It may create a gap in the print, which is undesirable. Printing on the seam sometimes throws the registration off, leaving traces of white poking out from under the design.
Hoodies are made with thick fabric and soak up a lot of ink. The color of the sweatshirt may influence the color of the print. To get the highest print quality when going over zippers or pockets, it is recommended to use 100% cotton. Or an 80/20 blend and using all discharge colors without the under-base.
The same design cannot be printed on hoodies as well as a t-shirt. Because it requires a different set of equipment and setting. So getting the same design on t-shirts as well as hoodies may cost extra.
06. Why tri-blend tees are different?:
Flash units on presses may burn the tri-blend material, so tri-blend shirts are not under-base. Or a water-based discharge ink to get the softest print possible. If you are not using water-based ink, your only real option is plastisol ink.
Conclusion:
If you are looking for an easy way to grow your business, then print-on-demand is the best choice for you. It involves no risk and heavy investment. The Print-on-demand companies do all the work – from receiving orders>custom printing>shipping it to your customers.
They do all the work and you pay a percentage of each sale you make from your online store. Or if you set-up or own a print shop, you must follow the rules above to run a risk-free apparel printing business.

Do you have printers? Are those printers sitting idle?
Become a Print-on-Demand dropshipping app like Printful or Printify. Dropship your merchants' orders.
Know more