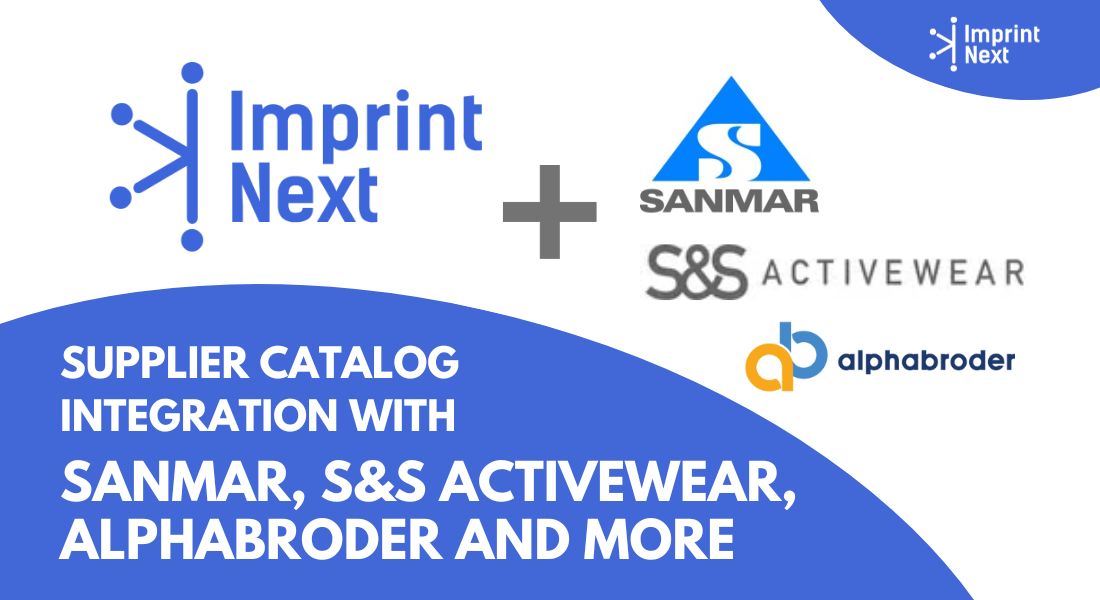 Last Updated on: 6th November 2023, 11:27 am
Importing, managing, and updating product catalogs from wholesale suppliers becomes a hassle for online stores. Imprintnext emerges as a game-changer, offering product management solution for integrating supplier catalogs from industry giants like SanMar, S&S Activewear, and AlphaBroder.
With real-time inventory, pricing updates, and the ability to import thousands of products in a single click, Imprintnext revolutionizes the way you manage your eCommerce business.
In this comprehensive guide, we'll explore the challenges that often plague online retailers and unveil how Imprintnext's Supplier Catalog Integration paves the way for efficient solutions.
Overcoming Ecommerce Challenges With Supplier Catalog Integration:
Running a successful online store comes with its fair share of challenges, from keeping product catalogs up-to-date to ensuring accurate pricing and inventory information. Let's delve into the key hurdles that eCommerce retailers often encounter:
1. Manual Catalog Uploads:
The process of manually uploading products from various supplier catalogs can be daunting and time-consuming.
Retailers often find themselves spending hours inputting data, which could otherwise be dedicated to strategic business growth.
2. Pricing and Inventory Discrepancies:
Keeping track of pricing and inventory changes across multiple supplier catalogs is a challenging task. Failing to reflect accurate information on your store can lead to frustrated customers and a loss of credibility.

Do you have printers? Are those printers sitting idle?
Become a Print-on-Demand dropshipping app like Printful or Printify. Dropship your merchants' orders.
Unlimited Merchant stores. Dropship and Fulfil Merchants' orders. Manage merchant invoice, sales commission, etc. Merchants sell the designed products in shopify, etsy stores, etc.
Know more
3. Limited Product Offerings:
Retailers may struggle to offer a diverse range of products due to the complexities involved in integrating multiple supplier catalogs. This limitation can hinder the ability to cater to a wide customer base with varying preferences.
Supplier Catalog Integration addresses these challenges head-on, offering innovative solutions that streamline your eCommerce operations and enhance customer satisfaction.
4. SanMar Integration:
Limited product diversity due to the hassle of manual uploads.
The seamless integration with SanMar allows retailers to import thousands of products with a single click.
This instant access to a diverse catalog enables retailers to offer a wide array of high-quality apparel and accessories to their customers.
5. S&S Activewear Integration:
Keeping track of real-time inventory and pricing updates.
Imprintnext ensures that your store reflects real-time inventory and pricing data from S&S Activewear's catalog.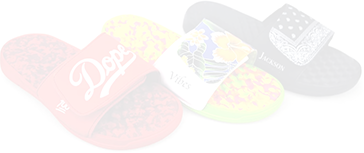 Boston based custom slide sandal maker has become $10 Million company using an online designer and unique growth marketing.
Read more
This feature prevents discrepancies, allowing you to provide accurate information to your customers and maintain your store's credibility.
6. AlphaBroder Integration:
The complexity of managing multiple supplier catalogs.
The integration with AlphaBroder streamlines the process of managing various catalogs.
Retailers can easily import and update products from AlphaBroder, enabling them to efficiently manage their online store and expand their product lineup.
Product Catalog and Beyond:
Imprintnext offers a host of additional benefits that go beyond solving challenges, truly transforming the way you operate your eCommerce store.
1-Click Import:
The 1-click import feature eliminates the need for manual product uploads, saving you valuable time and resources.
With just a few clicks, you can populate your store with thousands of products, allowing you to focus on growing your business.
2. Real-Time Inventory and Pricing:
The real-time synchronization ensures that your store accurately reflects the latest inventory levels and pricing information.
This transparency enhances customer trust and helps you provide a seamless shopping experience.
3. Custom Product Mockups:
Imprintnext's platform enables you to upload unlimited products with custom mockups.
Tailor your product images to align with your brand's identity, making your store unique and visually appealing to customers.
4. Easy Integration with Leading eCommerce Platforms:
Imprintnext's compatibility with platforms like WooCommerce, Magento, Shopify, BigCommerce, Opencart, and Prestashop ensures a smooth integration process.
Regardless of your chosen platform, it seamlessly integrates into your existing eCommerce setup.
Final Words:
In a competitive eCommerce landscape, innovation and efficiency are paramount. Imprintnext's Supplier Catalog Integration offers a transformative solution to challenges that have long plagued online retailers. With the ability to import products from SanMar, S&S Activewear, AlphaBroder, and beyond, empowers you to create a dynamic, diverse, and customer-centric online store.
Embrace the game-changing features today and witness the evolution of your eCommerce journey. Elevate your online presence, simplify your operations, and provide an unparalleled shopping experience for your customers.

Do you have printers? Are those printers sitting idle?
Become a Print-on-Demand dropshipping app like Printful or Printify. Dropship your merchants' orders.
Know more