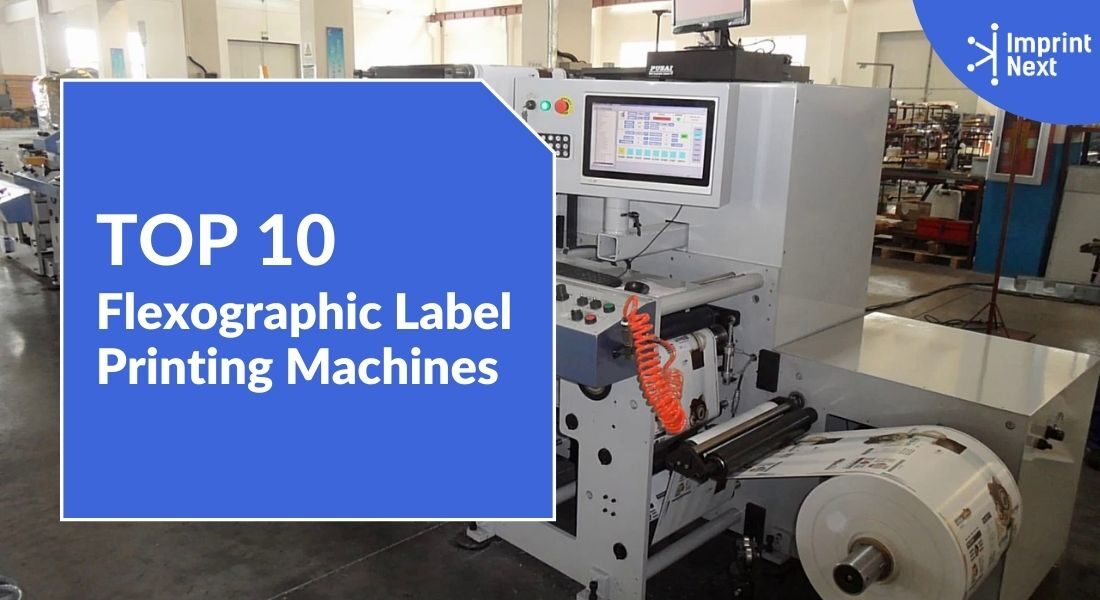 Last Updated on: 17th January 2023, 11:09 am
Flexographic label printing uses a flexible printing plate to transfer print onto various substrates like metallics, paper, plastics, and more. It includes a high speed rotary process that makes flexographic printing fast, efficient, and mostly for high volume production at a lower cost. And that is needed for print shops and industries. Moreover, such features pose a great advantage over the digital printing process.
Flexographic printing is a versatile option for companies that print custom labels, tags, all types of packaging items, pouches, paper items, and a lot more. Moreover, to achieve such ease in your custom label printing business, you need to have flexographic label printing machines.
Best Flexographic Label Printing Press:-
1. M.R Industrial Label Printing Machine:
2.Edale FL5 Flexographic Label Press:
3.Flexographic Garment Label Printing Machine
4. Kikai Label and Packaging Printing Machine
5. Gallus Flexographic label printing machine:
6.Changs Flexo Fabric Label Printing Machine:
7.Daco FLX350 Flexographic Label Press:
8.RK Flexographic Printing Machine:
9. Automatic Multi Color Flexo Printing Machine:
10.Vertical Flexographic Printing Machine:
Top 10 Flexographic Label Printing Machines:-
Printing large quantities of labels in a short period of time, that is durable on a range of colors and substrates. Keeping all important points into consideration, we discussed with reputed print industries and experts and came out with a list of top label printing presses. Here's what you should look for the best flexo presses for your print industry.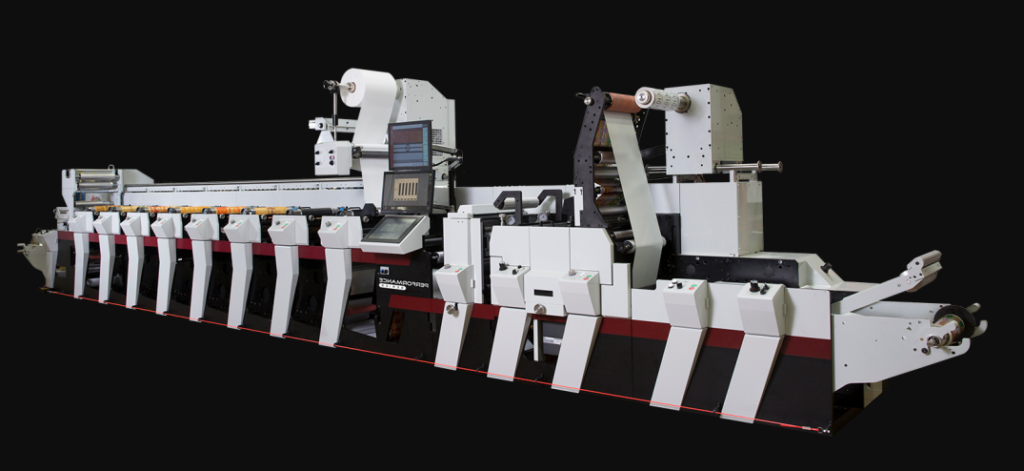 The advanced label printing machine is engineered for industrial large-scale printing jobs. It is designed to drive profitability in a highly competitive industry, It supports the widest array of applications and substrates such as bottle wraps, lidding, prime labels, light carton, roll-fed labels, and wraps, shrink sleeves tags, tickets flexible packaging, extended content labels and more.

Do you have printers? Are those printers sitting idle?
Become a Print-on-Demand dropshipping app like Printful or Printify. Dropship your merchants' orders.
Unlimited Merchant stores. Dropship and Fulfil Merchants' orders. Manage merchant invoice, sales commission, etc. Merchants sell the designed products in shopify, etsy stores, etc.
Know more
The label printing machine attains the highest speed of 305m/min with a high-speed configuration. The highest compared to all other printers.
With 360-degree registration adjustment and controlled ink densities, it produces high-quality dots in a simple and repeatable fashion.
It can print on substrates with a thickness range of 12-450 microns.
It can die repeat at 610mm with a print repeat range of 140-610mm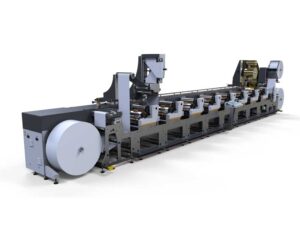 The flexographic label printing machine can print on labels, packaging, cartoons, and scratch cards. It can perform multiple functions like combine print, cut, crease, braille, embossing, and waste removal into a single machine. It can print 1000 to 1,00,000 units at a time.
The label printing machine can handle substrates up to 700 microns (24pt) thick and 510mm (20″0 wide
It has a maximum printing speed of 5-200 m/min
With a web-fed flatbed die cutter, it is a highly efficient solution for short-run folding carton production.
For minimum waste and maximum efficiency, it has an Ultra-short web path of 1.85m
The unique print head geometry ensures a consistent high-quality print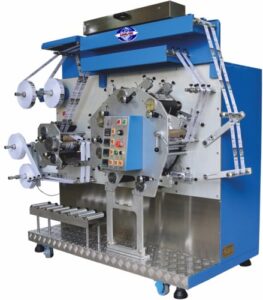 The label printing machine is designed to improve productivity and as well as fast-changing of the jobs which could be smaller or big and the production could compete with the market price
The automatic type label printing machine prints at a maximum speed of 370 m/min. Thus achieving the highest speed of 1 m/s.
This machine is suitable for materials including riband, cotton, rubber tape, nylon tape, paper tape, and adhesive tape.
It can print using three-color at a time and covers a maximum printing area of 150(W)*300(L) mm.
It uses a special ink that dries fast. The printed product is washing-resistant and strong colors.
The printing machine has a dimension of 1800x1050x1900 mm (LxWxH). And weighs around 400 Kg.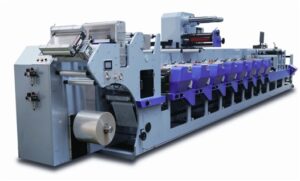 The label and packaging printing machine is a highly accurate flatbed die-cut system. Its unique construction, the cutting blade is positioned lower and easy for operation. It equips three rotatory die-cut units that are safe and easy to handle by the operator.
With excellent print quality, the label printing machine can print speed of 80m/min, and with flatbed die cut,
it attains printing speed at 120m/min.
It uses a central drum station and stack station that enables the press to have up to 9 -12 colors.
The machine has a print repeat of 193.675mm〜457.2mm with a gear increment:3.175mm
It has a detachable construction that is easy to wash and maintain for operators.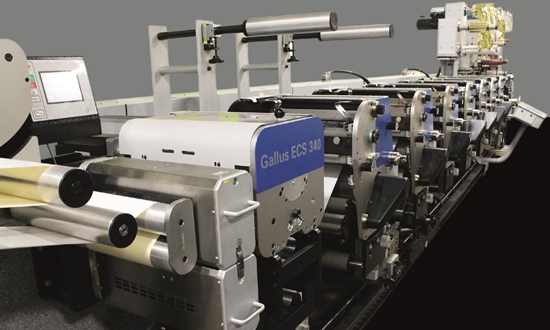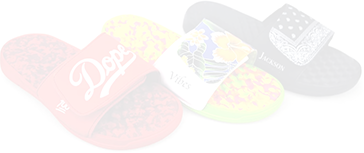 Boston based custom slide sandal maker has become $10 Million company using an online designer and unique growth marketing.
Read more
The Gallus RCS 430 offers extensive automation and the maximum flexibility for operators to choose their desired print method. It is a highly productive printing machine that uses cutting-edge units for UV offset printing for label printers around the world.
The machine runs at a maximum mechanical speed of 160 m/min.
It involves various print methods like UV offset, UV flexographic and rotary screen printing, solvent rotogravure, hot foil embossing, and gold foil printing – separately or in combination.
The machine prints various substrates like paper, self-adhesive materials, cardboard, mono foil label materials, and tube laminates.
Moreover, it has a high degree of automation in all modules that give an impressive performance by minimizing waste and dramatically reducing changeover times.
It can print and process at a maximum width of 430 mm with fourteen numbers of maximum printing operations.
In addition, it can perform three functions like Coating, varnishing, and lamination.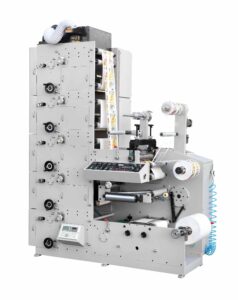 The 4+2 color flexo printing machine is used for printing labels, ribbon, cotton tape, woven label, nylon tape, paper
It has a maximum printing speed of 60m/min
The machine can print at a maximum width of 150mm and a length of 401mm.
Best in colorfastness, strong wash, and polish, perfect color registration, different stability of the printing roller.
It has a roller cylinder of 180lpi that is customizable to 150lpi,300lpi, and 500lpi, to meet different printing requirements.
Moreover, the overall dimension of the machine is 158*76*188cm and weighs about 620kg.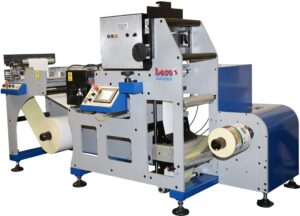 The label press is compact and best for small to medium-scale custom printing industries. It is a simple multi-color press that produces simple labels cost-effectively. Moreover, you can also configure it with an optional laminating station to give ultimate flexibility for digital finishing applications. The flexibility of the 'FLX350' platform enables a converting line to be configured for most applications.
The printing machine attains a maximum printing speed of 100 meters/minute dependent on the material.
Moreover, it has a maximum unwind diameter of 700mm with a web width of 350mm.
With a fully adjustable silicone nip roller, it has a durable powder coated cabinet and main plate
Finally, it consists of 20mm (0.78″) thick die plates which attain an accuracy level of 0.25mm (0.010″) at a constant speed.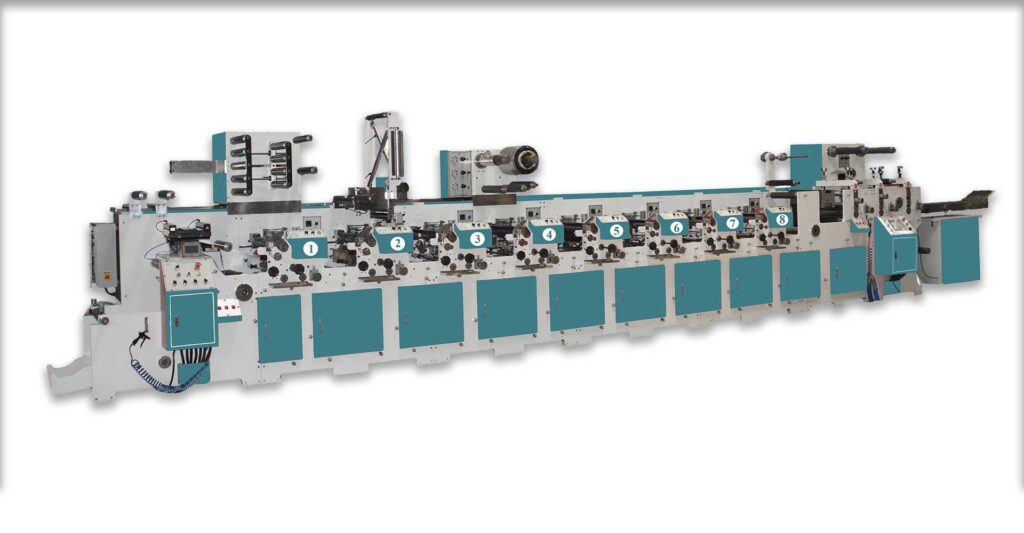 The high-speed printing machine is mainly a plain barcode label die-cutting machine.
It attains a maximum printing speed of 10000 To 12000 strokes/hr.
The machine has a Die Cutting Unit Area size 300 mm X 400 mm.
Lastly, it has a one-line sheet cutting unit with an online auto rewinding system.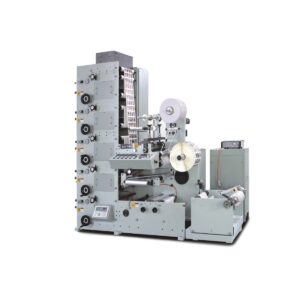 The multi-color flexo printing machine is designed for printing on paper, paper cups, milk/juice cartons, paper bags, and so on.
The eco-friendly printing machine uses both UV and water-based ink.
Moreover, it is capable of inline cleaning dust, printing, and cutting.
With closed-loop tension control, it can increase the printing tension for wrinkle-free prints.
The label printing machine also features warm drying, IP drying, and UV drying.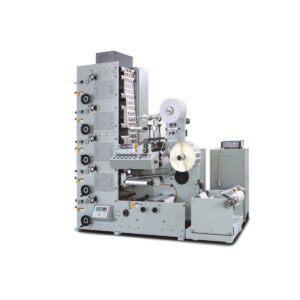 The vertical flexo printing machine is specialized in printing paper and cardboard labels. It has the main motor that adopts an imported inverter to govern a steeple's speed adjustment. The printing equipment is equipment infrared dryers with unwinder system is controlled by the edge guide sensor. It can print 360 degrees around products like cups or cardboard rolls.
The label printing machine can print using two to six-color at a maximum width of 310 mm.
The printing speed of the machine is 10-80m/min with a printing repeat of
180~380mm
It allows a maximum printing substrate of thickness 0.1~0.3mm.
The overall dimensions of the machine are 3000x1500x3000mm and weigh about 2000kg.
Conclusion:
Therefore, for large-scale industries, M.R Industrial Label Printing Machine is designed for huge production requirements. Moreover, it is suitable for printing on more than 20 product varieties. A complete package.
If you are a small-scale business and in short of space, Daco FLX350 Flexographic Label Press is compact and easy to use.
Lastly, choosing the right label printing machines that are a great addition to your print shop.

Do you have printers? Are those printers sitting idle?
Become a Print-on-Demand dropshipping app like Printful or Printify. Dropship your merchants' orders.
Know more