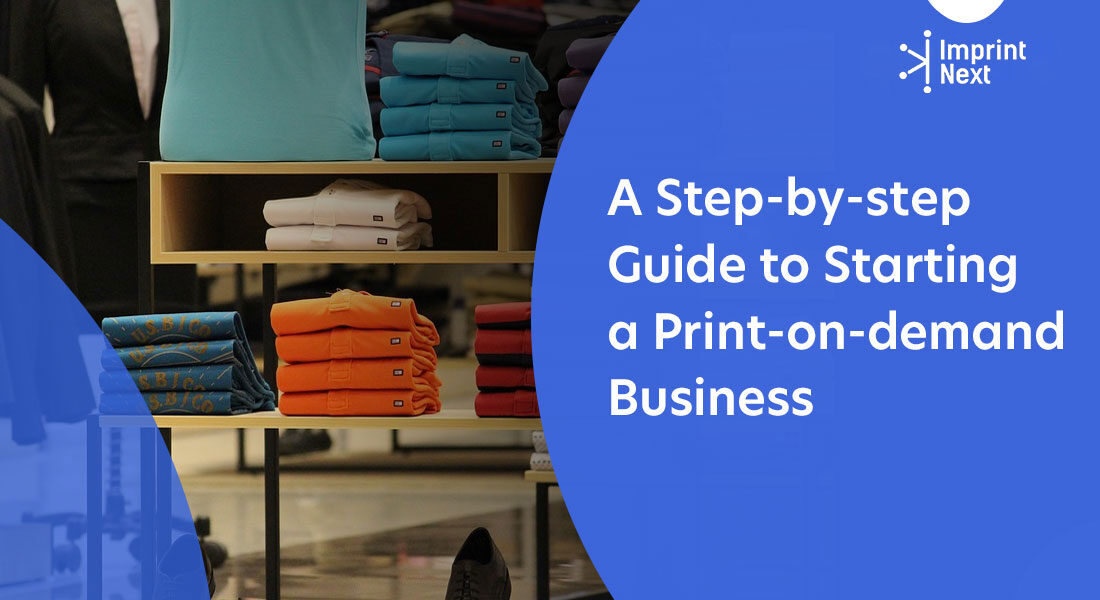 Last Updated on: 26th November 2021, 09:46 am
Print on demand is a printing technology where a company sells printed products until it receives customers' orders. Thus, enabling them to self-design various products like t-shirts, jerseys, mugs, caps/hats, etc., using custom product design software.
Print on demand is an idea coined back in the 90s and estimated to be worth $187.7 billion currently. It refers to an idea where a blank piece of apparel/ product is used to print designs as the customer wishes to order.
Moreover, it seems evident that a customer right at home buys something online, and you get printed the designs they make. It is effortless and easy to perform the entire order cycle. However, get messy at times when like product returns or the printing machine is out of order.
But in the end, print on demand is an effective eCommerce model that is much needed to stand as a strong competitor against others.
How Print on Demand works:
Running print on demand business will vary from one eCommerce platform to another, like a Shopify or Woocommerce print on demand business. But here, you can get a general outline of how the on-demand printing services work.
To start a print on demand service, you need to set up an online store and integrate with eCommerce platforms like Shopify, Woocommerce, Etsy, etc.
It is good to have your printing facility. If not, partner with a printing company like Printful or Printify who provides print-on-demand drop shipping services.
Suppose you do not have an online store even, no worries. Sites like Redbubble, Zazzle provide a free marketplace and allow you to create an online store on their platform. They handle the entire order cycle, i.e., outsourcing, printing, shipping, customer services, etc.
After you are finally done with your online shop, your store is open to the world.
When you receive an order, the printing companies will notify and send you a bill for the services they provide, such as original product cost, printing, packaging, and shipping to the customer.
Get Started with Print on Demand business:
How to start a Print on Demand business?
After you set up an online store, design a logo to identify your market place as a unique brand or identity. Most importantly, if you don't have one, then choose an eCommerce platform.
Once you are done with the above process, you need to integrate customization services into your online store. For this, you need an online product design software that embeds it into your online store.

Do you have printers? Are those printers sitting idle?
Become a Print-on-Demand dropshipping app like Printful or Printify. Dropship your merchants' orders.
Unlimited Merchant stores. Dropship and Fulfil Merchants' orders. Manage merchant invoice, sales commission, etc. Merchants sell the designed products in shopify, etsy stores, etc.
Know more
This software allows your customers to customize any product you sell in your online store. Finally, when a customer places an order, you need to process it, do the printing job, and ship.
As discussed before, if you cannot perform the printing job, you may approach printing service providers. There are plenty of print fulfillment centers that print products and drop ship to your customers' addresses.
Lastly, if you have successfully undertaken the above procedure, then you are ready to get started.
How much do you earn with print on demand business?
Your earnings = Retail price – base price.
Retail price- Display price set by you on the online store
Base price – Price charged by the printing industry(whom you outsourced print on demand facility) includes product cost, printing, packaging, shipping, customer service, etc.
Therefore, you earn the remaining amount of the retail price after paying a part as a commission to the printing company.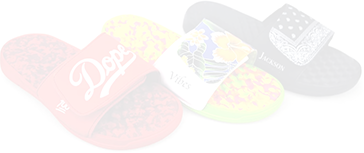 Boston based custom slide sandal maker has become $10 Million company using an online designer and unique growth marketing.
Read more
You can add some overhead costs, such as paying a graphic designer to make a logo or beautify your online store.
However, it may not be a requirement in all cases because all eCommerce platforms provide easy drag & drop and other handy features for easy designing a store.
Pros and Cons of Print On Demand:
Pros of print on demand services:
01. Somebody is taking care of your business:
It is the biggest benefit you get from print on demand business when a separate company looks after the entire order cycle, including hectic printing jobs, packaging, shipping, and customer service.
You have no responsibility for hiring staff, procurement, management, warehousing, etc. Although your print on demand products don't sell, you have no burden of your stocks getting outdated.
02. Low startup expenses or free:
There are some online platforms like Shopify that charges you after a free trial period. However, various free and genuine print on demand sites offers you free service.
You only pay a small part as a commission for each product sold. If not, you won't be charged.
03. Sell custom printed products:
With print on demand, you are no longer lagging in the era when custom products are considered the booming fashion signature.
You sell products that your customers design, and you have all the freedom and complete control over your business.
04. Try new designs for free:
You can also design products and sell them to your customers. In conventional methods, you design and print yourself to sell and earn a profit. Here, an initial investment is involved.
But in the case of print on demand, the supplier prints and sells for you. You do not spend anything but receive profits in return: such an easy and safe earning channel.
Cons of print on demand services:
01. You pay more than wholesale price:
You pay more to print-on-demand companies more than the wholesale price. The high price is genuine, as it includes the entire custom printing to the delivery cycle, but it may seem to be questionable on your part.
Looking into a broader picture, the wholesale price involves a blank product only, not printing expenses. That is where you can justify paying more.
02. Pay more for shipping:
Shipping prices vary with domestic and international suppliers.
Therefore, the distance may impose an extra financial burden on you. Thus you receive fewer profits paying more for shipping.
03. Relying on a third party:
You may monitor your business perfectly until it is all under your control. At times relying on third parties can pose a risk to your reputation.
Suppose a customer places an order and does not receive the product in time or gets a damaged product.
At that time, you can't give an excuse that you haven't made. Although you aren't responsible for it, besides, you are selling it under your brand.
Therefore, it affects your brand and, ultimately, your business.
Best Sales Strategies to Boost Your Online Business:
Seven sales strategies for any beginner to boost online business:
01. Make your site looks similar to others:
It may be Woocommerce or Shopify. All provide a similar platform with common features. You may choose a different color mixture, but ultimately the page, tab, navigation, etc., are going to be the same.
Here you may need a graphic designer to customize everything. However, if you are a startup, you do not need this at the moment.
02. Promote your business with Online Marketing:
You may claim to provide unique features to customers, but what is the communication channel. It is, of course, "marketing."
Let your customers know what great products you sell, and it is time to start generating more traffic to your website.
03. Know Your Customer:
Find your target audience. Communication plays an important role in reaching the right buyers. Suppose you sell print on demand t-shirts but constantly about electronic gadgets like mobile phones, tablets, etc.
Remember! Your writing style depicts who you target, and that goes wrong when visitors return without purchasing from your store.
04. Fill with high-quality content and real-life images:
You may know "content is king." It may appeal or frustrate. Choose a common product title that everyone can easily understand.
Highlight the product description that everyone admires. That is to say, know about the people's problems and what they want to see at first glance.
More about images that must look realistic and give real-life imagination. Animated or edited images do not give a clear idea of how the product looks on hand.
05. Choose a conventional web store design:
Make your website clean and easy to navigate. A visitor does not know where you place products, their details, checkout, etc. unless you follow a conventional rule.
Follow up big websites like Walmart or Amazon and design your website accordingly so that no visitor finds it frustrating to browse through your store.
Do add appropriate colors, fonts, images that everyone finds pleasing to see.
Poor web design may ruin your chances of success from the very beginning. Suppose you design a page that is fit to display greeting cards but ultimately depicts a gadget.
You need to take care of graphics placement, i.e., right at the appropriate place.
06. Rank your page:
If you have come across "SEO," i.e., Search Engine Optimization, then you would understand it better. SEO is all about optimizing your website by inserting relevant keywords and getting your website ranked to the top on the first page.
For instance, a customer types in the google search bar "best-customized t-shirt" your website as a similar key phrase that put it up on the search engine's top results.
That is to say. Your website is highlighted for everyone to access easily. Thus, you get huge traffic in the meantime. More traffic, the more leads you generate.
07. The psychology trigger- free shipping
If possible, provide free shipping. The word "free" acts as a psychological trigger. When a customer finds something for free, they grab it irrespective of whether they are paying for it elsewhere.
Perhaps, you have another alternative to charging shipping fees for faster delivery.
Moreover, free shipping also witnesses an increase in eCommerce revenue in increased average order value.
Conclusion:
You can choose any product to sell on your eCommerce storefront but adding a customization service needs to be fulfilled by your own or some print-on-demand source,
Remember! Your print on demand store's success secret strongly depends upon the printing and fulfillment partner you choose. Their faults will ultimately affect you.

Do you have printers? Are those printers sitting idle?
Become a Print-on-Demand dropshipping app like Printful or Printify. Dropship your merchants' orders.
Know more