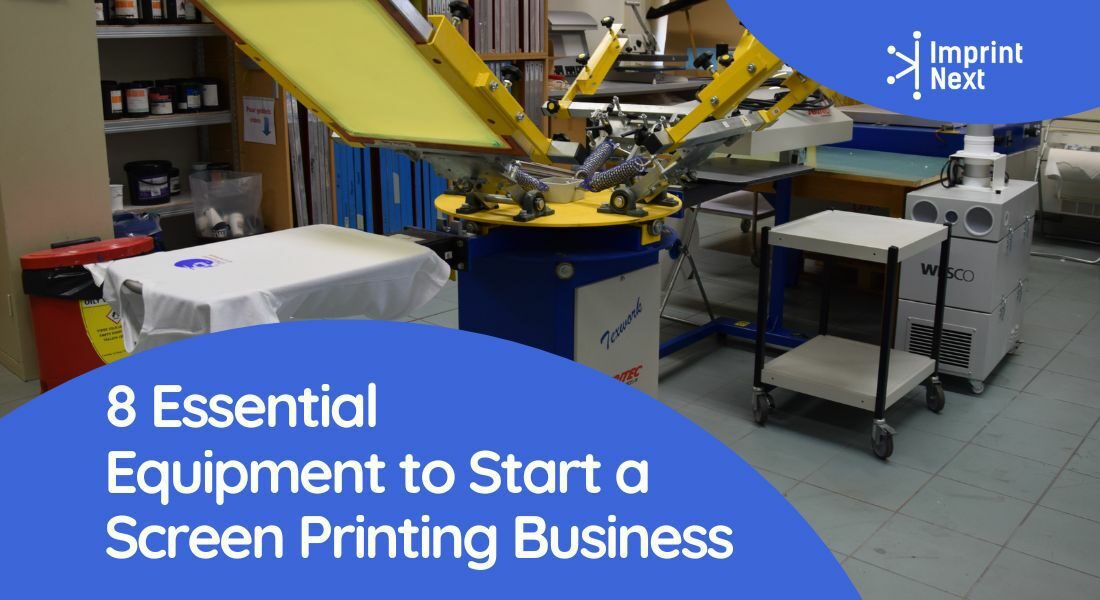 Last Updated on: 22nd June 2022, 01:17 pm
In order to start a professional screen printing business for t-shirts, you definitely need to know the list of items you are going to start with.
Today we are going to know about what are the minimum requirements or minimal items you need to screen print a t-shirt with the best print quality. You do need to worry initially, if you are a newbie it's obvious to create confusion like "how to start screen printing", "what do I need to start, & more. We will discuss everything here about the equipment needed for screen printing, starter kit, water-based ink & more.
With these screen printing essentials equipment, you get the easiest time and no hassle, which I believe are going to help you screen print better.
Top 8 Screen Printing Equipment: (Equipment needed for screen printing business)
To start a professional Screen Printing business for printing t-shirts, you must have these 8 items.  Be ready with the screen printing equipment list before starting. They are as follows:-
01. Screen Printing Press:
The first thing on your list is going to be a screen printing press. And I suggest buying an actual press rather than hinge clamps because it is easier to load the shirt on the pallet.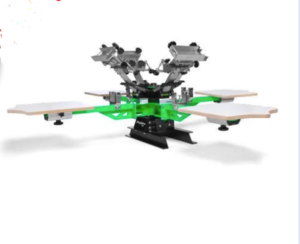 It just makes it a lot easier to print shirts on some kind of press that has a pallet where you can load or split the shirt on it. The pallet goes inside the body of the shirt that making it easy to print.
So, what you have to consider is how many colors do you want to print. If you are a beginner, then you obviously don't need to start with a big floor press like a six-color six-station rotary press.
Keep in mind that whatever color you want to print you need a print head. So, each one of the printheads prints one color. Most the most flexibility, you may get a (4) four-color four-station screen-printer.

Do you have printers? Are those printers sitting idle?
Become a Print-on-Demand dropshipping app like Printful or Printify. Dropship your merchants' orders.
Unlimited Merchant stores. Dropship and Fulfil Merchants' orders. Manage merchant invoice, sales commission, etc. Merchants sell the designed products in shopify, etsy stores, etc.
Know more
In this screen printing machine/printer, you get four crosses, and most importantly you have bench-top equipment. (for t-shirt & other clothing)
So, when you are starting your printing process, you may start with a smaller bench-top or tabletop press like for instance the Econo Bench-Top P-405-BT screen-printer. It is a bench-top 4 color- 1- station screen printing press. (4 color t-shirt screen printing machine)
It just makes it a lot easier if you want the versatility of using different colors like three colors black because one of those would be a white under base.
When you are deciding what press to buy the first thing you have to consider is, what kind of flexibility in printing you want or how many colors are you going to print.
Secondly, what's better for you like a floor or a bench press. Obviously, if you are a beginner and starting out minimalistic then you should probably have a 1-color-1-station benchtop/table-top screen printing press. It is pretty inexpensive to start. As a beginner you can start from this screen printing press.
02. Flash cure:
The next thing on your list is a flash cure. This is actually an air flash.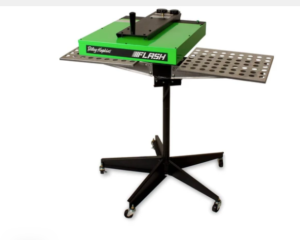 Flash cures are used as a press to do multi-color jobs. So when you are printing a multi-color job and you want to dry the ink to touch between prints, we put the flash cure over one of the pallets.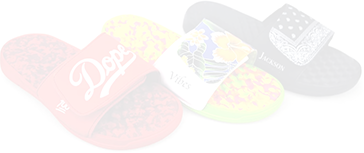 Boston based custom slide sandal maker has become $10 Million company using an online designer and unique growth marketing.
Read more
If you are using water-based inks then go for air flash. Moreover, if you choose to use plastisol inks then go for infrared flash. You can try this flash cure one from Amazon also.
Why we flash cure t-shirts?
The thing with curing t-shirt is ink has to reach 320 degrees through the whole film of the ink in order to cure. If it does not reach that temperature it won't cure. That means the curing temperature has to reach on the top all the way through the bottom of the t-shirt. So, if you are measuring the temperature of the ink at the top, it's going to be hotter than 320 degrees than at the bottom.  Use a flash dryer to cure t-shirts because all you are doing is just achieving that ink temperature.
One important thing you need to remember while using a flash dryer. The flash cure unit is an open heating source. There is no oven chamber, no area for heat to accumulate. So changes in the ambient temperature in the surrounding can actually affect the flash cure. So you have to be careful about fans, open windows, breezes, or any other kind of temperature change. It could affect the airflow and heat around the flash cure as it radiates onto the palette and t-shirt.
03. Exposure Unit:
The exposure unit has an LED vacuum top that we use to expose the screen because it is a photographic process. We need a light source particularly UV light.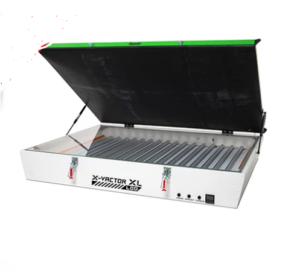 You can use sunlight as it a good resource for UV but the problem is we cannot always guarantee it going to be nice and sunny not every day. Some of the most popular light sources that people use are blue fluorescent tubes, quartz lights, etc.
One thing you know about light fluorescent tubes is they do not provide adequate UV to harden the emulsion which needs UV to harden. Just like the fluorescent light, the quartz light is in the same boat. So it is very important to select the correct light source for more efficiency in your shop.
If you are looking for an economical entry-level light source, one of the ones I would recommend is Ryonet's LED screen exposure unit.  This light source will produce more UV maybe three times more UV than regular white fluorescent or a quartz tube. But for the price, it a very good entry-level and you get into higher quality images. Once you get into an advanced light source, then you can go for M&R MSP 3140 exposure unit. So, the basic equipment you get to start with is a printing press, flash cure, and an exposure unit. These three core items would be great to start your screen printing business. Try this LED UV Exposure Unit.
04. A computer:
Here, you are going to need a computer with vector software. In screen printing, we use vector art that is created with Adobe Illustrator or Corel. Some people use photoshop, but that's really for photography.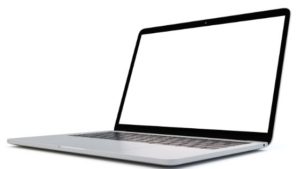 So you need a computer, Adobe Illustrator or CorelDraw, and you are going to need an inkjet printer.
You can print the inkjet film that you are going to need to make the screens. So to sum up, all you need is a computer or laptop with good graphics, an inkjet printer, and vector software like CorelDraw or Adobe Illustrator.
05. Pressure Washer:
You are definitely going to need a pressure washer. In screen making and reclaiming, the pressure washer is critical.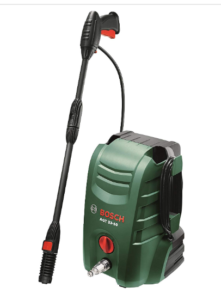 And you also need running tap water on a garden hose with little springs. This is what you are going to use for washing the stencils out and try not to spray water over the printed area on the t-shirt.
The garden hose with the cold tap water you are going to wash the stencils out after you expose it on the exposure table. Try it: Pressure washer
The pressure washer is actually used for stripping the screen of emulsion, de-hazing, mask wrapping, and all the screen-making process where the force of water is needed to help complete the job with the chemicals.
06. Squeegee:
So the next item you are going to need is a squeegee and most importantly a screen as well. Squeegee is used to print with the screen.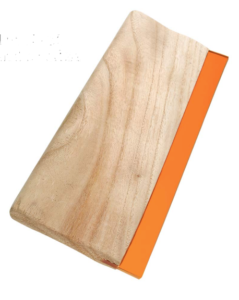 You are going to need a scoop coater. It is used to apply a smooth and even coat of emulsion to the screen and that we can take it over to the exposure unit.
Then we are going to expose the screen under the exposure unit with a film positive to create a stencil. Now, we are ready to print on the press with the squeegee.
07. Other consumable items:
Inkjet Film– So the next few items we are going to need are inkjet film. These are also called consumables because we consume them with every print job and that would be inkjet film.
You need an inkjet film to print your film positives to make the screen.
Moreover, you also need some ink whether it be plastisol or water-based, an ink solvent used to clean up plastisol ink from your screen and free the squeegee.
Emulsion– An emulsion is a piece of stuff that goes into the scoop coater to be coated onto the screen so that we have a photographic stencil.
And then, of course, you need an emulsion remover. This is used to strip the emulsion off the screen when we want to re-use it.
Spray tack/ spray adhesive– It is an adhesive that is used on the palette so that the shirts stay put while we are printing them.
So these are some of the basic chemicals or consumables that you would need to screenprint t-shirts.
08. Check List of all Equipment you require for Screen Printing:
Computer and inkjet printer
Vector software like AI/Coreldraw
Cold running tap water
Drainage
Some other things you are possibly going to need like a heat gun, infrared temperature gun, rags, chemical resistant spray bottles, scrubby pads, masking tape, markers, sharpies, scotch tape, and a ruler.
Conclusion:
I hope you found this blog to be educational, informative, and worth your time. This blog could really help you start your first screen printing business or make some extra money on the side.
As you may find it requires much equipment and methodology but in actual practice, it is a lot easier.
The more you practice screen printing, the easier it becomes.

Do you have printers? Are those printers sitting idle?
Become a Print-on-Demand dropshipping app like Printful or Printify. Dropship your merchants' orders.
Know more