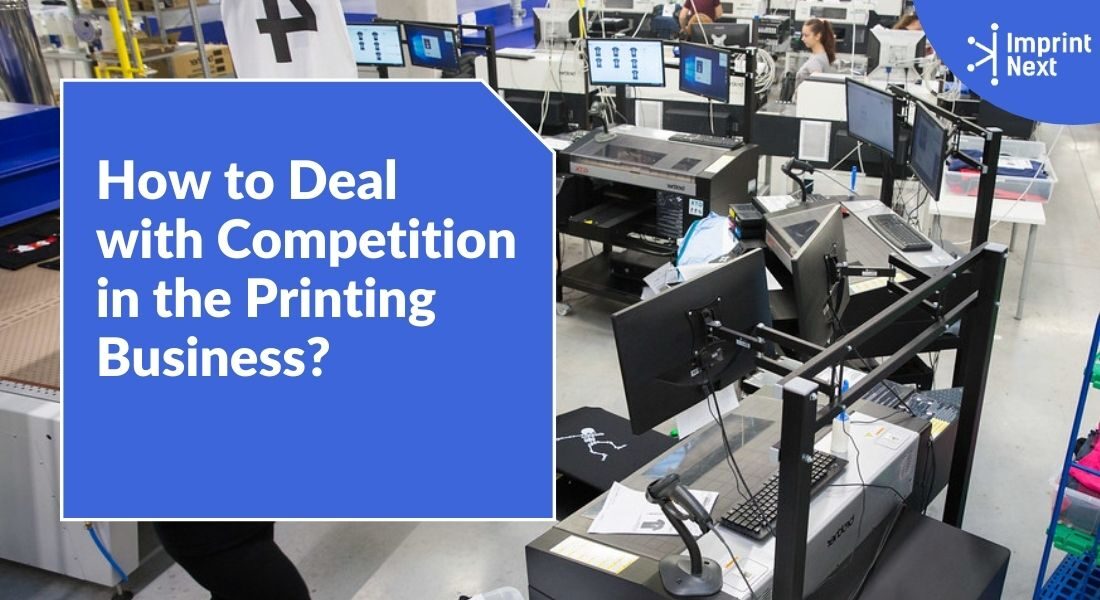 Last Updated on: 30th April 2021, 04:56 am
Product customization brings opportunity, growth, and excitement to the product decoration industries. The time has changed when everything starts operating online. Printing industries are never to stay behind. When there was no foot traffic for offline printing shops to run business, the online orders have paved a great way to stay ahead.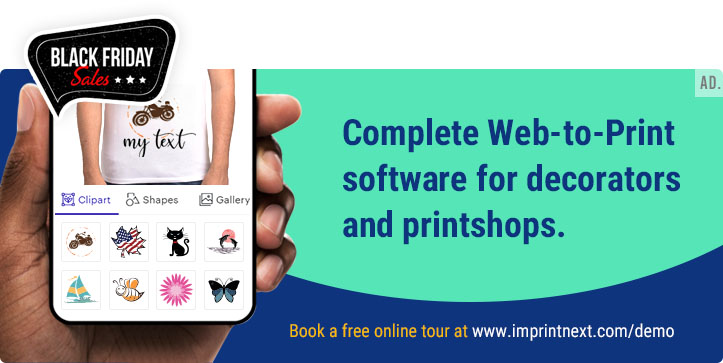 It becomes challenging for print shops and product decorators to offer custom orders online without a strong IT backbone. Therefore, ImprintNext has paved the ultimate way to open new sales channels and new print products to provide both online and offline depending on changing markets.
We are now into the digital world. The printing processes have become more straightforward and more efficient. The best IT partner and the right digital strategy will provide you with tailored help to handle improvements and routine technology updates.
Printers who want to take advantage of emerging digital technology will be moving at a breakneck pace. Personalized assistance and launch set-up programs to help you get online quickly and succeed. ImprintNext product design software offers complete flexibility to expand with a complete and affordable wide range of web to print solutions to expand into sales and marketing & production management.
In this objective, ImprintNext has shared some meaningful insights on how the print industry has thrived within a couple of years.
How Printing Companies become Successful?
Today we have small to medium print Shops, wide format printers, and brokers, trade printers, large commercial printers who rank in the top print companies as our clients. 
Large printers are having a hard time staying profitable. The profits of small printers, on the other hand, are increasing. We have innovated and developed printing solutions that will help printers diversify their product offerings, increase their volume and share of the market, and expand into new markets to maintain this development.
It's easier to invest in technology, but whether you succeed or fail depends on your ability to launch on time and consistently. As a result, an IT partner with customized support to help manage the changes or routine technology updates is needed.
A great feature for end-users is uploading their own creative content for personalizing any product they are looking for. It gives you control over the design and creation of your marketing content. It also reduces the turnaround time during the printing process. Generally, the uploaded files are in the standard PDF format.
These files can be sent back to you digitally for final approval before being sent to the press. As a result, you stay relaxed as it saves you a ride to the printer or the time it would take for proof to be mailed to you.
The software has a friendly user interface that even novice users will understand. No design experience is required. It comes loaded with all handy tools. It comes with multiple device compatibility to easily run on mobile devices, desktops, tablets & PCs. Moreover, the software is secure and reliable. With robust layers of security, it secures your privacy and online payment systems.
Overall, the product designer tool can benefit your print shop in a variety of ways:
Features:
Augmented reality
Advanced AI
Virtual product generator 
Multivendor marketplace
Wide-format print support
3D preview
Embroidery preview
Laser engrave support and more.
Product Customization is Ever Evolving:
ImprintNext has 15+ years of industrial experience in custom printing and product decoration sectors and still. We understood the difference between various print businesses and print products. We have our clients that don't hassle with web2print integration. Instead, we help them integrate the best online technologies.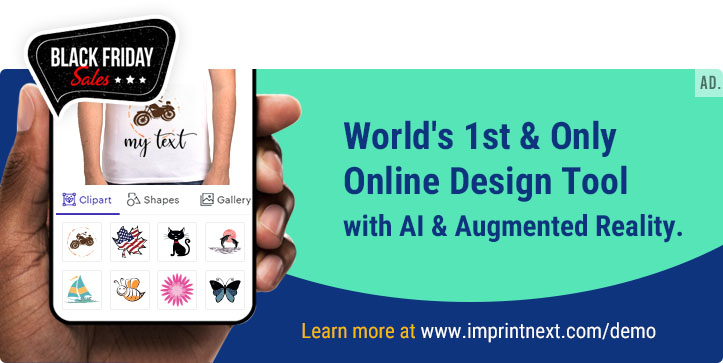 Our online custom product designer app has ready tools like Design Studio Supplier Catalogue Integration, Sales & Marketing Automation, Sales & Marketing Automation, Back Office Management, Kiosk App, and Support & Services.
Our web2print solution has helped print shops and product decoration industries increase new sales and automate order management. It reduces human resources by at least 60% to process orders and win multimillion-dollar accounts.
With our help, they can easily manage multiple print stores and launch unique business models. The solution has helped them to increase sales & reduce operating costs. 
We give you the assurance that your team will complete the task, and we assist you in meeting deadlines and obligations by providing the highest quality and best value. At a reasonable price, and ultimately, to assist you in comprehending the target audience.
Web-to-print Technology for Easy Printing:
Web-to-print is an e-commerce solution that integrates product design studio in online storefronts. Both businesses and consumers can take advantage of this solution. Consumers make designs on the product and place an order, which the online/offline stores print the same on the respective products ordered. Product customization has become a great solution for businesses to achieve a wide range of marketing goals. 
Early, the costs of having the custom product designer were relatively high, and the printing equipment and related hardware. But, technology has changed. Now, the prices have dropped, and product design software is readily available to all corners of the world. Again, the ever-evolving print-on-demand industries have taken all printing and personalization burdon at a nominal cost per product only if you could make a successful sale. All things have become affordable, convenient, and automated that even a newbie can quickly jump into the product customization business.
Today the software allows end-users to create designs for different types of products. It includes t-shirts, jerseys, business cards, mugs, hats. promotional products, signage, brochures, newsletters, catalogs, and other materials 
Consequently, these choices are just a few mouse clicks away, saving you time and effort in producing the materials you need.
Conclusion:
You'll need a digital strategy and web2print technology that will give you both power and versatility. And work with product-specific designer studios to engage B2C, B2B, Reseller, and a variety of print items. in a nutshell, they allow you to use third-party tools and create custom features/modules as required. This way, you won't miss out on any opportunities due to financial or time constraints.
Further, you took the first step toward being hands-on by reading this post! It's time to start making business plans, setting targets, and working toward them. Moreover, we'll assist you in finding new leads and prospects. Make changes to your selling strategy to represent your new strategies.
Finally, don't let your old habits hold you back. Investigate new ways to increase the earnings. To give your company a competitive advantage, you could consider adding productivity to your product customization by integrating ImprintNext.