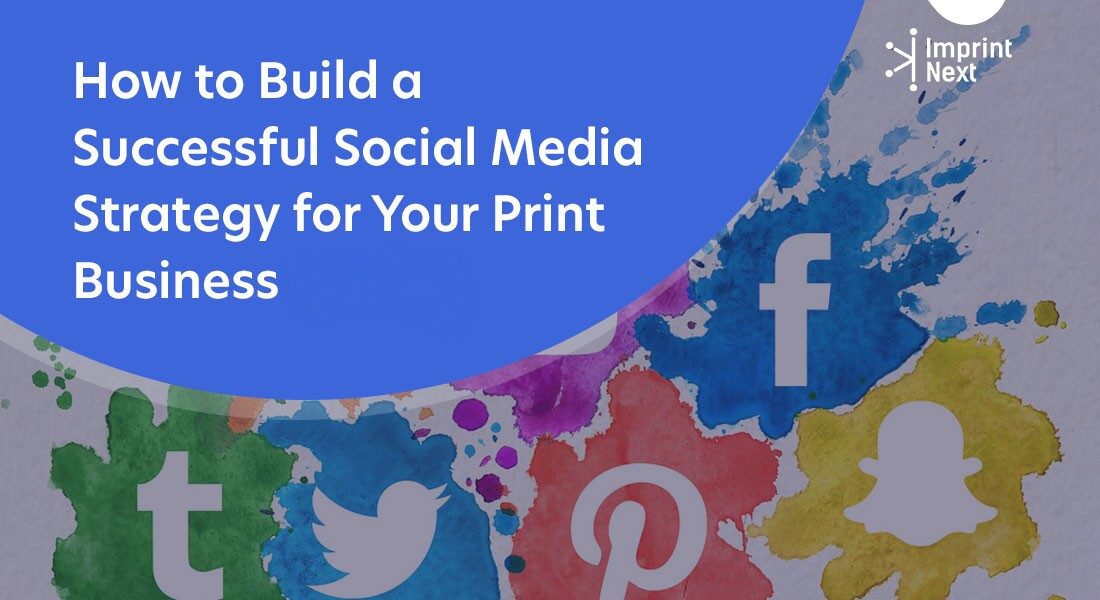 Last Updated on: 3rd January 2022, 12:19 pm
Like they say if you are not on social media, you are dead! For the most part, businesses and startups can't afford high-investment marketing and ad campaigns, which is why social media offers to be the most lucrative option for marketing campaigns. Not only do you reach a wider audience faster than any other channel, but you can also connect directly with your customers on social media. In this blog, we will discuss how to build a successful social media strategy for your print business this year.
According to Sproutsocial, 89% of consumers will buy from a brand they follow on social media.
How to Build a Successful Social Media Strategy for Your Print Business? Businesses should start with Facebook, Instagram, and Pinterest for their clothing line business. Being a part of the fashion industry, they should invest at least 5% of their budget on social media paid campaigns. They should also look into competitor analysis, email marketing, and video channels such as YouTube.
Here's a Step-by-Step Guide to Your First Social Media Strategy:
01. Why is Social Media Important for Business?
Social Media a very important but for businesses especially in today's market as most of their customers are young in the age range of 25 and 34 years old. Social Media gives an opportunity to immediately reach thousands of customers in a few days and if you can make your post go viral, you can reach millions within weeks.
On the other hand, although social media marketing is inexpensive, it does require creativity and skills which is not common among business owners. It suggests that they have to hire professional social media managers with a hefty salary. However, even after all this, SMM (Social Media Marketing) is still one of the most cost-effective ad & marketing campaigns.
02. % of respondents on various communication channels:
Facebook – 98%
Instagram – 82%
Email – 65%
Twitter – 48%
Facebook community – 48%
Text message – 41%
Phone – 40%
Facebook messenger – 39%
03. Social Media Campaign Goals:
A typical list of social media campaign goals would include:
Creating Brand Awareness
Making Better Sales
More in-person Sales
Increase ROI
Creating a fanbase
A. Creating Brand Awareness:
The most common mistake businesses make after going online on social media is that they start bombarding marketing and ad content from the beginning.
It creates a bad image for the brand, as social media is more about getting to know each other than selling stuff. So, the first thing on your goals should be building brand awareness and it has to continue throughout the life of the brand.

Do you have printers? Are those printers sitting idle?
Become a Print-on-Demand dropshipping app like Printful or Printify. Dropship your merchants' orders.
Unlimited Merchant stores. Dropship and Fulfil Merchants' orders. Manage merchant invoice, sales commission, etc. Merchants sell the designed products in shopify, etsy stores, etc.
Know more
B. Making Better Sales:
By better sales, we mean high-quality sales. Sales that convert well i.e. are likely to become repeat customers, buy more items, transact more-than-average cost to buy your product or services. Social Media is one of the best places to reach your core audience faster than any other method.
C. More in-person Sales:
Many print shops with physical stores want to drive more traffic into their stores. It has more to do with reach the right customers than marketing on social media.
First off, you have to narrow down with social media users to those who live near our store and then reach out to people who have a history of shopping and loving customized t-shirts.
D. Increase ROI:
To increase your ROI, you have to audit your social media channels and keep track of your investment. It will enable you to reduce the number of employees, lower investment, and increase your return on investment.
E. Creating a Fanbase:
Apart from making sales, increasing ROI, and other business aspects, store owners focus on creating a loyal fanbase. It will not help you with increasing sales, but will also support your cause. You can pretty much tell the kind of fanbase 'Apple' has and you can also read what a group of loyal fans could do for the business.
F. Finding Your Audience:
To find your audience, you would need a set of sophisticated analytics tools for your campaign and you will need a lot of demographics data.
Here's a percentage usage of different social media platforms by U.S. adults according to a survey done by Pew Research Center.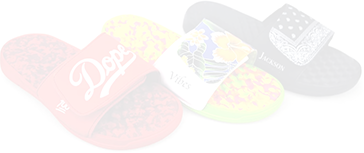 Boston based custom slide sandal maker has become $10 Million company using an online designer and unique growth marketing.
Read more
Adults using Facebook: 68%
Using YouTube: 73%
Adults using Pinterest: 29%
Using Instagram: 35%
Adults using Snapchat: 27%
Using LinkedIn: 25%
Adults using Twitter: 24%
Using WhatsApp: 22%
| Adults | FB | YouTube | Pinterest | Instagram | Snapchat | LinkedIn | Twitter | Whatsapp |
| --- | --- | --- | --- | --- | --- | --- | --- | --- |
| Men | 62% | 75% | 16% | 30% | 23% | 25% | 23% | 20% |
| Women | 74% | 72% | 41% | 39% | 31% | 25% | 24% | 24% |
| 18-29 age | 81% | 91% | 34% | 64% | 68% | 29% | 40% | 27% |
| 30-49 age | 78% | 85% | 34% | 40% | 26% | 33% | 27% | 32% |
| 50-64 age | 65% | 68% | 26% | 21% | 10% | 24% | 19% | 17% |
| High School | 60% | 65% | 18% | 29% | 24% | 9% | 18% | 20% |
| College | 71% | 74% | 32% | 36% | 31% | 22% | 25% | 18% |
| Urban | 75% | 80% | 29% | 42% | 32% | 30% | 29% | 28% |
This data could be your guide to decide on the social media channel you want to focus on. Facebook and YouTube are two prime channels to start your marketing campaigns. For a print business, Instagram and Pinterest could be better options. LinkedIn and Snapchat are yet to make their mark when it comes to doing business. LinkedIn makes it good at making business connections in your industry and Snapchat is good to reach the younger generations.
G. Stats & Metrics:
To begin anything you need data, lots of them, to figure out your course of marketing strategies. Although likes and shares are desirable to have a lot of, it doesn't do much unless you get high engagement from your target audience. More than likes is user reach and user engagement which is basically the number of unique users who took some desirable action on your post.
There are multiple tools for each social media platform that can produce your metrics on your current campaign. However, for Facebook and Twitter, you get built-in metrics systems, whereas for others you may have to subscribe to an application.
H. Facebook metrics:
| Actions on page | On Pageviews | Page previews | On-Page likes |
| --- | --- | --- | --- |
| Page unlikes | Organic likes | Paid likes | Net likes |
| Reach | Recommendations | Post engagement | Page followers |
| Your fans | People reached | People engaged | Total video views |
| 10-second views | 30-second views | Views to 95% | % completion |
I. Twitter metrics:
| Tweets | Tweet impressions |
| --- | --- |
| Profile visits | Mentions |
| Followers | Tweets linking to you |
| Engagement rate | Link clicks |
| Retweets | Favorites |
| Replies | Audience demographics |
| Twitter keyword report | |
J. Instagram metrics:
| Impressions | Reach | Profile views | Engagement |
| --- | --- | --- | --- |
| Saved | Hashtag performance | Stories interactions | |
K. LinkedIn metrics:
| Impressions | Clicks | Interactions |
| --- | --- | --- |
| Followers | Engagement | |
L. Pinterest metrics:
| Daily impressions | Daily viewers | Monthly viewers | Monthly engaged |
| --- | --- | --- | --- |
| Repins | Likes | Pin type | |
04. Your Competition:
It's always a good idea to know who you are up against. A major aspect of your marketing campaign is to win against your competitors. Many learn about their competitors' strategies from their social media and campaigns. Some would hire a professional who would give them a competitor analysis. Learning about your competitor's presence will help you create a better social media strategy for yourself.
The idea is to learn what's working for them so that you too could employ those in your campaigns. On the flip side, many make the mistake of completely copying their ways instead of learning about their successes. Two similar brands can have a completely different marketing approach and still win such as Coca-Cola and Pepsi.
In fact, all brands have their own marketing approach, even being in the same market. Although your target customers are the same as your competitors, you could have your own unique marketing approach.
Probably the easiest way to find out your competitors would be through a simple Google search. Just google your industry keywords and phrases and you will see the major players at the top of the search results.
05. Creating Social Media Content:
Some creative ways to share social media content
| Vlog post | How-to-video | Go live | Influencer talk | 360 photos |
| --- | --- | --- | --- | --- |
| GIF | User-generated content | Charts and graphs | Infographic | Brand partners |
| Social swap | Social contest | Audience poll | Ask questions | Share stats |
| Share quotes | Create lists | Emoji messages | Share follower's post | Self-explanatory image |
It doesn't take much to realize the importance of the right content on your social media campaigns. Over 45% of users unfollow a brand if the contents are overly promotional. Over 40% of users unfollow a brand if it shared irrelevant content.
A. User-Generated Content:
The fastest way to garner authority and trust in social media platforms is by curating user-generated content. Your followers would definitely appreciate some authentic content shared by your fans on their social media profiles.
This way, you have to work less on drafting your content and focus more on finding out user-generated content. This is why using a brand-specific hashtag(#) is essential in winning today's social media game.
B. Have a Consistent Theme:
Make your social media presence immediately recognizable by keeping a consistent theme from your website to color themes, and even the tone of the content. Cater your content as expected by your online audiences.
C. Crafting Your Strategy:
After you have decided on your content's consistency, you will have to devise a strategy such as the time of sharing your post, several posts per day, type of post for each day. You will also need a team that will work on creating, posting, managing, and tracking your post; you will also need a team to respond to your followers' messages.
Conclusion:
It's easy for businesses to get into the trap of the idea of making sales from social media, but it has never been a platform to make sales. Social media is primarily to connect today's young generation and they expect to connect with you at a much personal level.
They don't care about your business and your hardcore marketing content. So, it's always for businesses to keep social media as a way to stay connected with their target audience and not encourage sales.

Do you have printers? Are those printers sitting idle?
Become a Print-on-Demand dropshipping app like Printful or Printify. Dropship your merchants' orders.
Know more