E-commerce Trends: 2020 is around the corner, and we have already witnessed some radical changes in e-commerce.
Mobile users are increasing every day; as a result, product customization is picking up the pace, and competition is higher than ever.
Here are the Top 5 E-commerce Trends that are Going to stay in 2020. A few of these trends are also going to stay in 2020, and some will disappear.
In this blog, we will discuss the e-commerce trends that are going to hit 2020 next year and some that have been here and ain't going to go anytime soon.
01. E-commerce via AR and VR
It already sounds exciting! Meanwhile, it is expected that the total number of AR and VR users will reach nearly 200 million by 2020.
Although, we already have a business that is providing radical user experiences through AR and VR.
Besides, businesses are using new technology to create new customer experiences. Moreover, we would like to see what else it could do.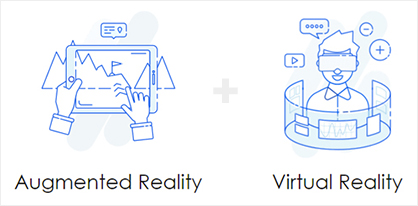 AR and VR will welcome e-commerce with arms wide open.
The increasing customer base will open up many business opportunities, and we believe e-commerce will step in.
Customers can get a 3D view of the product they are going to buy.
They can check if particular furniture will fit in the space or not.
They can compare products in real-time. Its application is vast if employed the right way. It is going to revolutionize the shopping experience of customers and the way e-commerce does business.
02. Increase in Mobile Purchase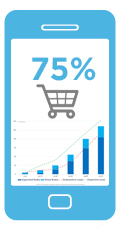 We have already witnessed how online usage shifted from desktop computers to mobile devices. Today accounts for more than half of all web traffic and growing.
But, it's a surprise that when it comes to online shopping, mobile devices still didn't cut.
Online shoppers still prefer desktops over mobile devices for shopping because of the lousy mobile shopping experience.
However, businesses are doing their best to offer the best shopping experience on mobile.
In 2019 nearly €230 was garnered from online transactions.
It was found that although mobile devices accounted for nearly 60% of all sessions, it's revenue generation was only 40% of the share.
From this, it can be concluded that mobile shopping is picking up the pace and will continue to grow.
03. The Future is in Subscription-Based Services
Subscription-based services have proved that it can be useful both for customers and businesses. Just like Amazon did it with Amazon Prime.
It offers flexibility to users and garners recurring sales for businesses. In 2019 the subscription-based services accounted for over $157 billion. Also, subscription-based services are projected to grow over $201 billion by 2020.
Not just services, products, too, can be sold on a subscription basis. The Dollar Shave Club garnered $615 million in only five years by selling razors on a subscription basis.
04. Personalized shopping experience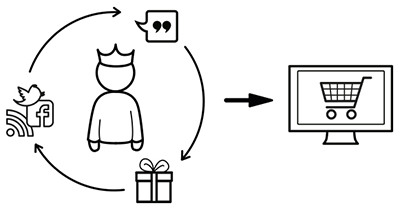 The personalized shopping experience is already a real thing now. However, it's going to be significant in the coming year.
Banner marketing, remarketing, email marketing, etc. is part of the personalized shopping experience.
The idea is to cater to customers with products and services that are more interested in it.
Create personalized shopping by tracking customers browsing habits and previous shopping experience.
Amazon did its best by recommending products similar to what they bought before. In the coming years, we are going to see more of this.
E-commerce business will cater more to the customer by predicting their interest. One platform will act differently for different customers.
05. The surge in Product Customization
With advancing technology, product customization has become more accessible and more straightforward.
Consumers today want customized products for everything from gifts to shoes and also for makeup items and furniture.
Personalized products give a sense of ownership to customers because customers create their products.
It also adds value to the products. Therefore, customers will most likely pay more for the customized product.
E-Commerce Stats of 2020
 Landing pages with videos also improve CRO by more than 85%.
A 1-second delay in page load can reduce conversion by up to 7%.
Nearly 50% of marketers build a new landing page for each campaign.
Companies with 40+ landing pages get 12 times more leads than companies having up to 5 landing pages.
Mobile commerce makes up over 60% of total sales in 2020.
Global mobile commerce sales have reached nearly $700 billion in 2020.
8 out of 10 Americans shop online, with over 50% of consumers have purchased something through their mobile phone.
It is estimated that by 2020, more than 3 billion users will have virtual assistants on their devices.
As per estimated by 2020, in-store mobile payment will reach over $500 billion.
If the e-commerce site took more than 3 seconds to load 40% of mobile users, quit
Nearly 60% of cart abandonment is related to costs such as tales, shipping charges, etc.
E-commerce websites can increase conversion rates by over 35% by simplifying their checkout design.
Nearly 35% of sales are lost when websites ask to create an account before making a purchase.
Shoppers are 70% more likely to convert if the e-commerce website employs retargeted display ads.
Over 50% of online customers say that they would reconsider buying their abandoned cart if offered a lower price.
More than 70% of millennials say that they don't mind retargeting.
Over 50% of buyers say that testimonials and reviews influence their purchasing decision.
It is estimated that product videos can increase conversion by as much as over 140%
Videos can increase traffic by over 150%
Over 40% of internet users want to see video content.
Over 90% of online buyers say that visuals, such as videos, influence their purchasing decisions.
Nearly 50% of online shoppers search for videos of the product before purchasing it online or in the store.
Over 80% of all social media purchases come from Facebook.
Brands with social media presence get over 30% more sales.
Over 80% of Americans review a brand's social media profile before purchasing the brand.
Finally, the average order value from Facebook is $55, and from Instagram is $65.
E-commerce Trends of 2020
Retail will continue to diminish, or it will evolve with omnichannel commerce.
Consumers' preference on ecommerce will ignite retail innovation.
Chatbots will become standard in e-commerce stores.
There will be a surge in Direct-to-Customer sales.
E-commerce exclusive brands will have their retail stores.
Smart voice assistants and other personal assistant systems will profoundly affect e-commerce searches.
Machine learning and AI will make e-commerce better and accurate for both business owners and online consumers.
Analytics platforms will evolve.
Mobile payments will increase significantly.
Brands may unite to create more significant marketplaces.
There will be more subscription-based e-commerce models.
There will be a boost in product personalization in the future.
Online brands will be creative with their sales in addition to social media sharing like Instagram stories and Facebook.
Moreover, Snapchat Collection Ads could be a center of RnD by companies.
Essential Focus on E-commerce Trends by Companies
Personalized experience
Multi-shipping channels
Accepting cryptocurrencies
Same-day delivery
Monthly subscription models
Customer support automation
In-app mobile e-commerce
Finally, video usage increases.