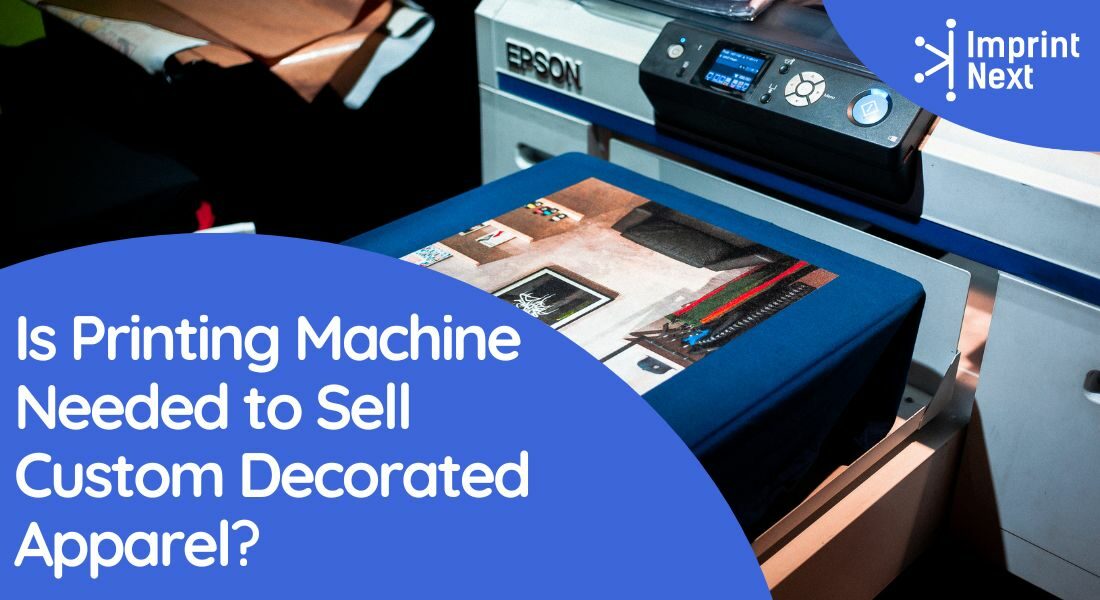 Last Updated on: 5th January 2023, 05:11 am
Most e-commerce retailers hesitate to add product personalization features to sell custom apparel in their online shop because of the enormous costs of setting up a printing fulfillment center, managing the entire process from processing orders and printing designs to delivery.
It has never been easier to start an eCommerce shop. Not only do people more than ever buy things online, but there are also countless resources to help you grow your business online.
If you come to know about the print shops or printing platforms that take up your hectic work you are afraid of, then you may definitely adopt the modern technology of product customization into your eCommerce store.
Some of the major custom printing fulfillment centers that provide print-on-demand services at your door-step are Printful, Printaura, custom cat, Fine Art America, and much more.
If you want to sell printed goods, print-on-demand drop-shipping will be the best way to get started. If you talk about Printful, they take care of production(printing), packaging, and shipping at your door-step.
9 Simple Steps To Start:
Follow the steps below:- 9 Simple Steps To Start Selling Custom Apparel Online Without a Printing Machine:
01. Get orders for your custom clothing line:
You have an eCommerce store in any e-commerce platforms like Shopify, BigCommerce, WooCommerce, Magento, 3DCart, Opencart, Prestashop, Zoey Commerce, and ECShop.

Do you have printers? Are those printers sitting idle?
Become a Print-on-Demand dropshipping app like Printful or Printify. Dropship your merchants' orders.
Unlimited Merchant stores. Dropship and Fulfil Merchants' orders. Manage merchant invoice, sales commission, etc. Merchants sell the designed products in shopify, etsy stores, etc.
Know more
To introduce the product customization feature, you need to integrate a product designer tool.
ImprintNext Product designer Software will be the best tool that is solely developed to provide personalization features for decorated apparel, signage, and promotional products.
The question arises then, how the order request can be fulfilled by printing the product designs.
02. Get started:
To start selling with Printful, you will need an account. However, if you don't have one create your account by entering your data, it is easy to do!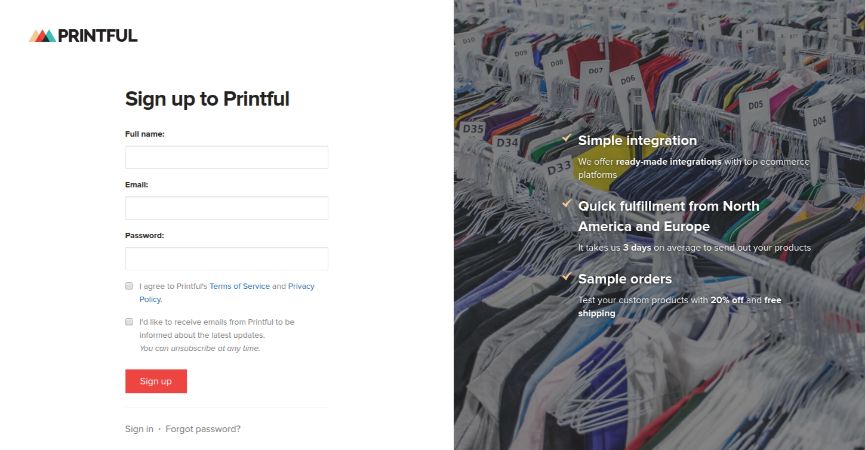 03. Create Your Store:
Before creating your store you need to choose a platform to sell custom clothing online on which you want to build your own store. To make your choices easier, Printful has made an eCommerce platform comparison chart.
Here, you will find a list of all the platforms you integrate with and important details about each one.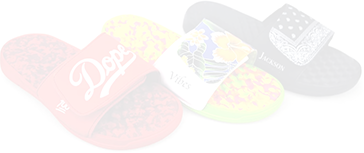 Boston based custom slide sandal maker has become $10 Million company using an online designer and unique growth marketing.
Read more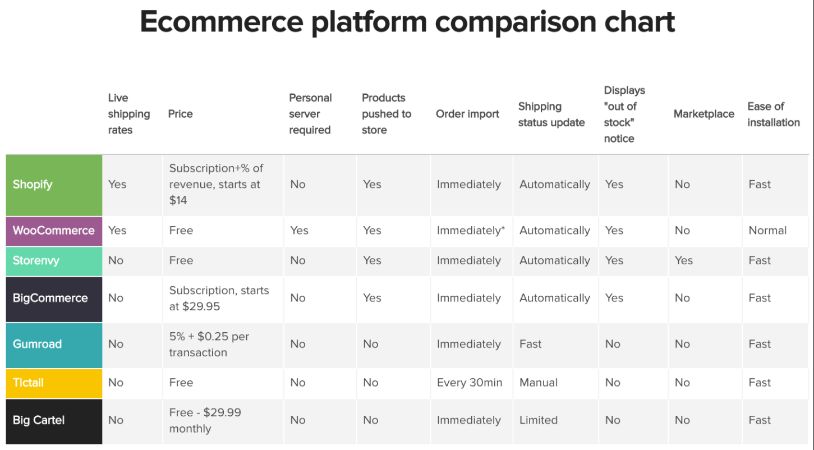 If you don't use these integrations, you can use API's to connect your custom site or submit orders manually.
04. Create a product to sell:
Whether you are starting from scratch or already have a client base and design, you shall introduce a product customization feature by integrating a product designer tool.
ImprintNext Custom Product designer Tool will be the best as the software is solely developed to provide personalization features for decorated apparel, signage, and promotional products.
You can create your design templates to offer your customers using the ImprintNext product Designer Tool's admin panel and upload them to the software. Or you can use the built-in text and image tools of the design studio.
If you ever need a helping hand in the process or would like to call for the demo, you can always get in touch with the ImprintNext Product Designer Tool.
Integrate the product design software with your online store that your customers shall use to personalize all sorts of custom apparel such as T-shirts, jerseys, hoodies, sweatshirts, boots, caps, accessories, signage, promotional items, and many more.
A screen-shot of the product design interface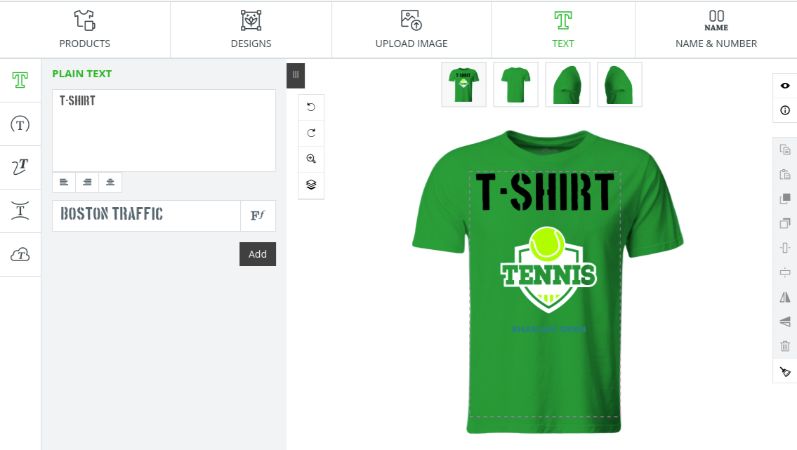 The customer creates a design, selects a printing method, and finally places an order for the custom apparel you receive in high-resolution print files in PNG, SVG & PDF formats used for printing purposes.
05. Add Customized Products To the Printful List:
After your customer places an order, share this order information with the Printful and let them carry out the remaining process.
06. Setup Product and Shipping Prices:
How much you charge for your product can make or break a sell so take your time to figure out the right pricing there?
There are two prices to think about:
The Printful price– Printful charges you for creating the product.
The Retail price– It is what you sell. For instance, if a T-shirt is $15 and your retail price is set at 25 dollars, Printful charges you $5, and the profit you make is $10. When pricing products, you also have to keep in mind extra costs like taxes and shipping.
Ideally, it would help if you aimed to cover your business expenses and still offer room for growth. You also get a simple profit calculator with Printful on how different prices affect your profit margin.
07. Create a payment System:
There are two payment systems you need to set up.
The first one on your storefront so your customers can pay you for your products.
There are many different payment systems process out there you can use, such as PayPal, Stripe, and Braintree. So, find out which one works best for you.
The second payment system is on Printful.
You have to add a Paypal account or credit card to your Printful wallet. So that way, when a customer starts ordering your products, Printful can receive the fulfillment fee and get your orders shipped as quickly as possible.
08. Order a Clothing Sample:
While ordering a sample of your product isn't mandatory but recommended. What you see on-screen doesn't always match what the design looks like when it's printed.
To be 100% confident about your product's look and fit, test it for yourself.
Ordering samples is also instrumental when writing product descriptions and creating product photos for your storefront.
09. Start Selling:
Now that you have a store up and running, it's time to make your first sale.
Related Questions:
What is the cost of a T-shirt printing machine?
For DTG printing machines, it can cost as high as $500,000. For instance, the Kornit DTG printing machines starting from $2,50,000.
How much money can you make selling custom t-shirts?
If you start selling 10,000 custom t-shirts per month, you may earn a yearly profit of $1,271,994.60.
Which printer is best for T-shirt printing?
If you run a printing industry, then the best DTG printer is KORNIT AVALANCHE HDK, and the best automatic screen printer is M&R Stryker Automatic Oval Screen Printing Press.
Conclusion:
This way, you can start your own brand online by selling personalized products without buying large quantities of products or investing in production equipment for printing or hiring staff when you get started.
So, you don't have to pay for your upfront, stock them yourself, and manage to ship. You can run your business from the comfort of your home.

Do you have printers? Are those printers sitting idle?
Become a Print-on-Demand dropshipping app like Printful or Printify. Dropship your merchants' orders.
Know more