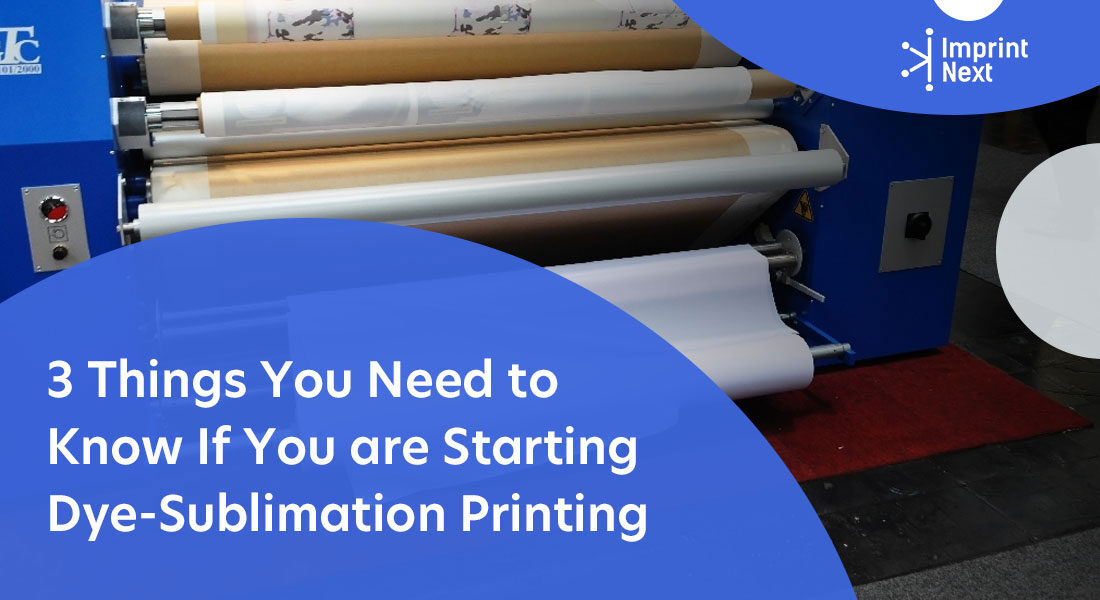 Last Updated on: 5th May 2023, 06:29 am
Dye-Sublimation Printing is quickly gaining popularity among promotional product printers because of its diverse application on diverse products.
If you, too, are planning to add dye-sublimation to your business, here are the three things you need to know about dye-sublimation.
01.Sublimate a Wide Range of Products with Dye-Sublimation Printing:
Dye-sublimation applies to both fabric and rigid materials and has recently been made possible with the advent of wide-format printers. You can print from banners to ceramic tiles. It works by fusing the ink on the surface of the substrate. Human-made materials such as nylon, plastics, polyester fabric contain polymers, which, when heated, facilitates the ink to bond.
It yields permanent color embedded in the substrate or fabric rather than printed on the surface. Dye-sublimated fabric won't fade or crack even after multiple washing items, and images don't chip, peel, or scratch.
Here are the types of materials that can be printed with a dye-sublimation printing process:
Rigid Substrates in Dye-Sublimation Printing:
Dye-sublimation is no longer limited just to fabric substrates, and there is a range of products and promotional possibilities available. The advent of new polymer treated materials has been developed specifically for the dye-sublimation application, such as aluminum, brass, glass, fiberglass, acrylic, plastic, etc.
Rigid Products:
The most common rigid products used in dye-sublimation include mousepads, keychains, phone cases, bowls, etc. These items can be easily sublimated and are great additions to the range of custom branding items your business can provide.
Fabrics:
Dye-sublimation encompasses a wide range of fabric for designing. The choice comes in two different types: woven texture such as exterior banners and signage and knit materials such as custom apparel, flags, banners, table covers, etc.

Do you have printers? Are those printers sitting idle?
Become a Print-on-Demand dropshipping app like Printful or Printify. Dropship your merchants' orders.
Unlimited Merchant stores. Dropship and Fulfil Merchants' orders. Manage merchant invoice, sales commission, etc. Merchants sell the designed products in shopify, etsy stores, etc.
Know more
Sports and Fashion Apparel:
From sports t-shirts to cycling jerseys to baseball caps, it can be dye-sublimated, and you can reap the opportunity of the ever-growing popularity of sports and fashion apparel.
Ceramics:
Designers can create customized ceramic tiles for their kitchen or restaurant etc. All the material listed above is a polymer, hence, suitable for heat transfer. You will also find many pre-treated products available that enable dye-sublimation printing on a broader range of products.
02. Machine Required for Dye-sublimation Printing:
The print is only the first step in dye-sublimation; to transfer it to a product, you need heat and pressure.
Dye-sublimation is a two-part process:
Printing graphics onto a sublimation transfer paper using sublimation inks.
You are using the heat press to transfer the ink-on-paper to the items you want to customize.
Moreover, if you want to accommodate various products, you will need other components such as a computer with RIP software, a cutting device, and a sewing device.
Computer with RIP software:
First of all, you will need a piece of equipment and software to design and process your digital graphics for printing. Unfortunately, not all sublimation printer brands provide RIP software. Hence you have to do your research and find out the best RIP software compatible with your printer.
Cutting Device:
You will need a rotary blade and a hot knife to cut knit material and the sealing of woven fabric for beginners. Still, if you are opening a professional business, you will need an XY cutting machine or a digital flatbed cutter with registration capabilities for accurate knit and effective pattern cutting if you plan to print your own apparel.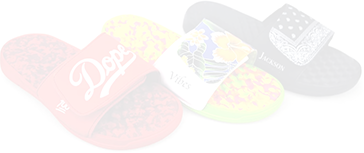 Boston based custom slide sandal maker has become $10 Million company using an online designer and unique growth marketing.
Read more
Sewing Device:
Producing soft signage and prints on apparel, you will need a sewing and hemming machine for custom apparel, banner pole pockets, and a silicon edge sewing for SEG graphic application. You will also need a manual sewing machine for clothing and a computerized automatic sewing machine with auto-command and auto-feed features for large format joint and hemming.
03. You Need a High-quality Heat Press For Dye-Sublimation Printing
Heat presses are available in varying sizes with extensive applications. Even with these variations, they all function the same way. The machine simultaneously heats the ink on the transfer paper and the polymer fibers in the substrate to transfer the ink on the surface of the substrate. Remove the heat after a minute. Then the transfer paper is peeled off, leaving behind the permanent, full-color graphic on the substrate. It is one of the simple and effective methods to apply graphics to fabrics and other media.
You will need both a professional sublimation printer and a press to create large format signs and graphics for your customers.
Types of Heat Press in Dye-Sublimation Printing:
There are four primary types of heat press available:
01. Small Format Heat Press
If you plan to sublimate smaller items such as caps, mugs, plates, shoes, and t-shirts, you don't need an expensive professional press. Investing just $2000 or more. You can get a standard full-size shirt press from profitable brands and that too, with heat and pressure controls.
02. Calender Heat Press
Some large-format journalists are built for large exterior banners, signage, flags, and other fabric sublimation. If you add a table attachment to your calendar unit, you can cut and sew apparel pieces, as well.
03. Flatbed Heat Press
They are not good at managing the kind of rolls and fabric sizes that a Calendar heat press can. However, heat presses are versatile enough to heat transfer on fabric and aluminum, floor mats, and other products.
04. 3D Vacuum Heat Press
This heat press is a compact desktop machine that enables heat transfer onto the material with a curved edge or shape. Use it to print phone covers, mugs, ceramic plates, picture frames, buttons, and other small devices.

Do you have printers? Are those printers sitting idle?
Become a Print-on-Demand dropshipping app like Printful or Printify. Dropship your merchants' orders.
Know more