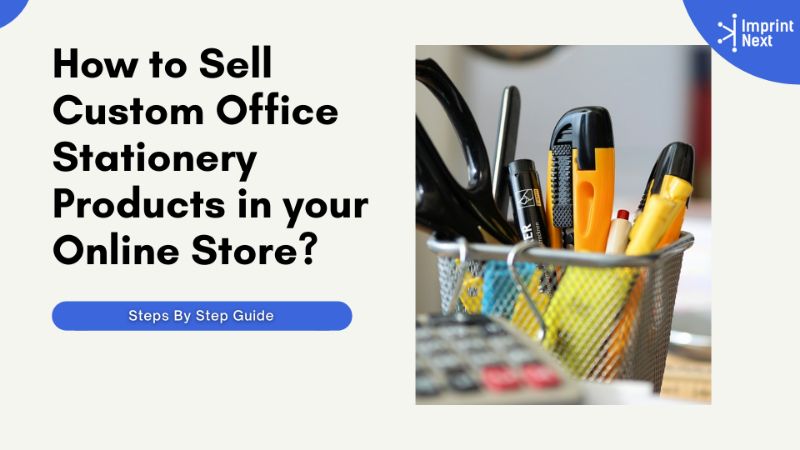 Last Updated on: 11th January 2022, 12:57 pm
Selling custom office stationery products typically includes business/visiting cards, pens, flyers, pins, stamps, booklet, notebooks, calendars, and more. If you think to sell office stationery products, you can make money by charging customers for material, labor, shipping, and, printing custom stationery products. On average, with a small business, you can easily generate a profit of around $20,000 annually, increasing your company's growth. Moreover, offering product customization has proved to take off your sales success within a short period.
Suppose you start and don't want to tackle costs for printing and posting! Or you may not yet have confidence in trade shows and markets, so I highly recommend using your designs at POD sites like Printful, Redbubble, etc. Again it is good to print at your print shop as you can test your designs and check which one is accurate and sellable before printing them yourself.
To start selling office stationery products in your online store, you must begin framing the right business plan. You also may consult a business expert who shall help you set up a strategy.
1. Introduce a Business Plan:
Not only works in Silicon Valley need a business plan; it is the schoolwork that will help you create a strong establishment for your online shop. Selling Pens and Stationery Online will take advantage of the marketing process, the technique for selling, budgetary arrangements, and so on.
Focus on the level of your business plan before you spend money. Ask yourself whether you want to sell office stationery online as a hobby or full time.
In the former case, you can go home to a start-up company. You can, however, need a workshop-based company if you want to start a full-serving company.
After you decide on your preferences, proceed to the next step.

Do you have printers? Are those printers sitting idle?
Become a Print-on-Demand dropshipping app like Printful or Printify. Dropship your merchants' orders.
Unlimited Merchant stores. Dropship and Fulfil Merchants' orders. Manage merchant invoice, sales commission, etc. Merchants sell the designed products in shopify, etsy stores, etc.
Know more
2. Choose an Office Stationery Item:
It's up to you whether you want to sell custom stamps, rectangular self-inking, fold flyers, business cards, pens, booklets, or any other type. A good thing to do is to do market research and understand what works and what doesn't. Suppose you are in America and you want to sell in the Asian market. Start by asking questions: which are the best-selling stationery item in Asia? Which specific product do I want to focus on? How will I sustain my business?
If your goal is to sell any type of office stationery item, beware it's not a smart move.
Of course, everybody needs stationery products. However, targeting all products, especially for start-ups in e-commerce, is a risky thing. We suggest you start by selecting a niche product to specify unique market requirements. You may have found out but if you don't, here's how you can do–
Instead of thinking – 'I want to sell office stationery products,' focus on a narrow market like stamps, rectangular self-inking, fold flyers, business cards, and so on. For a small company, a niche focus helps to reach the right audience.
3. Pre-requisites for setting an Online Store for Custom Stationery Items:
Before starting an online office stationery store, you have to get into the nitty-gritty of clearing legal requirements and creating a strong brand identity.
Here's a complete checklist of what you need to have before starting an online store –
3.1. Your Store's Name:
Make sure that your online office stationery business's name reflects in only one or two words your vision. Don't be obscure but think of a unique item. Brand Bucket and Shopify Business Name Generator. are the right tools to help you name your business.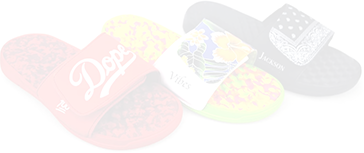 Boston based custom slide sandal maker has become $10 Million company using an online designer and unique growth marketing.
Read more
3.2. Business License:
Opening an online store doesn't exclude you from any legal criteria. The licenses you need depends on the type of product and your business requirements. Also, each state and city has different needs to be met. Some licenses required by an online stationery products company include:
A company operation license that enables your eCommerce company to operate in your city, county, or state.
An identification number of your employer (EIN) that marks your corporation as a separate tax agency.
The authorization of a seller to legally sell products online (or a seller's license).
3.3. Brand Logo:
A logo is one of the business's most identifiable things. A well-designed logo will give the target audience the right message.
To express who you are and what you do, use clear icons and fun colors. Adobe Illustrator or Logomaker are software that can make your work easier.
3.4. Product Pricing
A product with a high price might see fewer sales. At the same time, lower rates are not always ideal. As a store owner, the best you should do is balance.
After considering factors like product and business cost, competitor's price, and revenue goals, choose the right pricing strategy for online business.
3.5. Some Other Points to Remember:
Use the MSRP – the price your manufacturer recommends.
Keystone pricing where you double the wholesale cost of your product to determine the retail price.
Competitive pricing where you consider competitor pricing data as a benchmark and consciously price your product below theirs.
The good thing is to do your homework and make an informed decision.
4. Choose a Printing Process:
To sell custom office stationery products, you need to establish a print shop by incorporating various printing processes for customizing items to serve customers better. Let us discuss all the printing processes in detail:
4.1. Embossing/Debossing:
Embossing and debossing are two ways to make the text look raised or depressed, respectively. When you make a logo or design to give a 3D graphic impression, it is embossing.
On the contrary, when you create an indent in the material you are printing on, it is debossing. Both are in high demand among customers nowadays.
4.2. Laser-Cut:
Whether easy or complex, laser-cut will not fail to surprise the guests with the forms and details.
4.3. Thermography:
It is essentially a higher form of print. Especially for visiting/business cards. It uses heat to lift the words over the paper and it looks elegant.
4.4. Metallic Foils:
Metallic foils give cards a high-end look and differentiate them. For office stationery purposes, people look for such things.
4.5. Acrylic:
These cards are printed on clear acrylic stock using UV printing technology. You can apply these on cards, pens, flyers, booklet covers, etc. The effect has been enhanced, and the full-color saturation choices are diverse for improved visibility with modern and attractive acrylic designs.
4.6. Letterpress:
It requires a thick and costly paper. The dark colors go well. First, you can choose according to your interest, expertise, and budget style or two.
5. Adopt a Web-to-print Technology:
If customers get what they need to design, they will be more than satisfied. They would surely consider your store for any potential purchases with these customized invitations. And you will have a broad and loyal client base.
Imprintnext offers everything that can get you at the top of the eCommerce business. You can offer freedom of customization to customers by integrating a cutting-edge online product designer. The next-generation product design software solution can help with custom product design, price estimation, order confirmation, automated job card generation, final delivery, and many more aspects.
Features:
Image features, including image editing and effects, personal image upload, Image white color removal, Image vectorization & color detection, Pre-decorated products, etc.
Text features including custom font manager, quotes, customizable text, and messages, etc.
Unlimited products, Unlimited assets (fonts, designs, etc.), Artwork proofing, Custom product views & decoration area, etc.
Order management, Supplier Catalogue Integration, Sales & Marketing Automation, Production Management, etc.
6. Automate Your Print Job:
You should be able to process the order easily once your customer places an order. Automation of print jobs is also currently in high demand. Meanwhile, if a good print work manager can be implemented and can help you handle print jobs from different platforms, the job can be quicker and easier.
Moreover, the automated print work management system helps you to quickly accept orders, identify workflows and tasks, build order tickets, schedule jobs, manage and monitor them and complete them for final supplies.
Thus you can achieve not only high customer satisfaction but a larger loyal customer base through an integrated print workflow.
7. Optimize your Ecommerce Store:
It just doesn't open an online shop. You will be competing with millions of eCommerce sites. How are you going to step ahead? Then there are the key points to optimize your eCommerce shop, to highlight and sell more in Google Search's top ranks.
7.1. User-friendly Store:
The most critical feature of a website is easy to use, according to 76% of customers. The important thing is to help shoppers do without unnecessary embarrassment, what they want. That means, by providing categories, filters, and capabilities to compare goods and prices you need to concentrate on your experience.
8.1. SEO-friendly:
It should be easy for shoppers to find your brand while looking for office stationery items in the search engine. You want to make sure your shop positions high on your search results if you are a new online retailer. Look for an SEO-friendly eCommerce website, where you can add your blog, use your domain name, and collect customer feedback. These are important to the movement of organic transport.
8.2. Mobile-friendly Experience:
50 percent of online transactions comprise mobile shopping. Moreover, make sure your shop is responsive and adapts to any device you are on to give your user-friendly experience.
8.3. Nice Videos & Photos:
Besides displaying photos and write the definition in bullet points, then is not a good idea. Shoppers want to see the picture of the commodity from multiple perspectives. Let them not only zoom the image but get a sense of the image. Your store does not take too long to load but requires high-resolution images and videos.
8.4. Security:
When choosing an eCommerce platform, security is the most important thing to remember. Digital purchases will be made in your online shop in the future. Make sure that your platform is highly stable. Pick a platform for secure check-out that supports HTPPS/SSL. In addition, it must be integrated with PCI-DSS compatible payment solutions for secure payment processors such as PayPal, Stripe, Square, WorldPay, Braintree, and SecurePay.
8.5. Analytics:
You may want to monitor the analytics of your office stationery store after you start your online business. Consider a platform for monitoring orders, order quantity, and more.
8.6. Return Policy:
Ensure a consistent return policy for your online shop. Hence, it helps create consumer trust in your brand.
Conclusion:
You have to display your niche product among office stationery products, and more importantly, what you sell. You must promote them through all marketing platforms – including your website if you deal with custom products and provide customer services.
Your platform is the first interface and you have to make it user-friendly and engaging. Ensure also, you optimize the content of the search engine with the right keywords to attain high ranks (SERPs). Also, to make sure you don't ruin the experience of the tourist, you can check the loading speed on your web.
Besides your site, different marketing outlets – social media network, forums, other pages, and more come together. So be professionally trained to make the best use of them all.

Do you have printers? Are those printers sitting idle?
Become a Print-on-Demand dropshipping app like Printful or Printify. Dropship your merchants' orders.
Know more