If you've been researching eCommerce solutions you've likely identified two popular options that you're comparing. Shopify and WooCommerce.
Shopify vs. Woocommerce | Which one should choose? Shopify is the superior eCommerce platform overall but WooCommerce is great for anyone starting out on a budget or those who have specialized needs that require ultimate customizability. But the most important thing when picking an eCommerce platform is to just get started. It can be a difficult decision. But the longer you wait to start your online store, the longer it will take you to start getting orders and grow your business.
Shopify vs. Woocommerce | Comparison:
The comparison between the two major eCommerce platforms is as follows:
1. Pricing comparison:
Shopify is a hosted eCommerce solution with plans starting at $29 a month. WooCommerce is a free plugin for WordPress which is also a free platform.
So your only cost would be for web hosting and your domain name. WooCommerce does have some paid add-ons so you can choose to spend more to get more features but it's hands down the way to go if you're on a tight budget. You can't argue with free.
2. Easy Setup:
Getting into the setup experience, Shopify is much smoother. You can get started with a 14-day free trial and the setup wizard walks you through each step of creating your account and provisioning your store. Once you're sent to the admin panel, it's a pretty straightforward interface to add products and manage orders and customers. With WooCommerce, things are more complicated.
First, you'll need to identify a web host of choice, install WordPress and connect it to your domain name. And after you've set up WordPress and selected the theme, then you can install the WooCommerce plugin and there's a setup wizard to help you configure the basics.
Some web hosts are like Cloudways offered to combines most of the setup process into one step allowing you to set up WordPress and WooCommerce in one installer with a few clicks. We'll talk more about the pros and cons of free and open-source versus paid and hosted later in the video. But for now, let's focus on the backend management.

Do you have printers? Are those printers sitting idle?
Become a Print-on-Demand dropshipping app like Printful or Printify. Dropship your merchants' orders.
Unlimited Merchant stores. Dropship and Fulfil Merchants' orders. Manage merchant invoice, sales commission, etc. Merchants sell the designed products in shopify, etsy stores, etc.
Know more
3. Backend Management:
You can manage your WooCommerce store in the WordPress admin dashboard. There's a WooCommerce option on the menu sidebar and managing orders and settings are pretty straightforward.
In typical WordPress fashion though there are some things that just don't make sense. Why are products on a separate menu that's disconnected from the WooCommerce menu? And what are reports on the WooCommerce menu when there are dedicated analytics top-level menu items? Some of the interfaces just don't make sense. These sorts of confusing quirks are unfortunately common with the WordPress UI.
4. User Interface:
Overall though, the WooCommerce backend is one of the more intuitive UIs of WordPress plugins on the market. It's easy to manage inventory, shipping, and variations for each item. It's also easy to view orders and enter tracking numbers when the orders to ship.
WordPress is an open-source website builder so you also have access to the posts and pages sections of WordPress if you wanna have a blog, about page, or contact page on your online store. Shopify has a superior backend management experience and that's large because Shopify is a dedicated eCommerce platform.
You only use Shopify if you are building an online store where WordPress is a generic website builder with plugins like WooCommerce that can give eCommerce functionality.
So you're dealing with the software that was built to be an online store versus a generic website builder with all of this extra software added on top. With Shopify, you can get to orders, products, customers and analytics with a click. Order fulfillment is speedy allowing you to use J and K on your keyboard to page through orders for quick fulfillment.
5. eCommerce Management:
When it comes to eCommerce management and fulfillment, Shopify is the clear winner here. However, if you also wanna use your store as a blog or have other pages on the site that are more advanced than a basic contact page or about page, WooCommerce has the advantage thanks to you having full access to the power of WordPress.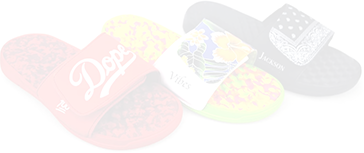 Boston based custom slide sandal maker has become $10 Million company using an online designer and unique growth marketing.
Read more
Shopify does have a blog feature but it's inferior to WordPress in every way. Personally, if you do go with Shopify, I would advise setting up a separate WordPress blog on a subdomain. After all, WordPress is free and it's just better for blogging. This is the approach The Longhairs took with their Shopify store and using both Shopify and
WordPress gives them the best of both platforms for the ultimate eCommerce experience. So far we've compared pricing and backend UIs but there's a lot more to consider with picking the right eCommerce platform for you.
6. Sell Generation Features:
Let's think about some features that can potentially boost your sales. I love that Shopify automatically runs an abandoned cart campaign by default. They've designed the checkout screen to where you have to enter your email address to get your full total with sales tax and shipping.
So if a customer starts to check out and decides to close the tab, Shopify automatically sends them an email a few hours later, reminding them of the items they left in their cart. While we don't have any backend metrics to vouch for this.
7. Cart Abandonment Issues:
From the consumer point of view, there are absolutely times when abandoned cart emails have gotten me back on the store and I ended up checking out. I strongly believe that abandoned cart emails are an easy way to boost sales and Shopify including that automatically is a major win. We also need to consider customer confidence and convenience.
As a consumer, we know the Shopify checkout screen. It's consistent for every Shopify store regardless of the styling and theme of the site, so when I see it, you may feel comfortable entering my card number knowing that it's a trusted eCommerce platform and my card number is not gonna get stolen or end up on the dark web somewhere.
8. Payment Gateway:
Likewise, we also know that most Shopify stores support Apple Pay and as a consumer, It is better to prefer Apple Pay because the check out with an Apple card and get 2% cash back, instead of the one and a half percent cash back I would get with my other credit cards. Apple Pay takes some of the friction away from the checkout process, making consumers more likely to spend more money.
Abandoned cart emails and Apple Pay are possible with WooCommerce but you'll need more plugins and extensions some of which cost money. And I've personally never gotten Apple Pay to function properly with WooCommerce.
9. Shopify vs. Woocommerce Reliability Factor:
We also have to think about reliability. Shopify is a proprietary hosted platform, meaning for your $29 monthly fee, Shopify will handle as much traffic as you can send them. With WordPress and WooCommerce, you are responsible for picking your own web hosting. Each web host will offer varying levels of speed, quality, and reliability.
You could use some basic starter hosting from Namecheap for less than $3 a month but if your eCommerce store starts to take off and you need hosting, that can scale with you and that you can rely on, you'd wanna use a managed hosts like WP engine, which starts at $36 a month more expensive than Shopify's basic plan.
And you could still end up having to scale up and spend even more money for web hosting based on your storage traffic, all right.
10. Shopify vs. Woocommerce | What Should you Choose?
So it's evident that Shopify is the clear winner here, right? Well, if we're going on features, ease of use, reliability and customer experience, yes, absolutely. Shopify dominates the eCommerce space for a reason.
But there are three major causes for using WooCommerce. Price, ownership, and customizability.
Price:
Talking price, WooCommerce, and WordPress are both absolutely free. So go get some basic budget web hosting and you've got a fully functioning eCommerce store for less than $36 a year, just over the price of one month of Shopify. Since WordPress is open-source, you also own your store.
You get to make the rules. With Shopify, there are certain categories of items you're not allowed to sell. Chances are you won't be limited by this. But if you do happen to be in one of those niches, WooCommerce might be the way you have to go.
Ownership:
Shopify is a proprietary hosted platform which means you're operating under their rules and they can always suspend your store at any time for any reason.
And again, while this is highly unlikely and it's pretty much only if you're selling certain categories of items Shopify doesn't allow, it's always a possibility. And with WooCommerce, that's not happening.
Customizability:
Also because WordPress is open-source, WooCommerce is completely customizable. You could get your hands dirty and code your own extensions or modify the source code to make it work exactly how you'd like. Yes, Shopify does have a developer API, but you're definitely more limited in what you can do.
There are other factors too, such as fraud detection algorithms and extension availability for things like dropshipping from AliExpress. You definitely have to do your own research and find out what's most important to you when picking an eCommerce platform. But here's my ultimate conclusion.
Conclusion:
If the cost of Shopify is a barrier, just start with WooCommerce.
On the flip side, if you've been using Shopify and you really just need the flexibility that WooCommerce can offer, don't be scared to switch.

Do you have printers? Are those printers sitting idle?
Become a Print-on-Demand dropshipping app like Printful or Printify. Dropship your merchants' orders.
Know more