Last Updated on: 8th February 2022, 01:49 pm
The interest in sublimation also rises as the popularity of poly-performance apparel grows, as it is the perfect way of decorating anything made of polyester. Although its limits include a lack of white ink, sublimation offers fantastic, vivid images of white and light colored garments.
Furthermore, because of the molecular nature of the sublimation process, it is one of the few decoration processes that does not fade, crack, or peel when laundered. Combine these advantages with low cost of clothing sublimation, and it is easy to see why sublimation in a clothing decorative industry is such a hot topic.
So what exactly is poly-performance? Poly-performance apparel is made with polyester fabric that is made up of small cells that convert moisture that pulls away from the skin. Further, it transfers the moisture to the outer surface of the garment where it evaporates. As a result, it creates a cooling effect in the hot summer.
The wicking cycle keeps the skin dry in a cold climate that warms the wearer. Although the best material to wear in a hot environment due to breathability is considered to be 100% cotton, poly-performance clothing is actually better, even though it is made from polyester.
1. Sublimation printing is best for poly-performance apparel:
Poly performance clothing can be decorated by different methods, but sublimation is the best type of decoration because it is continuously binding on molecular subsurface levels with polyester fiber.
In contrast, processes like screen printing and direct printing rely on chemicals known as binders to keep the ink onto the surface of the fabric. The degradation and release of tissues triggered by daily activities is wear and tear.
When you put up and down a garment and wash repeatedly, the binders lose their grip, resulting in cracking and peeling.

Do you have printers? Are those printers sitting idle?
Become a Print-on-Demand dropshipping app like Printful or Printify. Dropship your merchants' orders.
Unlimited Merchant stores. Dropship and Fulfil Merchants' orders. Manage merchant invoice, sales commission, etc. Merchants sell the designed products in shopify, etsy stores, etc.
Know more
Furthermore, using surface-based ink it blocks some of the moisturizing cells in the fabric, thus reducing their effectiveness. Sublimation colored fibers, not trapping the cells.
2. Best way to apply sublimation on poly-performance apparel:
You achieve sublimaton by a cycle of heat transfer. The image is produced and printed using a sublimation printer filled with sublimation tints onto sublimation transmission paper. The transmission is then done with a heat press on the fabric.
The heat(400 ° F), time, and pressure combination transform the ink into a gas. At the same time, the heat contributes to the opening of the polyester fibers so that the applying ink (actually a dye), not the surface like ink, permeates the fibers. If so, stoff cools down the fibers, leaving the fresh color of the dye of sublimation permanently closed up.
3. Find the best color combination with a garment:
Sublimation has a variety of problems, like other systems. The first is that you cannot sublimate white ink. It has thus established a reputation that is not entirely applicable to white clothing.
Sublimation works best for bright colors and even other medium colors, depending on the colors. You can not, of course, place the color white on a colored garment without white ink, but you can work with color garments as long as the tint colors are considerably darker than the fabric itself.
Moreover, because sublimation is a dye, it's transparent and you will seek to find the best color combinations for a specific color of your garment. But the findings are impressive when performed correctly.
Read also: How to Get Perfect Design Print File for Custom Printing?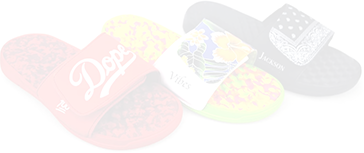 Boston based custom slide sandal maker has become $10 Million company using an online designer and unique growth marketing.
Read more
4. Choose the right sublimation printer:
The production systems of sublimation are categorized in two distinct categories: laptop and large format. Because of their low cost, desktop systems are the most popular. You can print pictures up to 24-inch wide, depending on the printer. Wide-for mature systems are constructed around large-scale industrial machinery (printers and heat-presses) which allows 42-inch printing widths.
You can create a sublimation transmission larger than the shirt itself with a small format, which means that you can color your shirt fully during its décoration. For instance, it wouldn't work if you try to sublimate a black shirt, because the tin is lost in the color of the cloth.
But you can start with a white shirt with a wide-format system and then create an image with a black background which covers the front and back of the shirt entirely. Essentially, when adding a picture, you can turn the white shirt into a black shirt.
Wherever the graph needs to be white, the color of the original shirt (gray) is left open. But, without white ink, you can create the color white and simultaneously design a dark shirt.
5. Printing All-over the garment is challenging:
There are a few obstacles to the all-over process. It works only on shirts without standing necklaces. In the armpit region of the shirt and also around the neck it appears to leave some white stripes.
The formation of foils in these areas during pressing and block the complete transfer of the ink.
Owing to equipment costs, most shops in the sublimation industry tend to print all-in-one.
6. Shops with Desktop sublimation Equipment:
For shops with desktop equipment, sublimation typically gears toward spot-decoration, meaning adding images to specific areas of the garment.
The process for decorating apparel is different from other sublimation products, so you need to learn the proper steps before attempting to sublimate your first garment.
7. Sublimating Poly-performance apparel gaining popularity:
Sublimated poly-performance apparel certainly gets more exposure, which means that you have more profit potential. It is easy to achieve reasonable margins in a minimum period, with the cost of inks of less than one cent per square inch and processing time (printing and pressing), of around three minutes per shirt.
But to reach the right price points, you must pay attention to the manner in which sublimated poly-performance clothing compares with other forms of decorated clothing.
Read also: Facts On T-Shirts You Would Love to Know
8. Poly-performance apparel is unique:
Poly-powerful clothing is special and provides attributes that do not include other items so that the cost is logically higher than regular clothing. For example, you can purchase a t-shirt in 100 percent white cotton (depending on weight, design, and brand) for one to one dollar.
Depending on the type and brand of a traditional multifaceted T-shirt, it will range from $5 to $6. Therefore you have to put it as a luxury product if you sell value wear. Don't make the mistake of trying to market a T-shirt product against a cotton T-shirt as though it were equivalent.
9. Best Selling Practices of custom apparel:
Perception is everything, especially in sales and marketing. In particular, when dealing with T-shirts, you must concentrate on increasing the perceived value of the performance product to the point it deserves.
Begin by referring to it not as a T-shirt, but as an output product. Focus on all special features such as wicking moisture and not fading, cracking or screaming the picture.
Make sure the customer knows that he gets something like a regular T-shirt, but much more sophisticated.
Conclusion:
Sublimation materials are definitely one of the top processes for decorating polyesters and despite the fact that they are simple and inexpensive, they represent a perfect addition to almost any company that uses logos for its materials.
And we must also remember that for other items, including prizes, plaques, posters, iPhone cloaks, photo gifts, advertising goods, etc. You can use the same equipment for poly-performance apparel. Add sublimation for versatility, excitement, and productivity to your company.

Do you have printers? Are those printers sitting idle?
Become a Print-on-Demand dropshipping app like Printful or Printify. Dropship your merchants' orders.
Know more