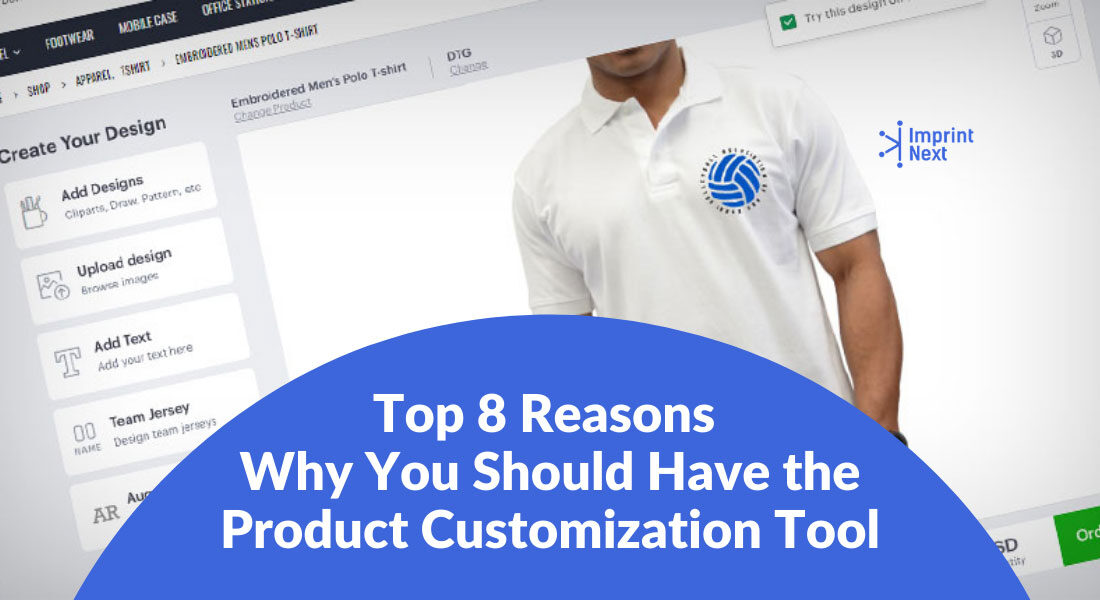 Last Updated on: 26th November 2021, 09:46 am
The top 8 reasons you must know how the product customization tool is profitable for your eCommerce business. It is obvious that you want to sell more and more products online from your eCommerce store earning you huge profits and finally uplifting your brand name.
This blog includes all the facts and figures to demonstrate and help you make the right decision. Thereafter, it is you who shall make tremendous earnings by integrating a product customization tool into your eCommerce store.
01. Product Customization Tool Is Trending:
Consumers have been able to make greater use of what, when, and where they want. They have become observers and creators who demand more personalized service and who expect to be given the chance to shape or customize their products and services.
The increasing population, rising consumer per capita income, and growing demand for tailoring or customizing apparel have created a strong influence on the growth of the decorated apparel industry.
 As per a report suggested by Deloitte, more than 50% of consumers expressed interest in purchasing customized products or services. 
The fashion-on-demand, especially for the global apparel market, is forecast to be worth approximately 1.52 trillion dollars by 2020- a report by Statista
See the graph below:-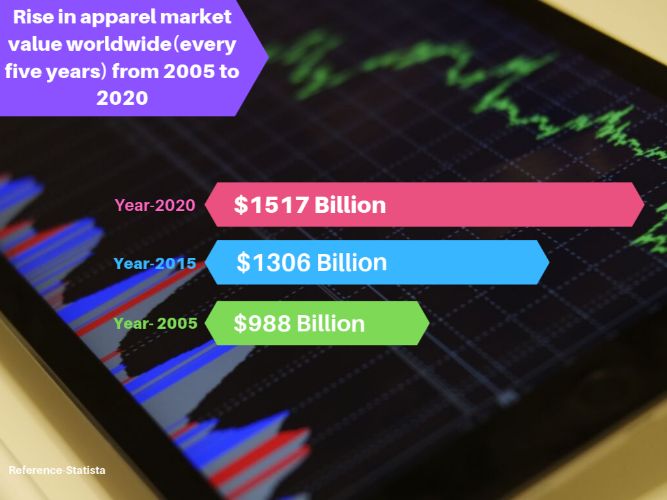 Do you have printers? Are those printers sitting idle?
Become a Print-on-Demand dropshipping app like Printful or Printify. Dropship your merchants' orders.
Unlimited Merchant stores. Dropship and Fulfil Merchants' orders. Manage merchant invoice, sales commission, etc. Merchants sell the designed products in shopify, etsy stores, etc.
Click here
In addition, not only would consumers be willing to pay more for their custom product or service, but also to participate actively in the entire process.
02. Differentiate Yourself From The Crowd:
49% of consumers purchased products they had not intended to purchase due to product personalization features from the brand they were doing business with.  Source- Segment
In a world where competition is constantly assumed to be # 1, it is difficult but not impossible to distinguish and establish your own identity. Think of how you can deliver a superior product far beyond what your rivals do. 
Look at big brands like Printful, Print Aura, and  Custom cat. They have grown their brand identity to command a large market share by selling personalized products. Effective differentiation is the main driver to compete with major companies.
To sum up, a well-focused product personalization allows your online shop to distinguish itself from the crowd by tailoring products and services. The personalization of your goods and services is an excellent way to distinguish between those of your rivals.
03. Influences Customer Loyalty:
Businesses that do not include a personalizing feature in their e-commerce stores are in danger of losing sales and customer loyalty. The move from mass production to mass personalization can have a big impact on businesses.
43% of consumers( in the US)  spend more on purchasing products from a trusted brand or company.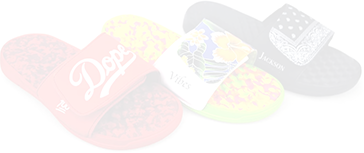 Boston based custom slide sandal maker has become $10 Million company using an online designer and unique growth marketing.
Read more
Brand loyalty leads to customer retention, which makes up 65% of a company's business from existing customers.     Source-fundera
The above study shows that customer retention is very essential in building a brand and that without product personalization/customization (a booming demand at present & future) it is not feasible. 
Customer retention primarily focuses on building brand-customer relationships and familiarity. Personalization is a form of e-commerce that is ideal for fostering these two key construction blocks of consumer loyalty.
04. Customers Willing To Pay More:
See the graph below:-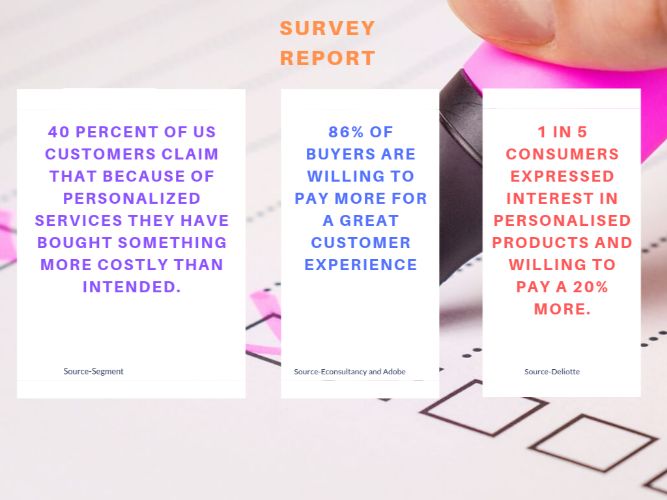 A good customer experience means customers will purchase more. Consumers expect highly customized retail shopping experiences and are ready to spend more cash when brands offer specific personalization services.
It is a great win for those who integrate product customization tool into their online store willing to make an effort to personalize the customer's experience. Adding personalization allows you to charge more for products.
05. Surge in Purchases:
The brands that provide product personalization features to their customers have a lot to gain.
93% percent of businesses with advanced personalization strategies increased their revenue accounted for 21% or more of their marketing budgets.                                                                                                                                                                Source- WBR Research.
79% of companies that exceed income goals integrating product personalization features into their eCommerce store. Source-Monetate
Companies have reported the highest Return on Investment(ROI) by integrating product design tools into their eCommerce stores, in some cases twice the previous value.
Online shopping helps the consumer to conveniently buy their products and encourages them to create their own goods using product customization features. The ordering process is also as easy as purchasing any normal item online.
Also, large companies such as Nike now sell their customers' personalized footwear and are well embraced by consumers. Hence, it undoubtedly implies that E-commerce is a leading cause of such tremendous popularity of customized products.
06. Up-To-Date With The Latest Technology:
Being up-to-date with the latest technology is a must for all online companies. As it advances each day, it becomes important for the eCommerce stores to adapt it before it becomes obsolete.
It does not mean to synchronize with the technical changes at the backend, but that makes it possible, like personalized goods, to deliver consumers the latest products.
56% of customers regularly buy from the most innovative companies that introduce new products and services.    Source- Salesforce
Few companies like ImprintNext, Vista Print have plunged into the market at the right time, which features product customization. ImprintNext Product Designer Tool easily integrates into an eCommerce store and provides personalization features for decorated apparel, signage, and personalized promotional products.
07. User-friendly And Cost-Effective:
User-friendly and cost-effective are the two important aspects of product customization. Give shoppers the opportunity to design their own products. 
However, most of the retailers are unwilling to implement the feature of personalized products in their store because of the high cost of good software for personalization. But, that is not true. 
Setting up an online store selling personalized products is not much different than setting up an eCommerce store. The best advantage is, you do not have to invest or keep a vast inventory of designs. You just store the canvas/fabric on which the customer decides what he wants to get printed. 
As discussed above, customers are also willing to pay extra if you are offering them something worth it like product personalization. It is, therefore, a cost-effective way to increase the business ' profitability.
08. Better Business And Consumer Experience:
It's not just companies that make use of converting visitors into customers, but also users get a customized experience and feel more welcomed and recognized. 
 67% of customers say they will pay more for a great shopping experience.                                                                                                                                               Source- Salesforce
For eCommerce businesses, there is a great opportunity to incorporate product customization features into their online store. Therefore, it will increase customer traffic and conversion to improve business and brand power.
Product customization is a sustainable growth plan that helps improve efficiency and reduce costs of the eCommerce business.
Conclusion
Customization will certainly grow in the coming years due to the maturity of enabling technologies such as 3-D printing, computer vision, and AI coupled with increased consumer interest in product personalization. 
Retailers and brands have the motivation to include product customization tool into their eCommerce store because it is profitable, can justify extra margin, and create a competitive advantage.

Do you have printers? Are those printers sitting idle?
Become a Print-on-Demand dropshipping app like Printful or Printify. Dropship your merchants' orders.
Know more