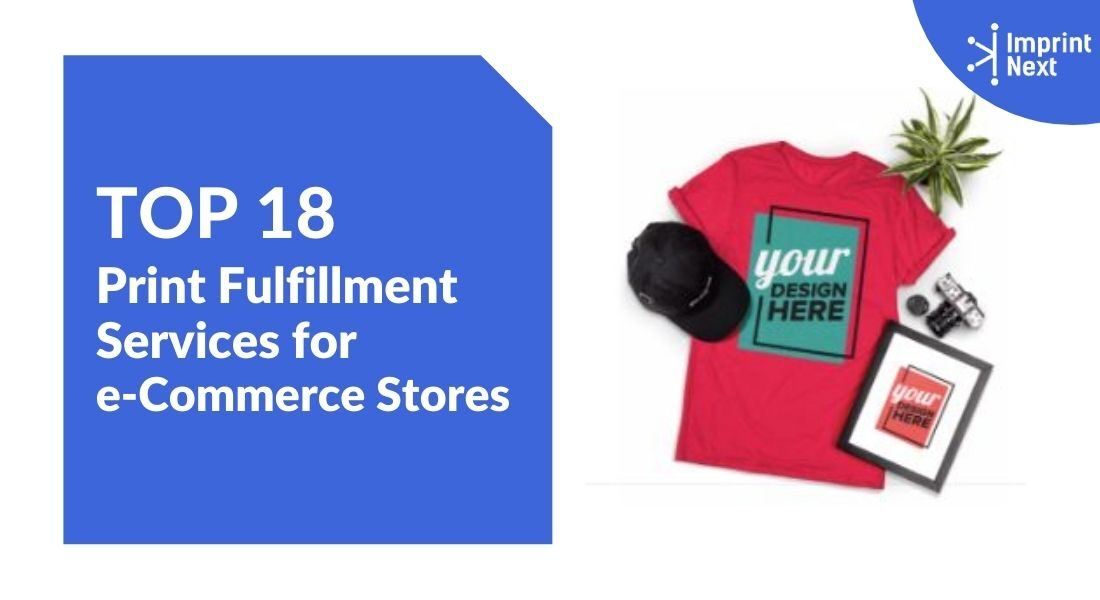 Last Updated on: 26th November 2021, 09:46 am
Print order fulfillment is quickly becoming the latest rage among new entrepreneurs who want to get into the decorated apparel business without much investment. Many entrepreneurs who have marketing and advertising skills but don't have enough capital to invest in full-scale t-shirt printing, warehousing, etc., go for print fulfillment services.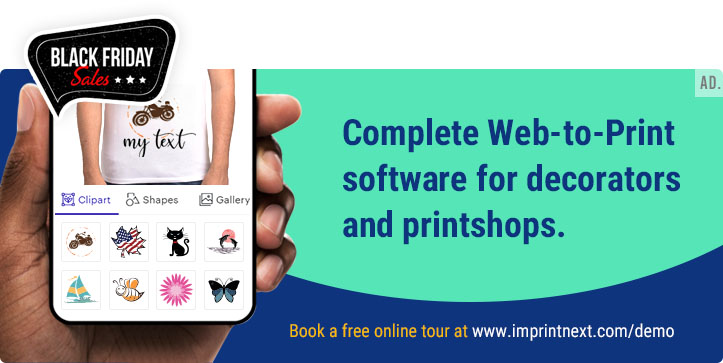 The concept is simple – Entrepreneurs create their website that is linked to a print fulfillment service. When a customer places an order, the order is sent to the fulfillment partner who would print the apparel, label with the brand name of the entrepreneurs' website, and ship it directly to the customers.
Here are the Top 18 Print Fulfillment Services:
Below is the list of top companies that provide print-on-demand order fulfillment services online.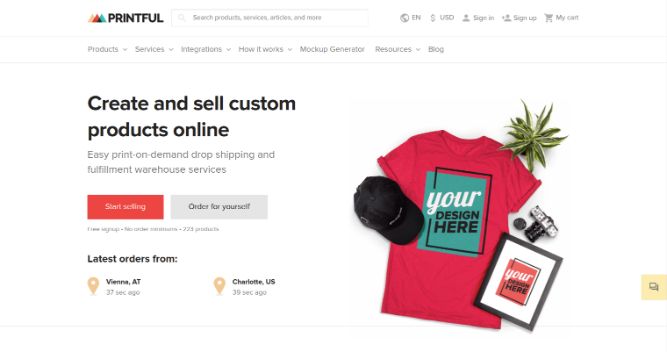 Easy Integration –
Integrate Printful with over 16 eCommerce platforms, including Shopify, Etsy, Amazon, Squarespace, etc.
Create Your Brand –
All products are customized and shipped with your brand name on the product, including labels, pack-ins, and other branding options.
Auto Order Import –
Orders placed on your eCommerce store is automatically imported to Printful without any human intervention.
Warehousing Services –
Printful has its warehouses so that you can free up your space and focus on the branding of your eCommerce store.
Free Signup –
Create your account with Printful with no upfront or monthly fees.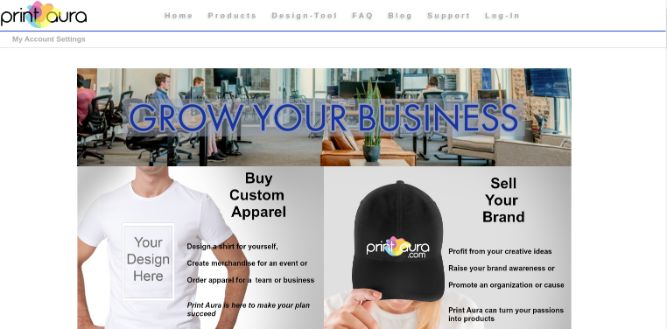 No Minimum Order –
Print Aura offers no minimum orders; customers can order just one item or multiple items with no set-up cost.
Variety of Product Option –
You have the option to choose from over 100 different items, including t-shirts, mugs, bags, mobile phone cases, etc.
Cost-Effective –
There's no minimum order; you pay only for the quantity you need.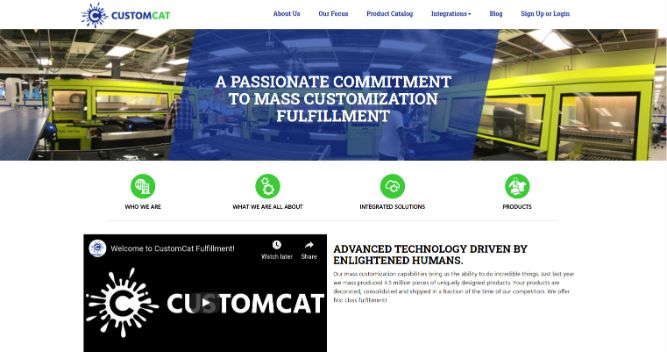 Fast Fulfillment –
All products are shipped within 2-3 business days, which is faster than the industry standard.
Three Printing Processes –
Customcat provides three printing processes, i.e., digital printing, embroidery, and dye sublimation.
No Minimum Orders –
Be it just one or a hundred, Customcat can print your products with no minimum orders.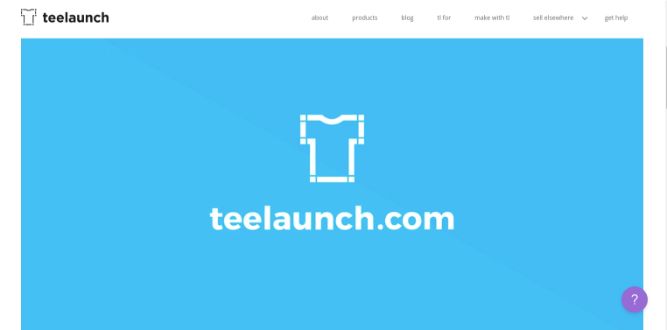 Designed for Shopify –
Teelaunch is specially designed for Shopify. The app is integrated directly into the store, where customers can print their products without leaving the store.
Wide Range of Products –
Teelaunch has a catalog of over 65 different products to choose from t-shirts to tote bags.
Pay For What You Sell –
You don't pay for any set-up or app integration; you pay only for what you sell.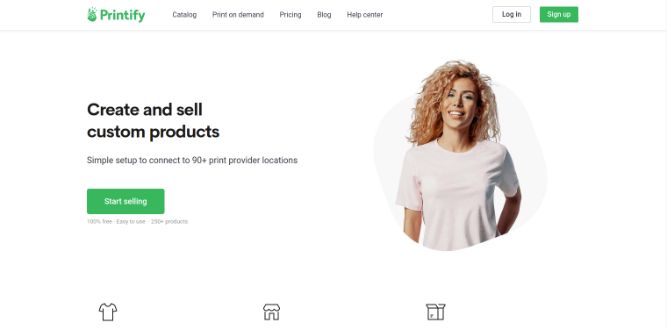 Wide Range of Products –
Select from over 250+ different items, including t-shirts, hoodies, mugs, bags, decor, stickers, etc.
Supports Wide Range of eCommerce Platforms –
Printify integrated with almost all eCommerce platforms, including Shopify, Etsy, WooCommerce, eBay, PrestaShop, etc.
Global Print Provider Network –
Get over 90 printing facilities in the USA, UK, and China.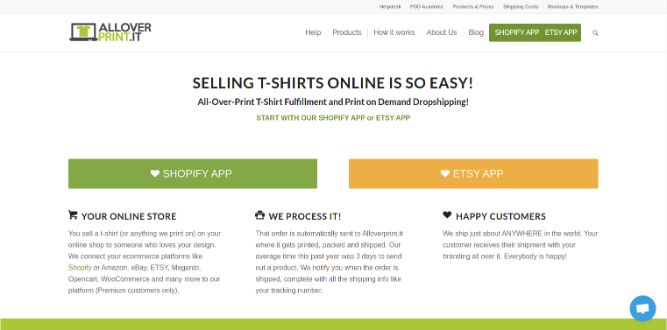 On-demand Printing –
You don't have to keep the stock of a single product. When customers place their orders on your website, the order is sent directly to AllOverPrint.
Wide Range Store Integration –
Integrate to marketplaces such as Amazon, eBay, Etsy, Groupon, etc. Or you can integrate to eCommerce platforms such as Shopify, Magento, Prestashop, LemonStand, etc.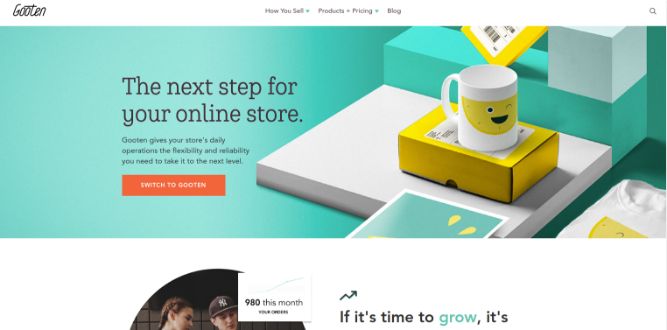 Exclusively for Shopify –
Gooten is explicitly designed for Shopify, which is free and easy-to-use and takes only minutes to integrate.
Other Integration –
It also offers API integration and integration to Etsy, Amazon and has a mobile app for easy monitoring.
Global Shipping –
With Gooten, you can ship globally through a network of print manufacturers.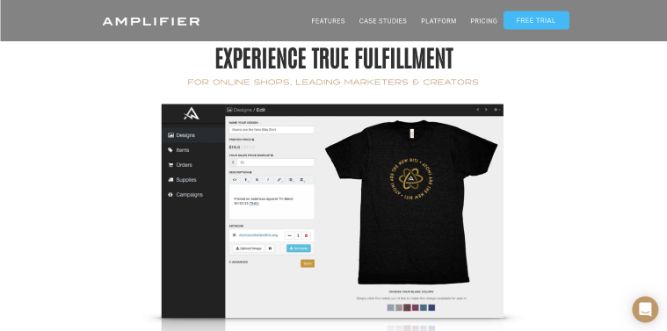 App Integration –
The amplifier comes integrated with several platforms such as Shopify, Zapier, Gumroad, Etsy, Weebly, Woocommerce, etc.
Fulfillment & Print-on-demand –
The amplifier is a leading provider of both print fulfillment and print-on-demand services. Store your products in over 90,000 sq ft warehouse.
Exclusively Screen Printing –
Amplifier exclusively offers screen printing, print t-shirts, hoodies, totes, and other items on as many as 10+ colors using automatic presses.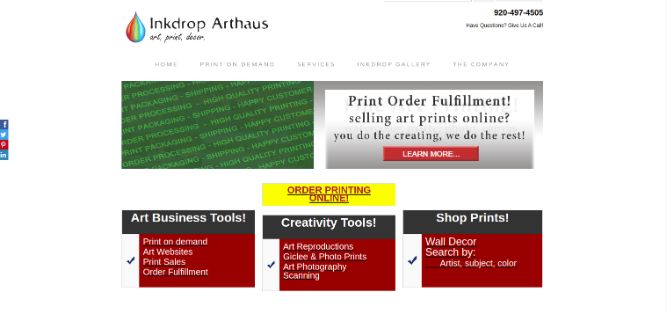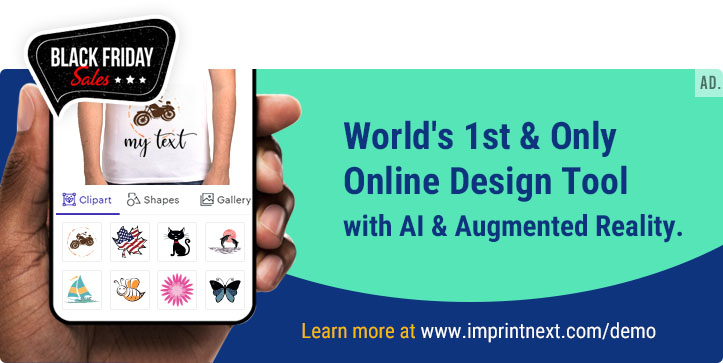 Exclusively for Art Prints –
The company provides fulfillment services solely for art reproductions, large format graphics, photo printing, canvas prints, etc.
Mounting & Laminating –
Print mounting or perform lamination to various products like wood, foamboards, coroplast, Sintra, face-mount to plexiglass.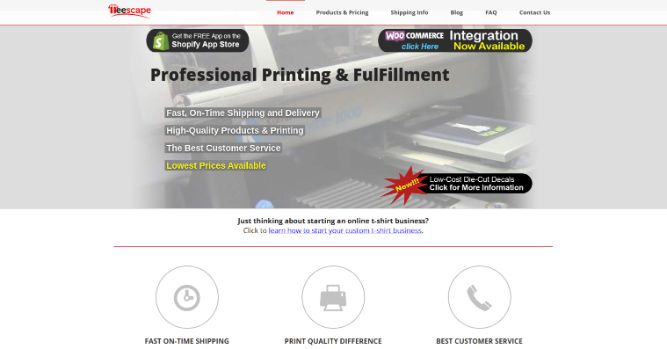 Fully-Automated System –
Seamless integration between your eCommerce store and Teescape makes for fast, paperless processing with superb handling over each order.
Triple Quality Control –
All your orders are checked three times by an actual human being in three different places for superior quality control and produce the best print on your apparel.
In-House Art Processing and Preparation –
Unlike other fulfillment services where the artwork is processed in a third-party facility, with Teescape, all artwork processing, sizing, and positioning is done within the facility.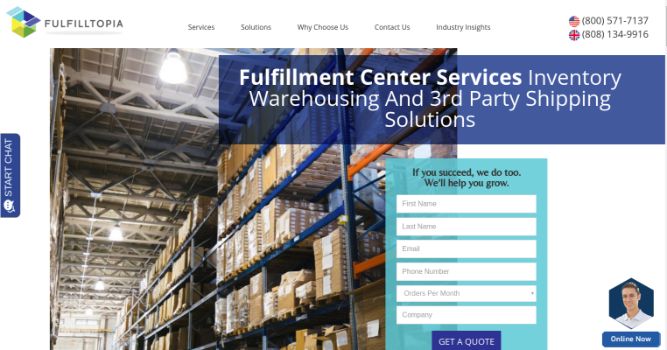 Automated integration with your shopping cart, ERP, and order management system
Brand your business with custom packaging.
Get real-time inventory and quick turn around orders.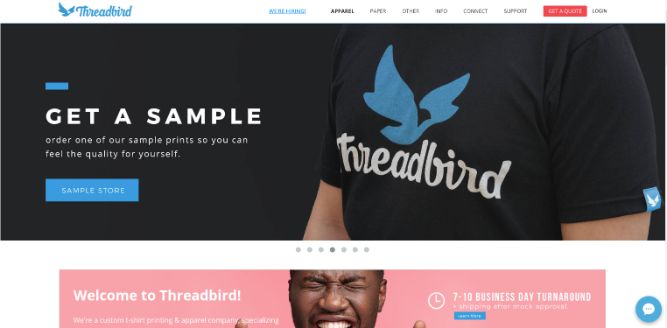 Multiple Store Integration –
Integrate Threadbird with various eCommerce platforms, including Squarespace, WooCommerce, Shopify, Magento, BigCommerce, etc.
Fast Shipping –
All orders are shipped within 24 hours of receiving. Domestic orders arrive in 2-3 days, and international orders arrive within 2-8 weeks.
Ship All Printed Items –
Sell all types of printed items, including t-shirts, CDs, posters, and promotional items.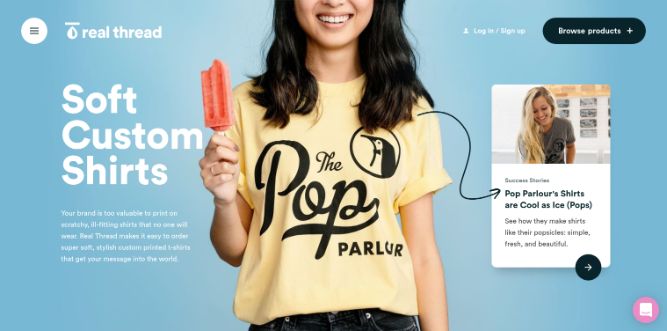 Invest your time selling and marketing your products, and let Realthread deal with the packaging and shipping.
They have no minimum order, which means you can ship both a single t-shirt or in bulk.
With a quick turnaround, over 95% of shipments are shipped within 24 hours.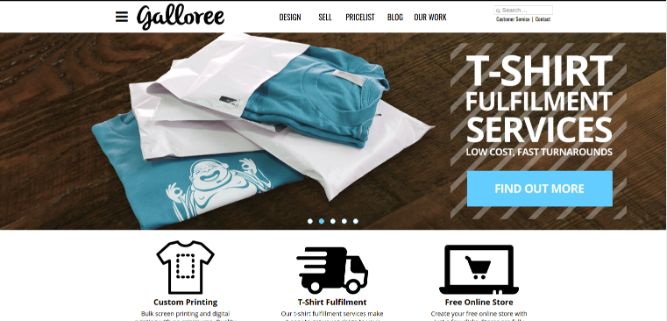 First of all, take advantage of over 30 different apparel styles that you can sell on your eCommerce store.
Subsequently, the company offers high-quality DTG and screen printing for fulfillment services.
Send your extras such as cards, stickers, thank you notes, etc., along with your orders.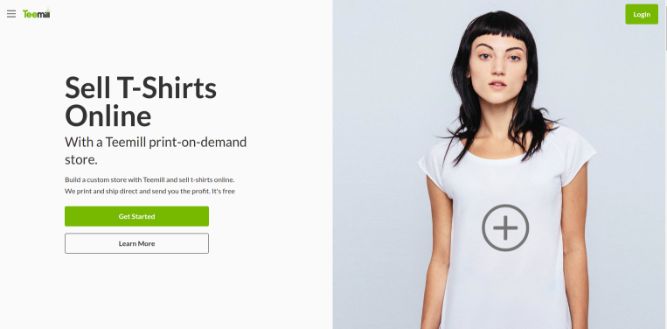 Setup Your Store in 24 hours –
With Teemill, you can set up a store and start selling items within 24 hours. Teemill prints and ships your t-shirts to customers directly without any human intervention.
Free Store –
Therefore, create a store for free with Teemill and customize it as per your own business needs.
Third-party Integration –
Teemill can be integrated into third-party apps and services such as Instagram, Mailchimp, Google Analytics, Facebook ads, etc.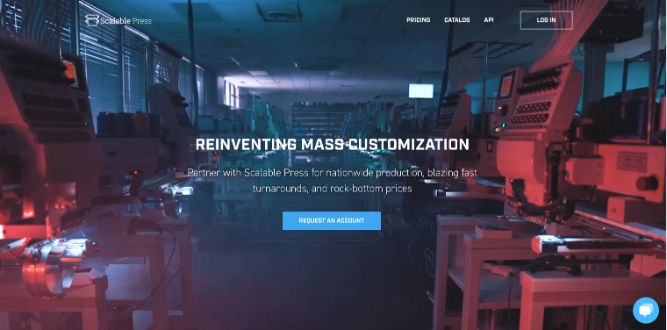 5 Types of Customization –
Scalable Press offers five different apparel customization types, such as screen printing, DTG, Digital Printing, Sublimation, and Embroidery.
Fast Turnaround –
Moreover, the average turnaround time on all product types is 72-hours.
Vast catalog –
Sell more than 4000+ apparel on your website with an extensive catalog that includes top brands such as Gildan, Adidas, Anvil, American Apparel, and more.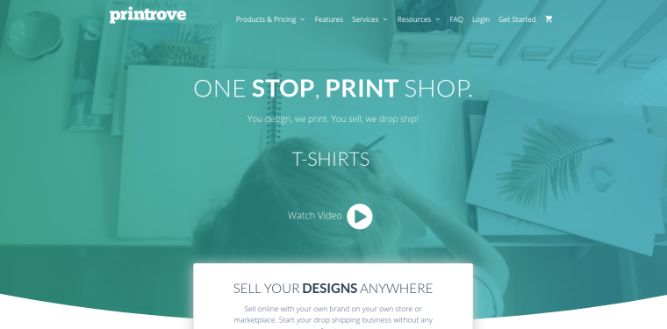 250+ Products to Sell –
With Printrove, you can sell over 250 different products, including t-shirts, hoodies, mugs, phone cases, coasters, mousepads, notebooks, etc.
Ecommerce Integration –
Furthermore, Printrove integrates with Shopify and Woocommerce.
White Label –
therefore, all products are sold under your brand name. You market and create your own brand with Printrove.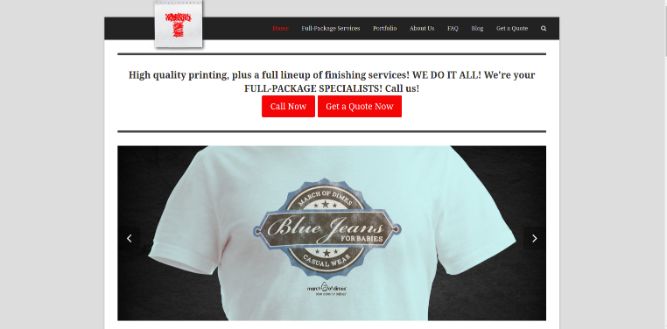 Firstly, turn your custom design into marketable products with your own brand on it. The company offers custom screen printing services as well as drop shipping solutions across the USA.
Likewise, get a full Service from T-Formation includes warehousing, packing, and shipping.
Above all, the company produces custom printed t-shirts using screen printing, DTG, and embroidery.
Conclusion:
The fulfillment service does all the hard work and takes a cut, whereas the entrepreneur gets his share because the order came from his eCommerce site. The entrepreneur earns for his online marketing and branding efforts of his company.
Moreover, some of its advantages include high ROI, low investment, quick turnaround, great customer service, high profitability.
Finally, it's no wonder and most new entrepreneurs are opting for print-on-demand fulfillment services that can create their full-fledged t-shirt printing and distribution center.