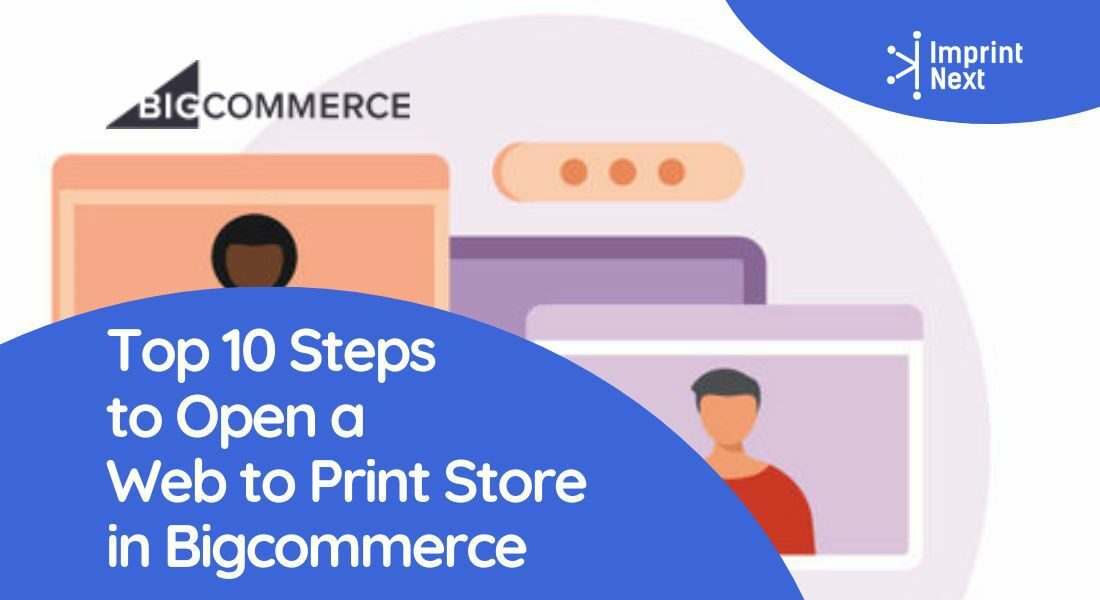 Last Updated on: 11th August 2022, 07:14 am
Having an online shop is necessary for the product decoration business. And if you want to build your web-to-print store, then Bigcommerce is one of the most ideal platforms known for its user-friendly and mobile-optimization features.
In addition to inventory management to keep track of stock levels, and email notifications to receivers updates about product stock, you can integrate top plugins related to web-to-print and print-on-demand such as ImprintNext, Printful, Printify, etc.
Procedure to Setup a Web-to-Print Store in Bigcommerce
To set up a web-to-print eCommerce store in Bigcommerce, follow the steps below:
1. Find an Appropriate Niche:
This niche should be something that you are passionate about, or at least find interesting. For example, if you are passionate about the latest in kitchen gadgets, or really into cooking. But some of the most popular niches include fashion and style. For instance, t-shirts, jerseys, and other clothing accessories.
Besides, selling stationery items, signage, and promotional products is a global requirement. That is to say, they don't confine to a particular group or sector, indeed they are a necessity for everyone. As a result, the selling proposition increases when you have a large public to deal with.
Some of the other ways to help you with preliminary research are SWOT analysis, buyer persona, Google trends, social media listening, etc.
Based on the findings, choose the products and frame your business model. But do remember, when you sell online, you need to offer something unique that keeps you apart from the competitors. If you heard of product personalization services, where sellers offer customers the to customize a product and place orders. Further, that is fulfilled by the shop owners by printing the product and shipping it to the customers' address.

Do you have printers? Are those printers sitting idle?
Become a Print-on-Demand dropshipping app like Printful or Printify. Dropship your merchants' orders.
Unlimited Merchant stores. Dropship and Fulfil Merchants' orders. Manage merchant invoice, sales commission, etc. Merchants sell the designed products in shopify, etsy stores, etc.
Know more
Indeed, product customization is the best way to reach your audience.
2. Get your Domain:
Your domain name defines the address of your online business. Most importantly, similar domain and business names are highly preferable. For instance, Amazon is the business name and the domain name is amazon.com. Both are similar.
The reason behind having a similar domain and business name is that people will remember you by your business name. If you have a similar domain name, then people will find it easier to reach your web store.
In addition, you may also consider the right SEO(Search Engine Optimization) practices that make your domain search engine friendly.
Therefore, it is key to remember a few points before you book your new domain:
Avoid using inappropriate, objectionable, and offensive names as your domain address.
Do not use a hyphen(-) in between multiple-worded names.
Keep your domain name under 12 characters.
3. Choose a BigCommerce Theme That Suits your Business Model:
Here is where you choose the design of your print shop. Selecting the right template can make a huge difference. Please be mindful of the range of products you provide.
If you have several categories, you must have a template that visually divides and displays each category.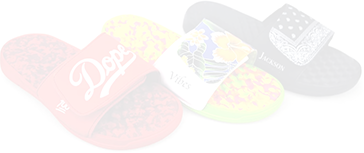 Boston based custom slide sandal maker has become $10 Million company using an online designer and unique growth marketing.
Read more
The ultimate objective is to provide a strong and fluid browsing experience. For example, BigCommerce makes use of themes to manage the overall aesthetic of the online business. You can customize its "Cornerstone" default theme, which is available by default.
Visit the Theme Manager in the Store Admin section of your BigCommerce site to learn more about your options.
Additionally, experiment with various pay layouts and product listing kinds, incorporate social media profiles and branded material, and alter fonts and text sizes.
4. Integrate the Right Plugins with Your Webstore:
You will get a self-sustaining storefront from BigCommerce. However, occasionally you could require additional assistance to raise the effectiveness of your business operations. Select the appropriate plugins to enhance your backend.
For instance, you might require plugins to handle shipment changes, use financial and reporting analytics, better manage your inventory, and connect with your staff and customers via email.
Let's say you want to use your eCommerce to sell customizable, print-ready products.
In that case, you need to integrate ImprintNext product design software with built-in design studio, sales, and production automation tools.
5. Product Range and Categories:
Your product selection and how well you present each item on your website are two important elements that define the success of your eCommerce business.
For example, product categories are crucial for effectively displaying your catalog and improving the discoverability of your inventory.
The majority of online merchants of clothing use the categories "women's, men's, accessories, flash sale, and new in."
If you sell print-ready business cards, you may include options like plastic finish or matte or gloss finishes.
Similar to this, create compelling product descriptions that outline the purpose of the product, including all necessary details, forecast when the customer could require the product, and so on. Important keywords should be included in descriptions as well.
In the end, you want your clients to have no trouble locating your products by browsing through numerous categories and adding thorough product descriptions and eye-catching images can only enhance their browsing experience.
6. Add Filters for Product Types and Categories:
Include additional filters when creating product category pages to assist your clients in limiting their selections, such as "price range," "size," "color," "material," and so on.
For the clients' benefit, you can also include advanced pricing information, such as wholesale or sale prices and bulk discounts.
7. Secured Payment Gateways:
Many payment gateway systems, including Ayden, Affirm, Afterpay, Amazon pay, Authorize.net, and Barclaycard Smartpay Advance, are compatible with BigCommerce.
Additionally, it enables Cash on Delivery or in-store payments for BigCommerce business owners.
Every consumer can choose the method of payment they feel most comfortable using at your print business because there are so many options available.
8. Web to Print Product Design Software is vital for Online Print Stores:
The feature-rich, all-in-one ImprintNext web2print software fulfills all product personalization requirements and generates print-ready vector files.
A modern and simple user interface web-to-print online designer makes it suitable for end-users to design and customize all kinds of products.
It offers multi-language support for the design studio with a pricing calculator as per different product types and applicable print methods.
Users get access to all Photoshop-like editing features, including text and font modification, QR code insertion, social media integration, picture uploading, and import, stock image use, and image uploading and import.
To help users see how the finished product will appear after printing, the tool also provides a live 3D preview of the design.
9. Frame Your Shipping Policy:
You cannot meet your customers' expectations if your delivery systems are chaotic. Therefore, you must have a policy outlining the charges, conditions, and any restrictions associated with your shipment.
The document needs to address issues including whether you charge a flat rate, a variable rate, or free shipment. Establish an appropriate "free shipping" threshold.
Take into account your carrier's pricing, scheduling, and shipment limitations. An inexpensive shipping service provider, for instance, might not provide insurance in the event of damage.
Deploy a shipping platform to pack your order, print packing slips automatically, send team and customer alerts and notifications instantly, and sync orders and shipping information with your BigCommerce online print shop.
10. Online Marketing to Promote Your Store:
Be active in social media. Share on your channels, your products, product reviews, personalized features, and quick shipping. Before the website starts, you can start a countdown and offer your followers exclusive discounts and promotions.
Become active in specialized online forums and communities to gain free exposure if, for instance, you run a print shop that specializes in selling antique posters.
Ask them to promote your BigCommerce online print business if you know an industry influencer. This can at least get people talking about your store and assist bring in the first few transactions.
Run specialized campaigns on Facebook, Pinterest, and Instagram to promote brand and product discovery. Pay only for visits, clicks, sales, and queries that result in something of value. Strengthen your SEO strategy. It requires dedication to "take off," but if done properly, the organic results can soar through the roof.
Final Words:
Everyone has had a distinct path to online commerce. With the correct eCommerce platform, such as BigCommerce, plus an ImprintNext web2print solution, you can build a strong business that endures the test of time.

Do you have printers? Are those printers sitting idle?
Become a Print-on-Demand dropshipping app like Printful or Printify. Dropship your merchants' orders.
Know more