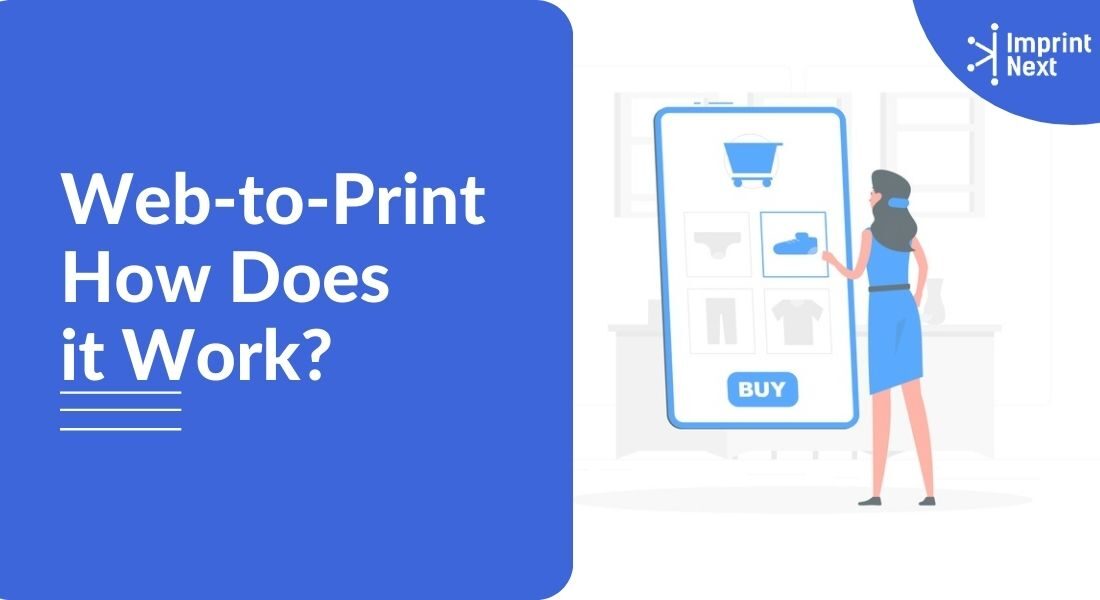 Last Updated on: 12th January 2022, 10:44 am
Web-to-print technology is an e-commerce solution for print shops and product decorators that offer custom printed products. Your customers choose a product from your website and design/personalize it in your online store itself. Further, they place orders, and you receive high-resolution print files of customized items. As a result, you fulfill orders either printing at your print shop or opt for print-on-demand(POD) services and ship them to your customers.
To achieve the custom printing facility, you must have an advanced Web2Print Product Design Software(we recommend Imprintnext) that easily integrates into your e-commerce store-front. It comes with an intuitive product design studio that allows the customer to design any e-commerce merchandise in your store. Furthermore, it handles, automates your workflow, and sends you the high-resolution printable output files for seamless print job operations.
Web-to-Print probably offers both the small & large commercial printer the best chance of increasing sales and improving profitability that our industry has helped them achieve for many years.
E-commerce and Web-to-Print have had a massive impact on all e-commerce merchandise such as apparel, footwear, office stationery, promotional products, signs & banners, and more. Every printing company is talking about or is incorporating Web-to-Print technology in its current business method. This technology makes it possible for printing companies to meet an expanded client base and develop and simplify their services. It enables them to provide their customers with more value, which allows customers to get more value from your custom printing solution.
Web-to-print technology enables companies (customers) to get the best out of their printing solution in an environment where each company tries to make the most of their services provided.
1. How does Web-to-print Technology Work?
In terms of ease, cost savings, and quality performance, web-to-print provide massive benefits. Web-to-print software is usually designed to be user-friendly, even for beginners, so that any member of your clients' teams will begin to use it from day one.
Generally, a Web-to-Print offers its customers a web portal to select, design, or customize their goods and order merchandise. A print file is generated that goes to the printer for production. It provides high-quality print-ready files for consistent eCommerce print work. It is often named W2P, Web2Print, Print eCommerce, or Remote Publishing.
2. Choosing the Right Web-to-Print Solution:
Several research studies have shown that businesses are hesitant to purchase solutions to a custom printing storefront. That's because they see it more as an instrument and less as a solution.

Do you have printers? Are those printers sitting idle?
Become a Print-on-Demand dropshipping app like Printful or Printify. Dropship your merchants' orders.
Unlimited Merchant stores. Dropship and Fulfil Merchants' orders. Manage merchant invoice, sales commission, etc. Merchants sell the designed products in shopify, etsy stores, etc.
Know more
When you invest in a web-to-print all-inclusive retailer, remember to invest in the business that provides these solutions. And you need to look at those functions and features that the product you are offered requires when investing in a solution. Let's get specific details about some of them.
2.1. Advanced User-Interface:
If you don't have a user-friendly product designer tool, it will have a limited consumer acceptance rate. It applies in particular to a web2priint shop, in which customers use a tool to design all products. So ensure that the customization, analysis, and checkout are smooth before integrating or creating a site with a tool to develop a product.
Often a product can look glamorous but not easy to use. However, that simplicity and elegant design on a Web to print platform are essential. It also provides additional features, such as product search and coupon management.
2.2. Admin Management:
You have to deal with a lot as an admin of a vast web-to-print store. And store product management is one of the largest tasks. The website's backend should be designed so that items and variants can be easily added by linking them. The owner should be capable of setting and adjusting product prices whenever appropriate. A system to monitor sales in the shop can be built into your website to verify whether you advance with your printer shop. CMS pages should be included, such as About Us, Contact Us and FAQs, etc.
2.3. Integration of Payment Gateway:
If you have vulnerabilities on your payment gateway, cart abandonment may lead, and huge losses will be incurred. Make it easy for your customers to check out since your shop has many payment doors. The check-out page should also choose from multiple delivery options to make sure your customers can get their products on time.
2.4. Prompt Customer Support:
Even if the web-to-print solution is simple to use, there are also problems related to customer service that must be addressed. Some software vendors also teach how to use the software and address issues that might occur. When you know and understand your product well, you can illustrate the advantages, overcome issues, and help them optimize their benefits. If you can't fix the problems, you need to be able to help the service provider.
You should preferably select a provider that offers you models, designs, clipart, and added goods ready for use in the shop. You should be able to troubleshoot the UI/UX, update tasks, etc. if you are not a technical guy.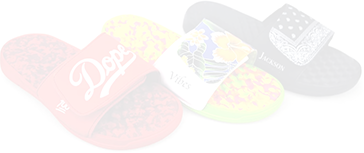 Boston based custom slide sandal maker has become $10 Million company using an online designer and unique growth marketing.
Read more
The lesser aspects you have to deal with, the better is your printing storefront solution.
3. Importance of Web-to-Print Technology:
Web-to-Print gives your business customers charge of their printing needs. They can get the printing services they want, in their time and the way they want. All the printing services suppliers must select the right web-to-print solution and incorporate it into their current business model. The rest is history, as they say, and it is also history, which has only positive things to say about your printing business.
If you own a custom printing business, you'll know that those who are on a higher financial footing than you are competing against your company. If you want to get your business customers' attention and make them want to repeatedly use your printing company's services, you must give them some additional details.
It is where web-to-print technology comes in to improve the prospects of your printing business. Your rivals will be able to pour more money into their marketing efforts. But you can also have the chance with a web-to-print solution.
3.1. Brand Consistency:
Corporate identity and brand are protected with consistent use of logos and trademarks because users order from a catalog of pre-approved marketing and sales materials. To ensure that all the printed documents remain on the brand, use your models. With customized designs and personalization, you can create your own templates.
3.2. Time reduction.
Web2print brings your fingertips with all the power. Via fewer meetings, you reduce the time to finalize designs and follow various phases. You don't have to wait for samples to be sent either – everything is available for you to see on-screen and needs your approval.
3.3. Reduces costs:
Web2print provides you with the ability to print on demand. It means that you can order things as and when you need them, rather than meeting specific requirements and have an inventory that you don't currently use. By eliminating some of the typical steps that go into an order, you'll also reduce overall costs.
3.4. Order from everywhere:
All you need is to open a web browser and login details and go off! It means you can't just put your orders from anywhere you want. You can do it remotely. It is also useful, as more than one person can position orders if the other person has no office or has different tasks.
3.5. Fulfill your Customers' choice:
Businesses opt for Print-on-Demand services since they do not have an in-house printer. Several factors may include the need to cut overheads or see a printer department with virtually no significance. That doesn't say, though, that they don't want to take responsibility for printed solutions.
The printer is, in general, responsible for printing in a conventional printer-business partnership. Still, web-to-printing technology means the printer has a rear seat and is only responsible for handling the print order and distributing prints at the business address.
Any other operation is the responsibility of the business client. It's almost like making a department of in-house printing without its issues. That's what all corporations do; they want to be accountable for it, and web-to-print technology comes to the fore.
3.6. View a catalog of products at one time:
If you want to order again, review with the click of a button your prior orders. In contrast with the last invoice, this saves time and checks the final order manually.
3.7. Fast Order Processing:
You have already set up an online business website. Your web-to-print solution allows you to receive a print-ready file such as JPG/SVG when a customer places an order. For fast output, you can submit the printed file directly to your printer business. It speeds up the buying process for you a hundred times.
3.8. Secure your Business:
All businesses or firms want to preserve their brand name. They don't want someone to have unauthorized access to their ads or promotional content. In the corporate world, corporations don't want their rivals to get a pinch of their advertising efforts and how they draw prospective customers. The conventional printing method causes the field to fall into the wrong hands for corporate identity info.
Web-to-print technology focuses on providing corporations with a safe printing environment that protects and continues to make small or dramatic improvements in its brand identity to boost their business prospects. No third-party can access the organization's data without permission through a print solution based on this technology.
Conclusion:
Web-to-print is one technology that can make your e-commerce business thrive like never before. It enables greater transparency amongst your team members and your customers who want to know what their printed products look like, how they pay, and their distribution status.
If you can provide them with a completely personalized web2print portal, they will be happy to come back, and you can build a huge base of repeated customers shortly.

Do you have printers? Are those printers sitting idle?
Become a Print-on-Demand dropshipping app like Printful or Printify. Dropship your merchants' orders.
Know more