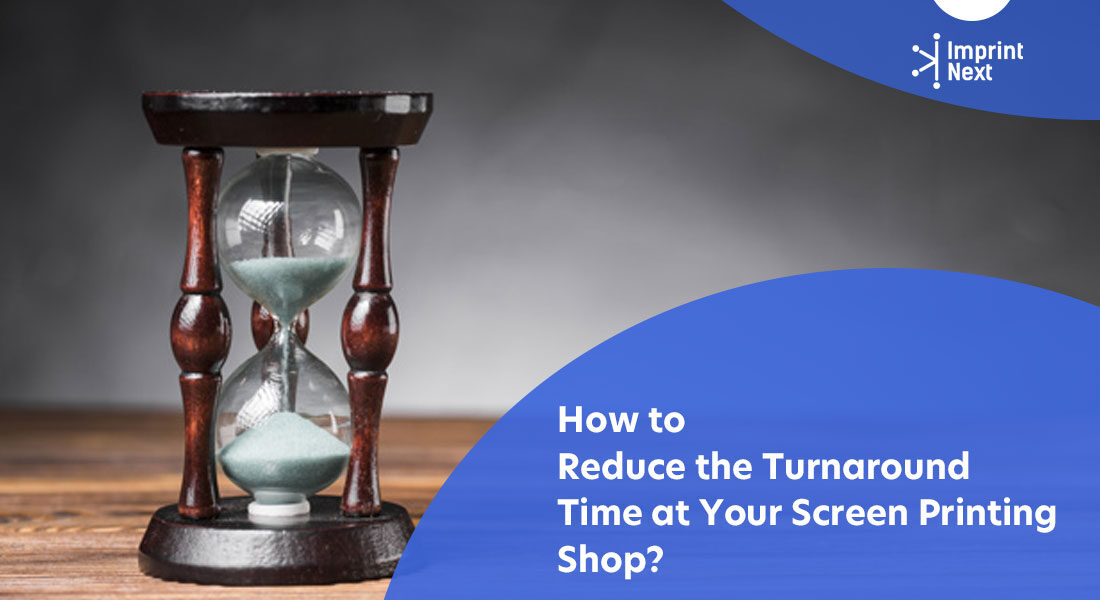 Last Updated on: 27th December 2021, 07:06 am
Do you want to reduce the turnaround time at your print shop, then you are in the right place. Here you will get the perfect hacks with the exact guide on how you can easily faster the orders at your print shop or e-commerce store.
Probably the best way to impress your new customers is by producing orders faster without sacrificing quality. And it is directly or indirectly related to reducing turnaround time in screen printing. It will surely keep your customers happy and keep them returning for more business. Reducing turnaround time in screen printing is a great way to keep your business distinct from the competition. And because you are in a screen-printing business, you have to be high time-sensitive.
For example, if a customer needs a shirt urgently, it could be for an upcoming event. The faster you can get it done, the more likely it that the same customers will choose you in the future. Simultaneously, you have to be careful not to cut corners because it may lead to mistakes that will seriously upset your customers and hurt your shop's reputation.
Top 06 Tips to Reduce the Turnaround Time at Your Screen Printing Shop:
How to Reduce the Turnaround Time at Your Screen Printing Shop? Here are the top SIX tips to reduce the turnaround time. And it helps you to produce orders faster yet maintaining high-quality prints at your print shop.
1. Build Proper Work Orders:
While building work orders for a screen printing job, you need to ensure that the information you have is correct and complete before being produced. If you have to double-check each work order and ensure that you have all the details, you need to complete the job. It is much better to step back and fill in missing information than waste your valuable time later, which can cost you your effort, time, and money.
2. Create a Library of Your Previous Orders:
Sometimes, your order can get challenging. It brings us to the importance of keeping detailed records of your jobs. If you need to record the machine parameters, supplies, techniques used, and other details you employed to complete your job. It will give you a library of experiences to refer to from time to time. As you complete a challenging job, you will execute it much easier in the future if you have kept a detailed record of the job.
3. Efficient Arrangement of Equipment:
Most print shops overlook the need to arrange their floor plan efficiently. If workers have to retrace their steps or cross their paths multiple times during the production workflow, you can be certain that your floor plan is not efficient. Simply sketching your workers' path over the process of a print run will reveal ways to make it better. This way, you will be able to run orders faster without wasting much time.

Do you have printers? Are those printers sitting idle?
Become a Print-on-Demand dropshipping app like Printful or Printify. Dropship your merchants' orders.
Unlimited Merchant stores. Dropship and Fulfil Merchants' orders. Manage merchant invoice, sales commission, etc. Merchants sell the designed products in shopify, etsy stores, etc.
Know more
4. Set Realistic Goals:
It can be tempting to take more orders even if you know you are jam-packed with other orders. That is not the right attitude for print shops. It would help if you were honest with yourself about your capabilities and limits. Don't take more than you can bite, and don't make promises to your customers you know you can't keep. You could start by keeping a record of the time it took to complete your previous orders, which will gauge how fast you can turn orders around. It will also help you identify areas where you can improve.
5. Prioritize your Work:
For print shops to survive in this fast-paced world, businesses need to prioritize their work instead of simply producing jobs in the order they are received. If you can prioritize them, you can make the most of your time. Prioritizing work will enable you to fulfill each order faster and thereby making your customers happy. However, you have to make sure that you don't skimp on the quality of the prints.
Here are some questions you could ask yourself the determine which print job goes first.
Are there any print jobs for which deadlines are more flexible than others? You need to take care of the orders with hard-and-fast deadlines first, even if they are not the first ones to come. This way, you will be able to cater to all jobs.
Are there any special orders that demand special supplies? If some orders need special supplies, you could move them down in priority and address jobs that you can execute using the current inventory.
Gauge the order quantity and the number of professionals required to produce the job. If you are shorthanded, don't tackle big orders first, as they can set you back. This way, you come up with a viable plan.
What machine or equipment are you using to produce your order? If you have a manual printing press, use it to get small orders. On the other hand, use an automatic printing press to handle big orders. That will save you a ton of time and effort.
6. Employ Shop Management Tool for Automation:
If you think your shop's work process is getting out of your hands, you could employ shop management software to automate your business process. It will help you stay organized and also eliminate wasting time. Keeping work orders and job statuses in one place will enable you to stay on schedule and avoid unnecessary confusion.
Read more:

Do you have printers? Are those printers sitting idle?
Become a Print-on-Demand dropshipping app like Printful or Printify. Dropship your merchants' orders.
Know more