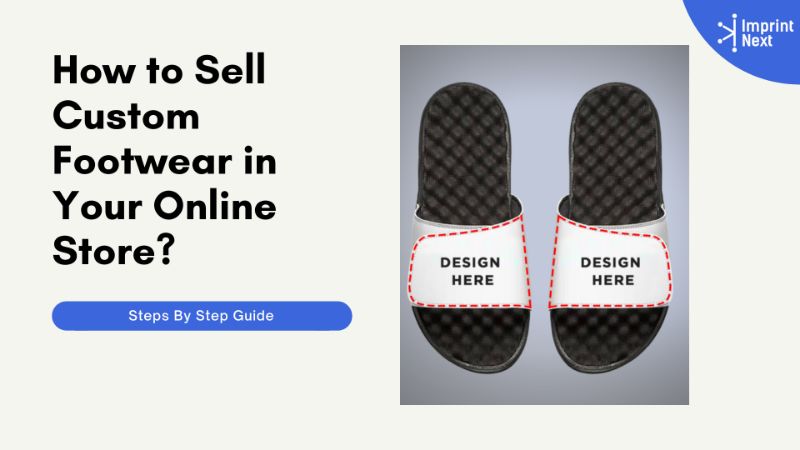 Last Updated on: 26th November 2021, 09:47 am
Selling custom shoes is a unique way to sell your wearable art to customers. But if you have no experience in apparel, product design, or fashion, it is overwhelming to design and market your shoes. Respire profoundly and read on. There are several good reasons for incorporating custom footwear in your online store as a feature. It's time to read our tips for selling custom shoes in your online store.
It's a dream of many to start up their own custom shoe company. Why not, however? Why not? They say good shoes take you to the right places. Imagine all the beautiful places you'd go to your shoe shop!
Have you ever wanted a mentor to help you in setting up your dream custom shoe business?
Here we do just that and take you into detail to prepare for the personalized shoe business's successful start.
In recent years, the personalized shoe online market has expanded significantly. Statista claims to have sales of US$454 billion in the footwear industry in the upcoming markets. It is an enormous tap-in market.
And a customer shoe company online can be a fantastic trip to a wide footwear e-commerce market. You can start with little capital and eventually scale up the right business model.
Let's take the nine steps you have to follow to sell online custom shoes:

Do you have printers? Are those printers sitting idle?
Become a Print-on-Demand dropshipping app like Printful or Printify. Dropship your merchants' orders.
Unlimited Merchant stores. Dropship and Fulfil Merchants' orders. Manage merchant invoice, sales commission, etc. Merchants sell the designed products in shopify, etsy stores, etc.
Know more
1. Type of Shoe You Should Sell:
For any small business, you would like to create; this is a critical first step.
When selecting a niche category, take some necessary considerations into account by answering these questions:
What category of shoes has the highest demand?
Can you sell this segment quickly?
How is the market for the segment in question?
Who's the target audience?
Are you willing to fill a void in your local market?
When all the considerations have been weighed, choose, and choose a shoe section that makes the most sense. It can be formal, casual, practical, ethnic, female, canvas, walking shoes.
2. Develop a Business Model to Sell Custom Shoes:
With a more in-depth knowledge of what to sell and how to sell, build the most viable business model for your selected niche.
Either you can outsource black products and print them at your print shop or seek print-on-demand services. The latter handles all your responsibilities right from processing orders and custom printing to delivery at your customer's doorstep.
Validate it before going forward, regardless of the business model you choose.
Speak to mentors in the industry
Produce multiple prototypes
Control how long a pair of shoes is required
Check output limits for designs.
Check consistency
Distribute the designs and gain friends and family input.
Therefore, you will have to move forward after you successfully check all these boxes via several iterations.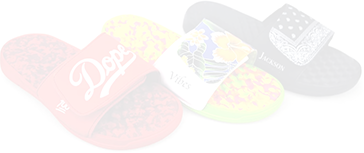 Boston based custom slide sandal maker has become $10 Million company using an online designer and unique growth marketing.
Read more
3. Register your Online Business:
It's time to make it official and give a name to your brainchild. Go on and register your business.
Every nation and state has different procedures to register businesses in-country, search for the authorized staff, and ensure that all State laws are complied with.
4. Setup Your Online Store:
It is TIME! Anything behind the screens you've been working on now will be seen throughout the world.
Build your personalized online shoe store:
Study and choose a business-friendly eCommerce platform
Pick a reactive design that looks and works perfectly on laptops, tablets, and mobile devices.
Let your shop's design represent your unique style—a declaration design that distinguishes your store from the competition.
5. Integrate Footwear Design Software:
We have now entered one of the most critical stages in establishing your customized online shoe company – Shoe Design software(recommended to use Imprintnext).
The whole concept of the company is to encourage your customers to design their dream shoes. The organization's cornerstone is a shoe design tool that makes it simple and engages the clients.
The following features support the custom shoe design software:
Responsive design – The same performance standard for all tablets, phones, and desktop computers.
A robust adaptation that can be modified according to the client's taste in every smallest detail.
Easy to use admin console for managing all of the tool's features.
The choice for even text, clipart, or photo customization of shoes.
The simple inclusion of all of your store's e-commerce platforms.
6. Promote Your Shoe Selling Business Online:
Your whole job is now in the world. Your clients can visit your shop online, design, and purchase their shoes.
It's not so easy, however exciting it sounds. You must attract the eyes, the sounds, the mind, and the heart of your target audience.
That is to say; a marketing bonus is the basic concept of your business – personalization! You need to make use of it.
Build a buyer's persona where the audience is at the most, where they go to purchase the shoes, which age groups they are in, what attracts them most—planning your marketing for this detail.
7. Manage the Packaging and Delivery:
It may be a back seat in your company plan, but it certainly does not have to do it.
You can improve the conversion rate of your website through the distribution strategy. Don't pledge unspeakable schedules. Additionally, it would help if you delivered, as promised, that the goods must be shipped on time in excellent condition. That's what your clients will trust you and return to you.
The supply area in the eCommerce area is rising day by day, and the choices for smaller retailers are gradually improving. Therefore, scout the marketplace and choose what is best for your company.
8. Ask for Customer Feedback:
Your online shop receives due care and traffic, and you also began to sell. However, the analysis has not yet been completed. Reviews, questions, and reviews are given for sales.
All the customers have to say should be considered. Feel like you hear them and give them suggestions as soon as possible.
It is the only way they can stay with you and turn them into your shoes' ambassadors.
You go there! We have just seen how your personalized shoe shop can be set up online.
Early birds are taking a few extra worms, even though the footwear market is big enough to fit many of us. So get going. Get moving. May your company grow higher!

Do you have printers? Are those printers sitting idle?
Become a Print-on-Demand dropshipping app like Printful or Printify. Dropship your merchants' orders.
Know more