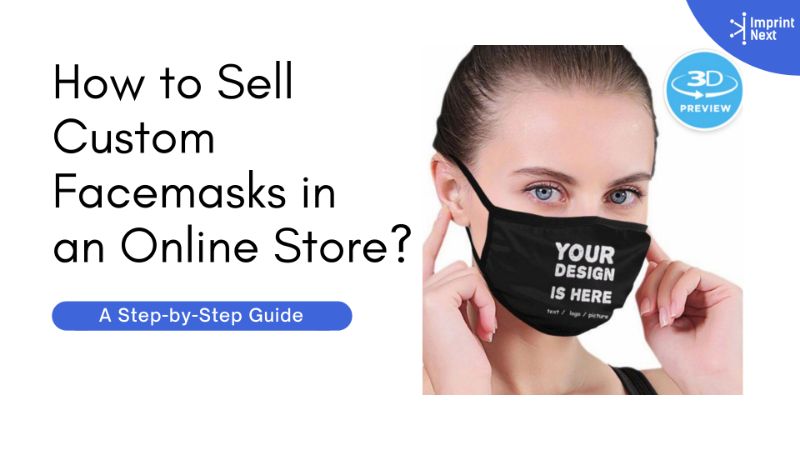 Last Updated on: 26th November 2021, 09:46 am
Health is of particular importance for medical face masks and respirators and creating personalized face masks through sewing or printing. With more than 33 million Corona cases confirmed worldwide, people have decided to 'learn' the new standard of living. Several new guidelines are now in place regardless of the business or sector you consider. And there is no exception to the print industry. 
Previously considered, face masks now form part of life, among other trivial accessories. In a way, fashion business owners and printers launched custom face masks – a new trend declaration! Odd, but sounds impressive, right? 
One of the primary reasons for selling face masks is that it has a high-profit margin. Your material is low, easy to produce, but you can deal with a healthy markup, remarkably fresh but not commonly available. Now, consumers can entirely personalize face masks.
Thus it is time to present custom masks as a new open-air clothing accessory for your clients if you're an online printing store owner. And like all other accessories of fashion, people often look for personalization in face masks. And the easiest thing to do is custom masks.
1. Getting Started:
The world is going to the new standard, and while consumers ' buying behavior is likely to change a lot. One thing is sure that face masks are part of outdoor apparel, and in the next few years, the fashion aspect is sure to win over consumers.
Therefore, before you start selling custom facemasks, you must consider checking these points below:
Does facemasks work(profitability) for your eCommerce store? 
Will everyone wear masks? 
What new laws are there? 
What's the recommendation right now?
Although the mask's design attracts clients, the primary objective is always to shield your mouth and nose from contagion. You, therefore, need to provide a comprehensive guide on how to remove and dispose of a face mask.

Do you have printers? Are those printers sitting idle?
Become a Print-on-Demand dropshipping app like Printful or Printify. Dropship your merchants' orders.
Unlimited Merchant stores. Dropship and Fulfil Merchants' orders. Manage merchant invoice, sales commission, etc. Merchants sell the designed products in shopify, etsy stores, etc.
Know more
2. Niche research:
Search for the right niche. Right now, face masks are a hot item. Some may look for tie-dye or creative face covers. So, niche research is essential. Your online store can remain a hidden gem without a specific niche. 
If you do not limit this, your store will keep order. Like clothing, people are shopping for certain essential accessory parts.
If someone looks for neon masks, they won't go around thousands of shops to find the perfect shop. So make sure to identify your signature products and market them correctly!
3. Setup your product page:
When you know what you'll sell, make sure to translate it correctly to your customers. Most importantly, the more choices you give to your customers, the more difficult it will be to choose what they want. We also suggest restricting the number of available options and making those choices as easy to understand as possible. 
For instance, if your mask has specific standard options such as base color or strip color, add a few simple swatches to display all available colors. Thus, before checking out, purchasers will determine the choices they want.
4. Do not overload with Options:
Don't overload with the infinite choices of customers. Instead, give consumers some accessible alternatives to add their personal touch and finally have an impassive mask. 
Indeed, most clients want you to do a hard job for them, so they settle on your designs!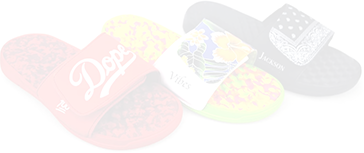 Boston based custom slide sandal maker has become $10 Million company using an online designer and unique growth marketing.
Read more
5. Types of facemasks your customers will Personalize:
There are various facemasks, like designer face masks, sweat wear, pop-up, floral chic, minimalistic, and more. It is vital to contemplate what your customer can personalize. Will your face cover be a white canvas for customers, or will you give them various designs? 
Which way you want to go, depending on your target customer. Perhaps the way to go is to target companies with blank masks. Here, customers can connect their designs (as an image or vector) to create their branded products. They can place them over a blank mask.
6. Personalization and printing setup:
Make sure you know the products and personalized choices with which you work. You must be able to give your customers an accurate and customized description of the masks you sell. It involves understanding what products you need and how you can personalize your designs. 
The various personalizations you can add depending on whether you sell disposable masks or reusable fabric masks. Mask customization methods are the most popular:
Embroidery:
Nice to add your name or initials to a mask or monograms. Embroidery is possible with double-layered cloth masks.
Direct-to-garment printing:
When you select the best DTG printer to suit your needs, your budget and the colors of masks you want to print are the key things to remember. The least expensive way to start printing face masks as soon as possible is a smaller entrance-level printer such as the RICOH Ri100.  The Ri 100 is an all-in-one machine so that you can print all your personalized clothing instantly. You only print on white or light-colored clothes,
Screen printing:
Screen printing ideal for printing images or logos. It is appropriate for cloth masks and single masks.
Great for printing pictures or logos: It is ideal for tissue masks and human masks.
7. Can use pre-set designs:
You may also deal with pre-set templates when your customers are like me, and you only want a mask to wear or give someone a present. These are already fantastic masks, and customers can personalize their names or upload an image with simple actions. 
Since you are no designer, your customers will overwhelmingly have a blank mask. That's why it's a perfect way to work with models that customers can personalize from above. It allows consumers to add their personal touch and still have a fantastic concept that they can praise!
8. Setup Customizing Options:
When creating custom items, it is essential to consider the types of errors (oops!), which customers can attempt at and minimize when ordering. If you allow monogramming only, for example, make sure to set the maximum number of characters at three or any initials that your monogram design has. 
One thing's for sure, if you'd like to offer different choices and personalization options to your customers, it's essential to show them how the options will look.
9. Showcase options and custom colors:
There are different ways you can demonstrate how your customers are personalized. 
These tools help customers understand what they buy and what they can expect in the form of more conversion, from simple ways, like example pictures, to more advanced methods, like living personalization.
Use swatches to show these options if the client can choose colors, patterns, font type, icons, or characters. 
A small sample of the choices makes it much easier to select, and it helps customers see the results. 
10. Let Customers Add Designs:
You will want to catch the attention of your audience to sell your masks. What's better than taking pictures which bring your designs out of the screen? 
Then work on your picture! Make sure you add photos of the different personalizations available. Customers can imagine the lifestyle shots of the results!
11. Integrate Online Facemask Design Software :
That is the best way to demonstrate what customers can exactly get. At the same time, photos attract your target audience's attention. Most shoppers want to make sure their personalization looks fantastic. That makes your personalized products pop out when combining good images with powerful product design software like ImprintNext.
It is a comprehensive product design tool that gives customers the freedom to measure the conversion rate: 
Customers can upload images for masks.
Upload own selfies or print images 
Customize masks with imaginative messages, quotations, clipart images, etc.
But above all, it significantly enhances the trust that shoppers can preview their custom masks. Do you enjoy the benefits? More transformations, fewer errors, and a lower rate of return!
12. Marketing:
It won't be enough to implement a custom face mask alone. It will also count on a fair engagement in marketing. Without advertising your facial masks on different social media sites, emails, etc., consumers won't know anything new came up. 
Also, permanent clients will need to remind them what new things you have for them, not to talk about new ones. 
It is also essential to concentrate on social media marketing and email marketing. 
One or two blogs can be entered for face masks and optimized for top-class keywords around face masks when it comes to on-site optimization. Besides, submitting guest posts and SEO articles is a great benefit. You can also write articles about custom masks on LinkedIn.
Through a variety of platforms and methods, you can optimize your outreach to your customers.
Conclusion:
When it comes to masks or other personalized items, customers can personalize products that are a great attraction and challenging to sell. 
One of our fields of profound expertise is to assist people in streamlining their customization on their eCommerce, and we will help you make sense of your personalized products.
Related Questions:
Which is the best color for Facemask?
White color is the best for customization and special occasion. While black and grey color facemasks are good for casual use.
Is custom facemask popular?
Custom facemasks are popular for special occasions like weddings, religious celebrations, birthday parties,  special events, and regular use.

Do you have printers? Are those printers sitting idle?
Become a Print-on-Demand dropshipping app like Printful or Printify. Dropship your merchants' orders.
Know more